Monday, May 1, 2006
The Aviation Storyteller
Preserving tales from the Golden Age
Occasionally, Greg will go so far as to reenact a story. He used his 1927 Avro Avian, piloted by Carlene Mendieta, to recreate Amelia Earhart's 1928 solo flight across the United States. They not only duplicated her flight route, but by following details from her diary and newspaper archives, they also went to the same restaurants, and even ate the same food.
In 2003, Greg staged a recreation of the National Air Tour. Originally organized by the Ford Motor Company during the Golden Age, the annual tours introduced the public to the concept of air travel. In the reenactment, more than 30 vintage planes followed the route planned for the 1932 tour, which never happened because of the Great Depression. For Greg, scouring old newspaper archives for research was half the fun. Future plans include a recreation of Charles Lindbergh's flight to Mexico City in the Ford Tri-Motor, to be flown by Charles' grandson, Eric.
Greg's other passion is attending fly-ins. He likens landing at a grass strip for breakfast in a Tri-Motor to Lindbergh landing at Le Bourget, but with pancakes instead of croissants. "People go nuts," explains Greg, and while being the center of attention is enjoyable, there's a certain amount of responsibility involved. He has had to cut his engine immediately after landing (and before taxiing), because of safety concerns for fanatics who sprint mindlessly toward the aircraft. Their marvel is so intense that "you'd think martians had just landed." This extraterrestrial pilot keeps coming back for more. He hosts
www.flyins.com
, a searchable listing of fly-ins and other aviation events.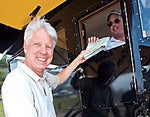 Greg Herrick's Golden Age aircraft are housed at the Golden Wings Museum in Minneapolis. Included in the collection are a 1928 Stinson Detroiter, the world's first diesel-powered aircraft, and a 1927 Avro Avian, which was Australia's oldest registered flying aircraft.
Plenty of challenges come with owning a fleet of such rare, irreplaceable aircraft. Extra caution must be taken in adverse weather conditions, as was evident last summer during preparations to send five Tri-Motors to Oshkosh. While practicing landings on a grass strip in the Bushmaster (one of two ever built, and the only one remaining) and using the Fairchild PT as a photo platform, a sudden and severe storm approached. They pulled the Fairchild PT into a hangar but there was no time to move or even tie down the Bushmaster. As Greg sat anxiously in the Fairchild, the roof of a nearby hangar zoomed past, and he feared the Bushmaster would be next. Instead, through the howling wind, he heard the Bushmaster start up. Pilot Jim Obowa pointed the aircraft into the wind, gunned the engines and forced it to stay on the ground by lifting the tail up and pushing the nose over. Literally flying the plane while it was on the ground, Jim braved 50 to 60 mph winds. Had he not, this one-of-a-kind aircraft would have flipped over, putting an end to any future stories.
To an outsider, Greg might seem like an impulsive aircraft shopper. However, he's quite particular when scouting for his next addition. And once he finds what he wants, he doesn't give up. This requires patience, perseverance and, most often, persuasiveness. Convincing owners to part with their planes is "like trying to buy their children." They must be assured that it's going to a good home. For many old- timers, vintage airplanes represent who they are, and separation is anything but an easy process. Trust must be earned and relationships must be developed. It took three years of stopping for coffee with vintage-aircraft owner Gene Frank in Idaho before Greg was allowed to even view Gene's Ford Tri-Motor.
In so far as Greg knows what he wants, he's not shy about buying planes sight unseen. Thus it was no deterrent that one object of his desire, a Sikorsky S-39, was in "cold storage" at the bottom of a remote lake in Alaska when he purchased it. Not only could Greg not view the aircraft, but the seller had never seen it either. In fact no one had seen it since one fateful afternoon in 1958 when the landing gear failed to fully retract and the plane flipped as it touched the water. To find the lost plane, Greg located the pilot, Vic Lenhart, by dialing everyone listed under that name. It took a lot of convincing to get Vic ("Sonny, what part of 'no' don't you understand?") to return to the accident site.
Page 2 of 3