Wednesday, May 25, 2011
The Journey Or The Destination?
A cross-country adventure to Central America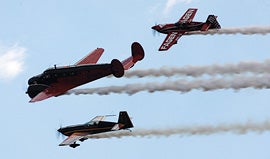 The Ilopango Air Show's entertainment included performances by the Salvadorian Air Force, Ag planes and a Piper Navajo that performed rolls. Above, Patty flies a three-ship formation act with Matt Younkin in his Beech 18 and Greg Poe in his Fagen MX2.
The Destination
It seemed surreal to finally arrive–just in time. The Ilopango tower approved me for an "arrival show," and I tore up the aerobatic box as much as I could with an airplane full of bags and charts. James and I then formed up for the overhead approach, and taxied in to the welcome greetings of the organizers, our friends and crew. There had already been two days of flying, photo and practice flights, and Matt Younkin had been lighting up the city's night sky in his Beech 18. The whole city seemed excited about the show, and it was time to celebrate!
The air show was aerial entertainment at its finest. Starting with the traditional flag jump and ending with the Salvadorian Air Force's precision demo team, local pilots were well represented by Carlos Dardano, who flew a dynamic routine in his Decathlon. And others proved you didn't have to have an Extra or a Pitts to fly a show: There were Stearmans, Ag planes, and even a Piper Navajo performed rolls. Younkin, Greg Poe and I each flew four times a day, including a fun three-ship routine. The U.S. Military was well represented by Army helo pilots and crews from Soto Cano Air Base in Honduras. They were fantastic with the kids.
Looking back at the air shows I've flown, it's always the small but astonishing things that I remember the most: flying upside-down over Russia's Volga River in a Yak 52 with Viktor Smolin; looking at a Geyser erupting while flying a show in Rekyavik, Iceland. With El Salvador, I'll never forget looking out at my wingtip at the top of a hammerhead and seeing a volcano. But what I'll remember most will be the people and their hospitality, generosity and warmth. Was this show about the journey or the destination? It was definitely both.
Patty's Challenge To You!
January will be here before you know it, and the sun will be shining down South. Why not plan a flying adventure to Central America? I encourage, no challenge, you to get a group together and fly to El Salvador for the 2012 Ilopango air show (www.ilopangoairshow.com). I promise this trip will be more than just another logbook entry. The destination is definitely worth the journey! I'm ready. Will I see you there?

It's not too soon to start planning. Here are a few tips:



1.

Local knowledge is key. Don't be afraid to ask local pilots about weather patterns, passes, availability of fuel at airports and more.



2.

Always be flexible. When flying VFR (and even IFR), flexibility can often equate to safety. You never have to be anywhere. FBOs are some of the friendliest and most hospitable places around. Avail yourself of their resources when you get stuck.



3.

Learn some of the local language. It goes a long way. Even if you can't speak fluently, a few well- placed "gracias" will show the locals that you respect their language and culture.



4.

Be organized. When flying to the Bahamas, for example, you might keep a small binder with necessary paperwork ready to show authorities that includes your landing permits; veterinary certificates if you are bringing a dog; a copy of your passport; immigration and customs forms (already filled out) and more. It's also helpful to keep copies of airplane paperwork and pilot licenses to show at a quick glance. Often, you won't even be asked to produce the originals.



5.

Make a side trip! Central America is full of many interesting things to see in the way of ruins (e.g. Tical), lodges and beaches. The coast of Guatemala is one nice surf break after another, and with almost no one else on the beach. The coast of El Salvador is famous for small beach resorts and excellent beaches.
Patty Wagstaff is a six-time member of the U.S. Aerobatic team, and a three-time U.S. National Aerobatic champion. She flies for the California Department of Forestry during the summer months. Visit www.pattywagstaff.com.
Page 3 of 3