Tuesday, July 9, 2013
The Making Of The (LSA) Bahamas
How one professional LSA pilot found a way to make flying to the islands a breeze
After that first LSA flyover in 2010, the Commonwealth of The Bahamas made Mike Z the very first LSA flying ambassador. "It's a program they've established for American pilots who are enthusiastic about the islands, love flying and wish to assist others getting over there. Ambassadors organize flyovers and generally encourage pilots to make the trip."
Since that flyout, Zidziunas has averaged five flyovers per year. Last year, he organized a flight of five airplanes from EAA Chapter 1178 out of Plant City, Fla., to fly to Stella Maris Airport, on what many consider the most scenic spot in all the Bahamas: Long Island, aptly named since it's 80 miles in length and just 3.7 miles wide. The group flew over, and in the process, pulled off the first ever Young Eagles fly-in to the Bahamas.
They flew 27 Bahamian children, aged nine to 17. Young Eagles is the EAA program for volunteers to take young people for rides to motivate them about private aviation. Many of the children later reported their favorite part was flying over their homes and familiar landmarks.
Mike Z's status as LSA Flying Ambassador includes acting as a liaison with the Bahamas tourism department to give feedback, both good ­­and bad, so they'll be able to constantly improve programs that appeal to pilots. "They want to make it as easy as possible for pilots to know that if something isn't right on a trip, they can call an American who will speak up for them.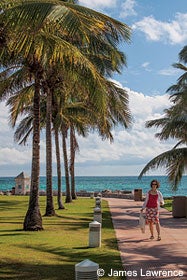 The German-built Breezer S-LSA is Mike Zidziunas' mode of transport to the Bahamian paradise.
"Every year we get feedback," Mike Z adds. "I'm trying to develop a great, easy fly-in that everyone feels they can participate in. We want to keep it affordable and short: a taste of the Bahamas. It's intended to get people started, so they can plan their own flying adventures in the future."
Of the last post-Sebring Expo trips, Zidziunas has led 34 aircraft to the Bahamas. Thirty had never been to the Bahamas at all.
"It goes back to that whole lifestyle thing. We want people to see how easy it is," Mike Z explains. "Flying over the water to a foreign country can dissuade pilots from going. So, we get a good deal on hotels, show them how to cut through the paperwork and try to eliminate all those excuses not to go."
Friendly people, lots of things to do once you get there—such as scuba diving and snorkeling, nightlife fun, many excellent restaurants, shopping bazaars, uninhabited remote island getaways and so much more—make the Bahamas one of those hidden treasures just off our own shores that shouldn't be missed.
There are nearly 60 airports in the Bahamas. LSA pilots now have their own Ambassadors to make it easier than ever to fly to any one of them.
For complete information on how to join the fun, including the latest
2012-2013 Private Pilot Guide
, Bahamas VFR Flight Planning Chart and more, contact the Bahamas Tourist Office at
www.bahamas.com/flying
or Mike Zidziunas at
www.breezeraircraftusa.com
.
Page 3 of 3