Saturday, May 1, 2004
Tuskegee Tradition
Named Double Vee for the victory over Europe and discrimination, this Texan is the only remaining AT-6 once assigned to the Red-Tailed Angels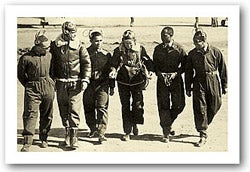 Sixty years later, former airline captain Steve Cowell of Denver owns what is probably the last surviving Tuskegee airplane. "I just wanted to own a warbird," says Cowell, "and I knew there was no way I could afford a P-51 or Corsair." Cowell was aware that a reasonable flying example of a frontline fighter goes for $1 million or more these days.
Cowell had done his homework and knew that T-6 Texans were among the most prolific of WWII warbirds. "I'd always liked T-6s, and when I found this one at an estate sale in Blue Earth, Minn., I flew in a T-6 expert mechanic for an exhaustive pre-buy. When the mechanic finished the inspection, he gave it a reasonably positive thumbs up and suggested he'd buy the airplane if I didn't. After that, I knew I had to have the airplane," Cowell explains.
The T-6 that Cowell discovered in a Minnesota hangar had first entered civilian registry in 1958 and traveled all over the U.S. as various owners purchased, flew and refurbished it. The Texan had served as a toy for some and as a working airplane for others. For a time, it had even flown as a cloud seeder. Most recently, it had served a non-pilot banker/warbird enthusiast for 18 years.
In August 1997, after brief negotiations with the family of the owner, Cowell became the 11th civilian owner of the classic warbird, having parted with $115,000 for the privilege. "When I bought the airplane, I thought I'd simply fly it for a few years, have some fun, then sell it for a profit and buy a house," Cowell explains. "It didn't work out that way."
Captain Cowell's attempt to restore the T-6 was frustrated by the major expense, time and effort associated with such a project. Cowell first learned of the Texan's unusual heritage four months after the purchase, one reason he calls himself an accidental historian.
Despite the T6's travels and its many owners, the original dataplate had somehow managed to remain in place on the rollover structure. Cowell had copied the serial number and all other relevant information and sent off a request for information to the U.S. Air Force Historical Research Agency at Maxwell AFB, in Alabama, prior to buying the T-6. He finally received a reply long after he'd completed the purchase.
The Air Force search revealed that Cowell owned a T-6C that had been upgraded to a T-6G in 1951 by modifications to the fuel, electrical and hydraulic systems. More importantly, it disclosed that Cowell's plane was the last surviving AT-6 originally assigned to Tuskegee.
Cowell's research suggests there may be a Stearman or two and perhaps a Mustang still flying that passed through the Tuskegee base for short periods, what Cowell refers to as a "coffee break," but his airplane is the only remaining warbird that has been confirmed as originally assigned to Tuskegee AAF and to have served most of the war there.
Page 2 of 3