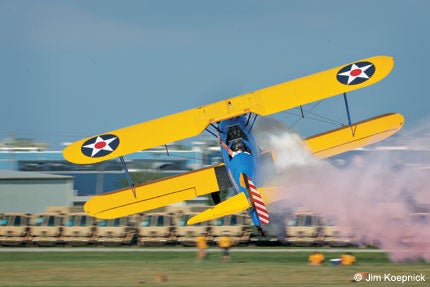 John Mohr in his stock 220 hp Stearman.
Who's the best pilot in history? Good question. And who's the best pilot today? That's an even better question. We thought we'd try to answer those questions, but as we started kicking around the concept of picking aviation's top 10 best pilots, it took about five seconds to realize we may have waded into a pretty deep swamp on this one: First, how you define "best?" Then, how do you categorize the pilots? By airplane type? By type of flying being done? By time period? And how can we expect any level of agreement from readers, because everyone will have their own ideas of the best pilots? Then we came up with a solution: We'll just put together our list, and then open the floor to readers to give us their own nominees by posting to our Facebook page, www.facebook.com/planeandpilot or sending a note to [email protected]
First, there's the definition of "best." When talking about the best pilots, do we measure that in terms of how well they handle the airplane? Or, do we measure it based on what they accomplished as aviators? Do we look at some of the feats they performed, e.g., acts of heroism? It got very complicated, so we wound up using a vague definition of "best" that will become obvious as we talk about each of the 10 pilots we put on our list. And, no, we really don't expect you to agree. That's why we gave you our email address and not our home phone numbers. Feel free to disagree. Also, let us know what additional categories you think we should have investigated.
Best Airline Pilots
When talking about a system based on seniority and not performance, how do you measure "best" pilot? In this case, given the type of aircraft being flown, we selected a crew as opposed to a single pilot: the crew of United 232, which includes Capt. Alfred C. Haynes, Dennis E. Fitch (an off-duty DC-10 UAL flight instructor who was a passenger), first officer William Records and second officer Dudley Dvorak.
You probably don't know Capt. Haynes' name. Nor that of Dennis Fitch. Now picture the image of a DC-10 slamming onto Sioux City's runway and breaking up into a flaming ball. Aha! You recognize that, right? That was July 1989, and this was the crew "flying" the airplane that accomplished truly amazing feats of airmanship.
Their problems were caused when a turbine wheel in the center engine (mounted in the tail) exploded in a circular cloud of shrapnel. Besides turning the tail into Swiss cheese, the control system hydraulic lines were severed, removing any form of aerodynamic control. The pilots had no elevators, rudder, ailerons or flaps. The only major system that was working was the remaining two engines mounted under each wing.
---
With Fitch kneeling on the floor between the two pilots, a throttle in each hand between himself and Capt. Haynes, they were able to play the power to more or less control the airplane in a wallowing fashion. They somehow managed to make it to the airport and line up, but couldn't get the speed below 240 knots and the rate of descent under 1,800 fpm. Tragically, 111 people died, but another 185 survived what should have been certain death.
We judge these to be the best airline pilots because they thought totally outside of the box and used their basic understanding of aerodynamics to cobble together a form of rudimentary control. To quote the NTSB findings, "!flight crew performance was highly commendable and greatly exceeded reasonable expectations."
Yeah, we agree with that. And, the entire crew were among the survivors. Look it up. It's an amazing story!
Best Air Show Pilot
This is a highly contested category—especially when you have the likes of Sean Tucker and Patty Wagstaff ripping up the skies and images of Bob Hoover drifting through our memories. Still, we picked what on the surface would appear to be nonsensical, because of the relatively subdued nature of his performance. We're referring to John Mohr and his dead stock 220 hp Stearman.
To sum it up: John Mohr is the air show act all other air show performers stop what they're doing to watch. This is because the 220 hp Stearman is grossly underpowered for any kind of aerobatics and isn't even in the ballpark for low- level aerobatics. Still, there's Mohr, right down in the weeds, pulling vertical to a miniscule vertical line, hesitating, then at the last moment, just when it looks as if the airplane is about to slide backward to a very public death, he deftly pivots on his rudder post and hammerheads around with zero speed, hanging there, only a few hundred feet off the ground. Any knowledgeable spectator is positive that they're about to see a fireball. But, he finesses the airplane around the corner into some other gravity-defying maneuver every time.
John Mohr is the uncontested king of energy management, and his act is the most obvious display of piloting skill anywhere on the air show circuit. He scares the hell out of air show pilots and educated spectators alike. That's the mark of a terrifically skilled pilot.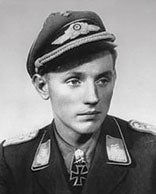 World War II Luftwaffe "Experten" Erich Hartmann.
Best World War II Fighter Pilot
How do we define "best" in the combat arena? The pilot with the most aerial victories? That would be Luftwaffe "Experten" Erich Hartmann at 352 confirmed kills. The most victories in a single mission? For the United States, that would be David McCampbell (nine, flying a USN F6F). Most in a day? (Maj. Emil Lang, Luftwaffe, JG 54 18 downed in three sorties). The highest U.S. score? Dick Bong, USAF (40 kills in P-38s). A pilot who made ace in both the Pacific and over Europe? There were several, but John Landers comes to mind first. (His checkerboard-nosed Mustang, Big Beautiful Doll, is well-known). Jim Howard did the same in P-40s and Mustangs.
The truth is that "best" can't really be applied to combat pilots because many careers were cut short by ground fire (some of it friendly, as in the case of the leading Mustang ace George Preddy). The Triple-A (anti-aircraft artillery) doesn't recognize a pilot's skill. So, we'll have to admit that there was no single fighter pilot on either side that achieved a lofty status purely on skill. Luck plays a big part.
---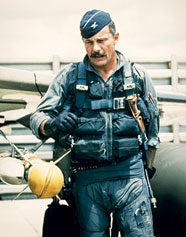 World War II and Vietnam war pilot Robin Olds.
Best Modern Fighter Leader
If you ask a bunch of jet jockeys who they rate as the best all-around fighter leader of the modern age, one name almost always pops to the top: Col., then Gen., Robin Olds. A P-38/P-51 ace during World War II (12 victories), it was during Vietnam that his near-mythical status as a wing commander was solidified. He was the fighter pilot's fighter pilot. He didn't "send" his men on missions, instead he would "lead" them every single time. He bagged four MiGs during Vietnam, and the loyalty of his men to him and his style of leadership was, and still is, legendary. And they loved his maverick, screw-the-brass nature.
His status amongst fighter pilots was best seen after his death: They flew the missing-man formation over the U.S. Air Force Academy as part of his memorial service, but when it came time for the wingman to pull up, signifying that one of their own was out of the formation and gone, he didn't. The lead pulled up instead, signifying that Olds was the leader.
One of the comments circulating after his death was that he should have been cryogenically frozen and put in a glass case in the lobby of the Pentagon. A sign on the case was to read, "In case of war, break glass." He was the quintessential warrior. His autobiography, Fighter Pilot, finished by his daughter, is a must-read.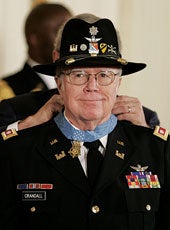 Maj. Bruce Crandall (U.S. Army).
Best At Conquering Fear: Bravest Pilot
"Brave" is easier to define than "best." Unfortunately, however, much aerial bravery goes unnoticed. Some however, jump right out and hit you in the nose. There are many examples of that in war, but two that are well-known are the separate acts of Maj. Bruce Crandall (U.S. Army) and Maj. Bernie Fisher, USAF.
When DustOff (MedeVac) helos refused to drop into a super-hot landing zone (LZ) to pick up wounded during the Battle of Ia Drang because the ground fire was almost certain to get them, Crandall landed, anyway. His unarmed Huey collected a lot of bullet holes, but he wasn't going to let wounded die or troops run out of ammo because someone didn't want to take a chance going in to help them. And he and his wingman, Maj. Ed Freeman, did it more than 12 times! Both of their Medals of Honor were well-deserved.
One of Bernie Fisher's fellow Skyraider pilots was hit and crash-landed on an abandoned runway in the A Shau Valley that was totally in the control of the Viet Cong. Fisher saw his friend jump out of his airplane and dive under the edge of a bank where enemy bullets couldn't find him. But, he was certain to be captured and probably killed.
So, while the rest of the Skyraiders (some of them were out of ammo) continued to make strafing passes over the enemy, Fisher brazenly landed right in front of the VC in his Fat Face Spad (multiplace Skyraider), bullets hitting all around him. He dragged his friend over the side of the cockpit, and the Skyraider barely staggered off the too-short runway, saving both of their lives. He, too, deserved his Medal of Honor. And to this day, he's a little embarrassed by the furor surrounding his actions.
---
Best Bush Pilot
We think multiple wins of the Valdez short-field contest in most categories, coupled with 27,000 hours of dedicated, hard-core bush flying, qualifies Paul Klaus as the best, or at least one of the best, bush pilots. Although he has flown some of the wildly modified Cub clones in the contest, his everyday airplane is a super-light 160 hp Super Cub.
"The key," says Claus, who wasn't yet 24 hours old when his father and mother bundled him into a Super Cub and flew him back to their Alaska homestead, "is precision. You have to be able to consistently put the airplane right on the spot where you want it, at a minimum speed and that, in turn, means making every move as precisely as you can."
Left: Paul Klaus has logged 27,000 hours of backcountry flying. Right: Jessica Cox has learned to fly with her feet.
Best At Overcoming Obstacles
If you want to feel like an underachiever, all you have to do is Google "Jessica Cox." Born without arms, the wildly personable 30 year old has learned to use her bare feet as most people use their hands. Among many other things, she has two black belts in tae kwon do, drives an unmodified car with an unrestricted license, types 25 words a minute on a regular keyboard, has a degree in psychology and received her LSA pilot license in 2008, flying a '46 Ercoupe. So, the next time you think you can't learn to fly, think again.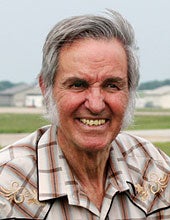 Dick Rutan made the first non-refueled nonstop flight around the world with Jeana Yeager.
Best At Flying Long Distances
Of course, it was Charles Lindbergh who first truly defined long-distance aviation: Flying solo across the Atlantic is now commonplace. In fact, Max Conrad made a habit of flying his Comanche around the world and making ridiculously long hops. However, it was Dick Rutan and Jeana Yeager who broke one of the very last remaining records in aviation by making the first non-refueled nonstop flight around the world in the Rutan Voyager. The year was 1986, and it took them nine days in the air. Then, in 2005, Steve Fossett did the same thing solo in another Rutan Design, the Virgin Atlantic GlobalFlyer. He accomplished the task in two days, 19 hours. Both flights covered 25,000 +/- miles, which is definitely considered "long" distance.
Best at Logging Flight Time
Remember how proud you were to break 500 hours? Then 1,000 hours, a number many private pilots never reach? The late John "Ed" Long, Jr. (1915-1999) is in the Guinness Book of World Records as having logged an unbelievable 65,000 hours, with much of it being under 200 feet while inspecting power lines. That amount of time is the equivalent of seven years in the air, 24 hours a day. But, building that amount of time didn't happen quickly: He started flying in 1933 when he was 17 years old, and he died in 1999 at 83 years of age.
Best At Surviving: Oldest Pilot
Although the oldest surviving participant in anything is constantly changing and hard to verify, it's a known fact that in 2007, when the well-known and well-liked Capt. John Miller died, he had been flying his 1969 Bonanza up until he was 102 years old. Inasmuch as he started flying when he was 18, that means he had been flying for 84 years. That's a little hard to get your head around, isn't it? But, anyone who lived in the Northeast in the last 50 years knew Capt. Miller and his history, which included flying everything from gyrocopters to airliners.
"Best" Can Be A Mind-Set
It's unlikely that any of us will ever be in any book of records. However, if we continually try to narrow our margins and be as precise in our flying as we possibly can, at least, as the slogan says, "We'll be as good as we can be." And that's the "best" in anyone's language.