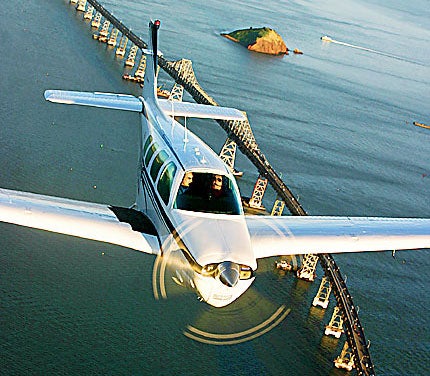 Gnoss Field is one of Northern California's most idyllic small airports. Nestled on the floodplain of San Francisco Bay, which lies only 30 miles north of the state's most famous city, the airport's single 3,300-foot runway parallels the coastal hills. Predictably, Gnoss Field is quite a popular base for hundreds of personal and business airplanes owned by Bay-area pilots.
One of those business aircraft belongs to Richard Thalheimer. He has become something of a celebrity in the mail-order business. His company, called The Sharper Image, is one of the most successful stores in the industry. Thalheimer's unusual, upscale and unique products are sold both via catalog and The Sharper Image's nationwide network of 150 retail stores, soon to expand to 180.
With stores in 36 states, as well as the District of Columbia, Thalheimer's company generated some $650 million in sales in 2003, and projections are for sales to reach $800 million in 2004 and top $1 billion by 2005.
The Sharper Image started from nothing. "I was selling office supplies in San Francisco in the early '70s and had always wanted to branch out into retail sales," explains Thalheimer. "In 1977, I began selling a Seiko digital chronograph for runners, and the product took off. I was advertising in enthusiast magazines—aviation, boating, biking, running—and the orders just poured in.
"I invested all the profits into additional upscale products, and at 27 years old, I suddenly woke up one morning and discovered I was worth over a million dollars. I launched our catalog in 1979 and opened the first store [in San Francisco] two years later. The company continued to do well, and by 1982, after only five years of operation, The Sharper Image was approaching $100 million a year in gross sales."
Thalheimer got his start in aviation as a result of an experience with Arthur Jones, founder of Nautilus exercise equipment. Jones wanted The Sharper Image to introduce a new item of exercise equipment and flew Thalheimer to Florida to see it.
"I airlined to Miami," says Thalheimer, "and Arthur had his Citation II pick me up and fly me to his ranch in Ocala. He had his own 10,000-foot strip there, and I was extremely impressed. I asked him how I could do the same thing, and he sketched out a schedule for me on the back of an envelope—solo at 15 hours, private ticket at 60 hours, instrument rating at 200 hours, etc."
---
When The Sharper Image CEO returned to California, he started working on his pilot's license and attempted to train to Arthur Jones' informal schedule. "I kept that envelope for several years and actually tried to follow Arthur's suggestions. After a few years, I had a private ticket with an instrument rating, had purchased a 1972 V-tail Bonanza, and I was irrevocably hooked on aviation."
For Thalheimer and The Sharper Image, a company airplane has been an ideal investment. "We simply couldn't have expanded as quickly as we have without our succession of corporate airplanes," says the executive. "I used that Bonanza for several years, but our first real company airplane was a Citation ISP, a great little jet that I actually got to fly once in a while. I also had a Piper Malibu and a Westwind that we used extensively in the late '80s.
"The Westwind was a wonderful airplane that actually helped hold the company together during some tough times. In those days, everyone was copying The Sharper Image, buying high-tech products from overseas and selling them here in the States. We had our only losing year in 1990, and I used the Westwind extensively, flying all over the country and acting as a cheerleader at our stores. We finally solved the problem by engineering our own line of products," continues Thalheimer, "so no one else could sell them. We came up with everything from a nose-hair trimmer and a hair-dryer that conditions as it dries to a motorized tie rack and a totally silent air purifier. Today, 80% of our products are exclusive to The Sharper Image, and several have become dramatic successes. For example, we're now America's largest seller of air purifiers."
All this success hasn't come without a significant amount of travel. Since 2000, the unofficial company airplane has been a Beech A36 Bonanza, one of the closest things in the sky to a personal limousine. When there's a need for even more speed, The Sharper Image participates in the Marquis Jet charter system that offers a variety of aircraft, from Citation Vs to Falcon 900s. "Marquis requires that you buy a credit card for $100,000. Then you simply charge your flights against your available credit," Thalheimer explains. "In our case, we use a Citation V quite often and that allows us 25 hours for a fully funded credit card. If we need to carry more people or fly farther and elect to charter a bigger airplane, such as a Falcon 900, Marquis simply debits our account at a higher rate."
For flights within the local 1,000-nm radius, however, The Sharper Image executives often utilize what has to be one of the world's most highly modified A36 Bonanzas. Thalheimer bought the airplane new four years ago and has progressively improved it with virtually every aftermarket product imaginable. Fellow pilots Joe Williams, The Sharper Image's director of loss prevention, and corporate pilot Alan Rockie share flying duties, and all three aviators have participated in the build-up of the company's Super Bonanza.
"We've installed a little of everything to bring the airplane to its current level," comments Thalheimer. Everything, in this case, includes turbo-normalizing, air conditioning, speed brakes, Beryl D'Shannon fiberglass tip tanks, Bendix/King Skywatch, dual Garmin 530s and a panel full of other goodies. Tip tanks and the turbo-normalizer go hand in hand, as additional cooling requirements for the turbo demand fairly high fuel burns, typically 22 gph at max cruise. With only the standard 74 gallons available, the airplane would be limited to 2.5 hours plus reserve. The extra 30 gallons of tip fuel boosts endurance back up to nearly four hours.
Thalheimer says perhaps the most significant operational add-on (and the only one that actually subtracts performance) may be air conditioning. "It's amazing how few airplanes have a good environmental control system for cooling the cabin," marvels Thalheimer, "but this system is remarkable. It cools the entire cockpit right now, and you just can't place a price on that kind of comfort when you're flying out of Phoenix, Las Vegas or Palm Springs in summer."
---
The inevitable consequence of all the improvements is a heavier airplane and a reduced payload, only about 440 pounds with all tanks full. Leaving the tip tanks empty brings available cabin pounds back up to 620, a reasonable allowance for two couples or three big men plus baggage.
"In fact, three plus baggage is the way we operate much of the time," says Thalheimer. "With our A36, we can fly in and out of medium short strips, even at relatively high-density altitudes. We use the airplane primarily to visit our stores in the western U.S., especially Seattle, Portland, Reno, Las Vegas, Scottsdale, Tucson, L.A. and San Diego. Flying the Bonanza, our inspection trips to the retail stores usually come as a surprise. When we had our jets, it became more of an event, and everyone always seemed to know we were coming, which, of course, often defeated the whole purpose."
With the benefit of turbocharging and an innovative oxygen system, The Sharper Image Bonanza typically lofts to 17,000 feet or higher on most flights over 300 nm and is approved for flight as high as 25,000 feet. Flying at 17,000 feet allows the crew to comply with virtually any IFR MEA they might encounter in the Lower 48.
To facilitate high-altitude operation, Thalheimer has installed an oxygen system that mounts to the individual headsets' microphone stalks and delivers oxygen similar to a cannula, but without the latter's intrusive, sometimes irritating nasal probes. "The system blows oxygen directly into your nostrils, so it's a relatively transparent method of delivery—no cannula, no mask—the next best thing to pressurization. After a while, you don't even know it's there, though you obviously need to be more conservative about descents than in a pressurized airplane."
Up high, Thalheimer often sees true airspeeds over 190 knots when he's in a hurry, 175 to 180 knots at economy, long-range cruise settings. "Our trips aren't always about speed," he explains, "but it's nice to be able to cover ground in a hurry. We can sometimes fly 600 nm out and back or visit two stores in different cities on the same day."
All three pilots from The Sharper Image are unanimous in their praise of the A36's precise handling qualities. Thalheimer says, "Personally, I love flying that airplane. It's a joy in the pattern, a great instrument platform with quick controls and one of the most forgiving machines I know. Perhaps best of all, you can spend a full day in it—and we often do just that—without feeling as if you've been run through a wringer."
For The Sharper Image, the network of stores is especially important, as they currently account for 60% of the its revenue. Catalog sales contribute another 25%, and Internet income yields the remaining 15%.
"Our Bonanza is practically indispensable to our company," says Thalheimer. "I can't imagine how we'd get along without it, as fast, efficient travel has become an integral part of our lives."