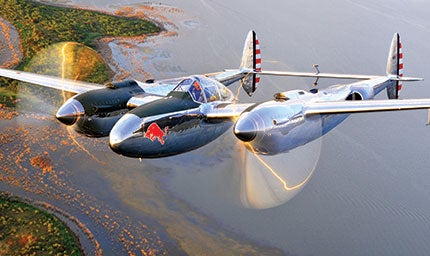 "A few minutes from the airport, I was just sitting there thinking, 'It just doesn't get any better than this,' when the left engine started backfiring and popping violently. I pulled the power back, and the cockpit went completely black with smoke. I started coughing and suffocating, feeling helpless right away. I was probably between 1,000 and 1,500 feet, just trying to make sure I kept the green stuff on the bottom side. I didn't want this thing upside down [and hitting] the dirt at 300 miles an hour.
I popped the canopy, and immediately it was clear again. I looked out the left-hand side and there was a hole about the size of a saucer with a very intense fire, like a miniature afterburner, poking out the top of that cowling. I literally watched the scoop on top of the engine melt down. I immediately cut the fuel off; shutting the engine down, hoping the fire would go down. It did not.
At this point, I had the right engine firewalled trying to find the airport. I realized I wasn't getting anywhere fast, the fire wasn't going out, and the hydraulics were zero. I didn't trust the standby hydraulic system enough to make the choice to manually pump the gear down. I've seen a couple other airplanes where you try to pump the gear down and you can't get them all down and locked.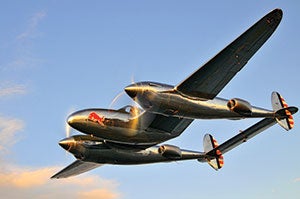 Even if I found the airport, I wanted to belly-land in the grass. Dad always told me, 'If you ever have to belly this thing in for whatever reason, don't do it on the pavement because there are six fuel sources [for draining fuel] right under your seat on the bottom of the gondola that would spark on the runway.' I wasn't about to put this thing up on the pavement. So the best choice was a cotton field immediately below me. The entire time, I'm wondering if I'm going to survive. I hit the ground hard, sliding along with a bunch of dirt being thrown in my face, mouth and eyes. It wasn't long before it stopped. The fire was on my left, and I jumped over the right window and ran, wondering if it was going to explode. At that point, I'd survived and wanted the airplane to survive, too! Thankfully, the dirt had snuffed out the fire."—Ladd Gardner, "An Interview With Ladd Gardner," interviewed by Wayne Sagar, All Aviation Flightline Online, April 20, 2003.
---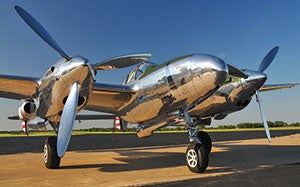 Thus came the close of a long, successful chapter in the life of 25Y White Lightnin', a world-famous Lockheed P-38 Lightning flown and raced by Ladd Gardner's father, Lefty Gardner. Ever since she was purchased surplus in 1947, she has been something special, performing and racing for more than 55 years. Unable to raise the funds for restoration, however, the Gardners sold the damaged airframe in January 2005 to the Flying Bulls, Red Bull's aviation division; it will be based at Hangar-7 (www.hangar-7.com), an aircraft museum and restoration facility in Salzburg, Austria. From the get-go, Red Bull set out to restore this aircraft to something special and unique, and they wanted it done as quickly as possible.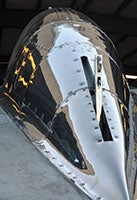 To take on this task, they turned to warbird restoration specialist, Nelson Ezell of Ezell Aviation (www.ezellaviation.com) in Breckenridge, Texas. If you didn't know Nelson and then met him at the Reno Air Races (where he's practically a legend), you'd get the impression of a nice, quiet guy who knows a lot about planes. After speaking further and learning about all of the aircraft on the racing line that he rebuilt and/or modified, you'd really be impressed. Then, as he politely excused himself to go strap into a Sea Fury for the next race, you'd wonder, "Who is this guy?!"
"Nelson has forgotten more about bending sheet metal than most people will ever know" says race pilot Stewart Dawson, a longtime customer for whom Nelson completed the Sea Fury Spirit of Texas, which sports a beautiful paint scheme designed by Nelson's son, Chad, about four years ago. "It's simply amazing what he does turning perfection from nothing," Stewart praises.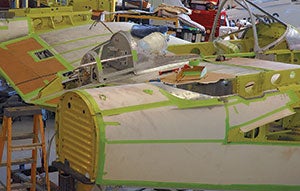 Nelson Ezell's passion for detail and innovative approach to problem solving is evident in his P-38 restoration project for Red Bull. Many parts had to be fabricated from scratch, and all of the plumbing was replaced with stainless steel. Still, Ezell completed the restoration in just over three years. The finished warbird is immaculate and truly a polished work of art. Red Bull is shipping 25Y to its new home at Hangar-7 in Salzburg, Austria.
Growing up in Florida, Nelson recalls looking up to see a flight of B-36 bombers overhead when he was five. "What a huge noise and vibrations those six engines made," Nelson remembers. Well, the impression was made and, along with building and racing hot rods, he went to trade school and got his A&P license. After serving in Vietnam, he moved back to Florida to work as a mechanic.
One day, he got a call from the local airport that a Corsair had landed and was in dire need of repairs. After fixing the Corsair, the owner, who was continuing on to Texas, asked Nelson to inspect a T-28. A friend of the Corsair owner then asked Nelson to come to Texas to repair his Sea Fury. Whether he knew it or not, Nelson was getting into warbirds! Soon he was spending more time in Texas than in Florida, so in 1982, he packed up the family and moved to Breckenridge, Texas.
---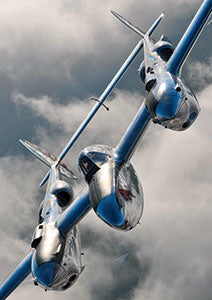 Nelson's passion for detail and innovative approach to problem solving has earned him and his family a reputation as master rebuilders—indeed, it seems they get more work than they can handle. Dude, Nelson's wife, runs the office and keeps the boys organized. Chad, the artist of the group, researches paint schemes and historical data for each restoration project.
Son Ashley is an aspiring engineer and works on manufacturing the hard parts, and Nelson, along with running the shop, does most of the sheet-metal work. In addition to the boys, Nelson has two daughters, Anna and Alanna, who are both in college.
"Safety is our first priority," says Nelson about the Ezell business philosophy. "Next, it's satisfying the particular mission a customer has for the restoration. Some people want it completely stock, that is, how the aircraft came out of the factory," he explains, "but some want it modified for ease of maintenance and/or operation."

Red Bull wanted a unique, easy-to-fly airplane built as close to perfection as possible with the best systems available—and they wanted it fast. With the amount of detail and prefabrication needed, the project should easily have taken more than six years. The Ezells completed it in a little over three.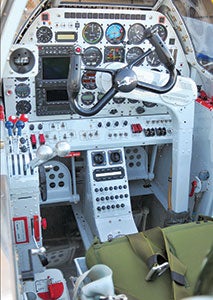 The rebuilt aircraft is immaculate. Though Ladd did a great job of landing White Lightnin' with minimal damage, all of the belly surfaces were destroyed and there was severe fire damage on the left boom. Many parts also had to be fabricated from scratch, and all of the plumbing was replaced with stainless steel. Two new Allison engines were installed, and all of the surfaces were refurbished with highly polished aluminum (with the exception of the bottom of the wings), so while work was being done in and around the aircraft, the surfaces needed to be protected from scratching and dents. The cockpit is updated with Garmin avionics and even has an S-TEC autopilot!
This past April, the Ezells had a bit of a scare. With 98% of their masterpiece completed, a tornado ripped through their airport, destroying multiple aircraft and causing the hangar's back wall to collapse. Everyone held their breath, but with only slight damage to the elevator, amazingly, 25Y survived in great shape. The first test flight came on June 2, 2008, and she flew perfectly with only minimal adjustments needed.
The P-38, restored by the Ezell family (above), has a wartime compact cockpit with modern-day navigation. The row of lights on the top of the panel is set up for immediate warning of any problem.
At this writing, 25Y is in the process of being shipped to her new home in Salzburg where she'll be displayed in Hangar-7, itself an amazing piece of architecture. Maintaining the aircraft's mirror-like exterior in its gleaming glory will be a phenomenal task, but what better caretaker is there than Red Bull? Thanks to Red Bull, the Gardners and Ezell Aviation, 25Y will perform for new audiences all over Europe.