We all know about TBO (Time Between Overhauls or Time Before Overhaul), and we put money aside—mentally, if not in fact—for engine work with every flying hour, because major work is inevitable. However, many of us don't fly long enough and often enough to reach published TBO, so discovering that we need major engine work is a near-universal surprise.
Flying fewer hours doesn't help: Both Teledyne Continental Motors (TCM, www.tmclink.com)and Lycoming (www.lycoming.textron.com) call for major work after 12 years, regardless of time flown. Many factors can mandate early heavy maintenance, perhaps hundreds of hours short of published TBO.
The best plan is to fly long and often, and follow the manufacturer's instructions for maintenance. Commercial operators and schools pile on the hours, and since downtime means lost revenue, maintenance is usually a front-row consideration—but the rest of us don't have the fun of flying 20 or more hours a week. Budgets are tight, and we maintain the mental image of when the engine last came from the shop fresh in our memories. What should we watch for, and when it's time, where do we send our engines?
When It's Time
Certainly, if there's a sudden or noticeable loss of power, if we whack something with our prop, or if there's an odd noise—these clues can't be overlooked. But our engine's normal calls for help approach us slowly, so we tend to mentally adapt by adding a little more oil, allowing more takeoff distance, or climbing a little slower. We may not even notice slight increases in vibration or more-frequently-fouled plugs. When the "normal" CHT or EGT seems to trend cooler (or hotter) over months, well, everything happens for a reason. Are we losing our engine, or did the baffling get a tear in it? As wear and incipient failure creep up on us, our engines are begging for an overhaul. It's our job to not ignore them.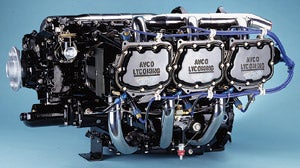 Understanding your engine, and knowing what signs to look for, is key to safe flight.
We can avoid surprises by paying attention: Cut open every single oil filter and look inside—that's the only way we'll understand what's "normal" for our engines. Sending our oil out for analysis, too, gives good clues, but only after a baseline is established. Do frequent compression checks, and log the results. Think about it whenever you add oil—the circumstances, the previous flight(s) and conditions. Has anything changed? What? Why?
Where To Do The Work
Our local mechanics keep us in the air, and generally do a decent job of diagnoses, tuning and adjustments, and parts replacement, but most don't get the constant practice needed, have the specialized staff, or have the equipment necessary for heavy-duty remedial work. Dedicated engine shops are just that: dedicated. They don't do annual inspections, they don't adjust your rudder trim, they do engine work. It's useful to note, for instance, that if a shop isn't an FAA Repair Station, it doesn't have a requirement to periodically calibrate all its equipment. So, when it's time for major work, it's usually a good idea to take your engine to a major shop.
---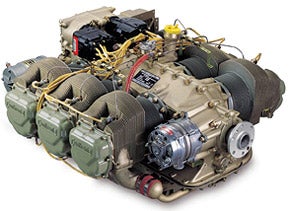 Allen Smith of RAM Aircraft (www.ramaircraft.com), which specializes in TCM 520s and 550s, says, "We do a lot of things in the factory that other shops don't always do," citing the use of exclusively new cylinders with nickel bores as one example, and its proprietary cam grinds as another. They also make things easier for the customer with a round-trip crate—the new engine arrives, the customer can then survey what fittings, etc., he may need to retain, and the old core can go back to RAM, properly protected.
Bill Middlebrook, President of Penn Yan Aero (www.pennyanaero.com), has some tips: "Strange oil leaks can be indicators of serious trouble, but it's important to understand where the oil is coming from. Under a cylinder or around a through stud—that definitely bears investigation." Preroller Lycoming cams especially, he says, are subject to wear and, "As the cam wears, the engine may get hard to start, or 'pop' through the intake." He adds that, "Anytime you pull a cylinder is a good time to inspect the cam."
Victor Sloan of Victor Aviation (www.victor-aviation.com) builds engines and provides specialty services for all fields of high performance (Sloan is a former pro motorcycle racer, among other things), and builds each engine as if it were going into combat, where performance and reliability are the overriding objectives. He employs ASE-certified Master Machinists, and uses special techniques like micropolishing on cranks. This process is unique in the industry to Victor engines, and it creates an isotropic finish even in the fillets, effectively eliminating grinding-induced stress risers; it also makes oil cover the surfaces better. Victor also is a master at cryogenic nondestructive testing for improved durability of parts. For beauty and long-lasting good looks, he uses powder coating where possible. Victor's website contains a lot of philosophy and background that's extremely useful in understanding why your engine needs work, and what you should look for in its repair (whether a local parts replacement or a total remanufacturer). Victor also performs testing and inspections on incoming new parts. "We don't take anything for granted here," he says.
At Western Skyways (www.westernskyways.com), co-owner David Leis notes that a lot of private owners just run their engines until they break. "Face it—there's going to be wear, somewhere. Pilots fly way past TBO! then some little thing gets loose, clogs an oil galley or plugs an oil passage, and a rod freezes up—and then it's really expensive, especially if you've ruined your core. 'Serviceable' means 'usable as is!' Please read the conditions wherever you go. We say 'repairable,' by the way, and we have 'change orders' that require customer approval, if any nonstandard operations are called for. If you have to buy big parts, the price of the overhaul pretty much doubles." Western Skyways works on 40-50 engines per month, and is more than happy to work on nonfactory (e.g., Superior or ECi) parts, too. The high-quality videos on their website have a lot of good footage of repair procedures and plenty of tips.
All of the top shops have specialty offerings. Firewall Forward (www.firewallforward.com) has an STC that puts oil directly on the high-wear cam follower through a hole in the cam face. Victor features cryogenic treatments and special coatings and balancings; RAM offers nickel surfaces; Penn Yan has new digital test cells and a history of family ownership dating back to the 1940s.
Geography, too, can come into play. Many pilots feel it's more comforting to deliver and pick up their engines in their own trucks, rather than send them off under the care of a cartage line. Though virtually all shops make some exceptions, most don't really want customers in the work areas, so don't count on hanging around and learning how to rebuild your engine by watching the pros do it.
---
What about the factory?
Bill Ross, TCM's Manager of Technical Product Support, says, "It's a misconception that the factory is the most expensive option to re-engine your aircraft." He cites advantages of factory engines: new clearances rather than service limits, zero time status (no history), and no core charge surprises with factory engines. "Plus, he says, apples to apples, the factory-new or rebuilt option isn't more expensive, especially when it's time to sell your aircraft."
Mike Caldera, Lycoming's product support manager and himself a pilot, knows that situations vary among pilots and airplanes. That's why it's important to pay attention to both the published guidance and to how regularly you fly, and particularly to how you prepare your engine for periods of inactivity.
"We have published TBOs, but we also want you to do your flying in 12 years or less—and to do your flying on a regular basis," Caldera says. "As I get older and end up flying less myself, I pay more attention to corrosion, to rust, and I keep my eyes open for changes, especially in oil consumption."
Mike Everhart, Lycoming's director of distribution management and customer service says, "I would much rather see an airplane used consistently, even for shorter hours. Everyone knows that's true, but it rarely changes their flying patterns."
Howard G. Van Bortel, President of Air Power (www.factoryengines.com), sells more Lycomings and Continentals than anyone else, and also finances engines. "Factory engines are the best-kept secret in general aviation," he says. "They increase the value of your aircraft, have the highest content of new parts, and are the only engines that are accepted in every country in the world. Only the factory complies with every AD, SB, Service Instruction and Service Letter, as well as incorporates all the latest product improvements and engineering changes. The quality, experience and financial strength of the original manufacturer provide peace of mind to the owners that fly behind these engines." Van Bortel is concerned that pilots wait too long to address engine issues: "Most people change engines only when they have a big problem. When something is this important to your flying, to your safety, why wait until it breaks?"
As spring is upon us, it's a good idea to have a particularly good look at the logbook and, Lycoming advises, be realistic about how well we prepared our engines last fall. Assuming you followed Service Letter 180 last fall, you can follow the springtime recommendations in Service Instruction 1472 to get back into service. Otherwise, look for evidence of corrosion or seal break-down that may have occurred during the months of inactivity.
---
If you ignored proper engine prep last fall, at least drain and change all the fluids and filters, double-check the cylinders with a borescope, and do a compression check. Go over everything, looking for corrosion, loose parts, birds' nests and anything else that can possibly go wrong because of extended nonuse.
Extending Engine Life
Of course, we'd all like to make a "major" an infrequent event, and keep it as far in the future as practical. The best life-extension practices include fastidious adherence to the manufacturer's (or overhauler's) instructions, paying special attention to oil changes and filter analysis, periodic adjustment and an absolute refusal on our parts to letting any bad trend continue.
Environmentals, too, play a part—indoor or outdoor storage? Dusty, salty, dry or humid? What corrosion treatments do we use, and how well/how often do we employ them? Are all the supporting systems (baffling, cable routing, the fit of cowl panels) in perfect order?
Perhaps the most important factors involve our flying habits. How much attention do we pay to proper warm-up? Do we avoid thermal shocks? In flight, are we entranced with watching the moving map, or are we noting what our engine monitoring systems are telling us? Do we periodically sit down with our mechanics and review our comprehensive logs?
Bottom line: The best way to reach TBO and beyond is to maintain engines by the book, pay attention, and fly far, fast and often. Twist my arm!
Engine Financing:
One advantage of a factory engine, Howard Van Bortel says, is that you can get it financed. He knows: His company, Air Power, isn't only the largest distributor of TCM and Lycoming engines, it finances the purchases of new, factory-overhauled and factory-remanufactured engines as well. Loans starting at $17,000 and up to 90% of the aircraft's value can be secured by Air Power, and are backed by a major lending consortium. Terms are up to 20 years, low fixed-interest rates, zero-down payments and no prepayment penalties. While you're financing the engine, it's also possible to finance other major upgrades: avionics, propeller and interior, for example. For a complete list of prices including payments, visit www.factoryengines.com.