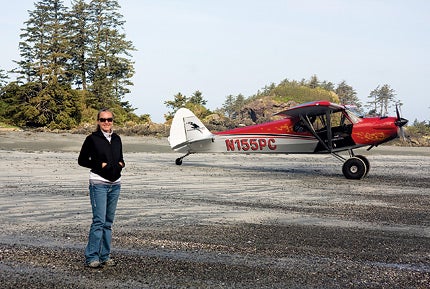 I've always admired—and envied—bush pilots. These intrepid aviators are in tune with their airplane and environment, flying to faraway locations under some of the most challenging conditions. Skilled bush pilots can go just about anywhere. They don't need asphalt. They don't even need runways. This spring, I got a taste of bush flying in a Carbon Cub from Juneau, Alaska, to Seattle, Wash. Thanks to some great weather luck, CubCrafters demo pilot Pete Vinton and I were in for an adventure with glaciers, fjords, bald eagles, whales and plenty of backcountry landings. After our first touchdown on a sandbar, I was hooked. From then on, the view outside of the cockpit was a different one. The beaches and gravel beds below weren't just pretty sights, they were potential landing spots that offered access to otherwise difficult-to-reach wilderness. Making your own runway isn't something you can or should do in most airplanes, but it's a natural for a backcountry aircraft. My story accompanies Senior Editor Bill Cox's pilot report on the Yakima-built LSA, which he flies with CubCrafters General Manager Randy Lervold.
The LSA taildragger is on Bill's wish list, and he's not the only one. Santa Monica sport pilot Rich Festa recently purchased his first airplane, a Sport Cub S2. His is one of three owner stories that contributor Marc Lee relates as part of a larger article by Budd Davisson on buying your first plane. Budd offers advice on how to find the airplane that's right for you and what to consider before finalizing your choice. In "Grassroots," Budd also shares his own story of initial airplane ownership (a Cessna 195), as does Bill Cox in X-Country Log (a Globe Swift). P&P reader Guy Mangiamele tells of the purchase decision that made itself (a Bellanca Super Viking) and the journey flying it home to California from Ohio. What was the first airplane you owned or would like to own? Tell us at [email protected].
Erik Lindbergh would love to, and probably one day will, own an electric aircraft. In this month's guest column, the pilot, artist and grandson of Charles Lindbergh discusses his new venture: the Lindbergh Electric Aircraft Prize. Using prize philanthropy, Erik's goal is to accelerate the development of the electric aircraft industry and motivate students about the future of flight. At EAA AirVenture, students from Seattle's Aviation High School created a video from interviews with pilots, entrepreneurs and others involved in electric aviation; their film will debut at The Museum of Flight Pathfinder Gala and also will be available on our website.
One hurdle that flight students often find intimidating is radio communications. With experience comes improved skills and confidence, but there are always ways to improve your interaction with ATC. In this issue, Evan Munro, a pilot and a controller at the Fort Worth Air Route Traffic Control Center, helps us to understand "the other side" and offers tips on how to work better with ATC.
Enhancing radio communications is just one facet of the ongoing process to become a better pilot. In the second part of her "Lessons Learned" series, air show star Patty Wagstaff shares real-world examples from her flying experiences after leaving Alaska, where she earned her private pilot license, for the Lower 48. By applying what she learned on long cross-country flights and during aerobatics training to your everyday flying, you can become a more self-aware pilot.
Some of the most self-aware pilots in the world are those who compete in the Reno Air Races. This September, you may be among one of the thousands who trek to Nevada's Stead Field to watch their low-level, high-speed flying. It's a week of excitement, friends and festivities, but flying in tight formation close to the ground is serious. Contributor Tim Kern goes behind the scenes at the Pylon Racing School, where rookies and veterans alike participate in intense training sessions, to learn what it takes to be a Reno racer. Check in at planeandpilotmag.com and facebook.com/planeandpilot for our video footage from this year's event.