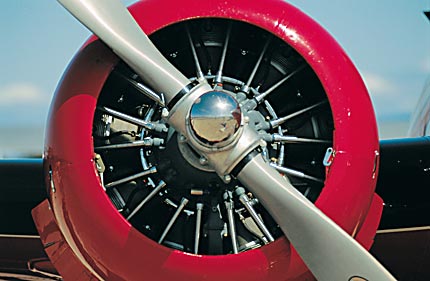 It's a sad state of affairs when it's far easier for older pilots to have new knees installed in their vintage bodies than to have new fuel valves installed in their vintage airplanes. It's, however, becoming an unfortunate reality, as the general aviation fleet grows progressively older and accessing "approved data" becomes more difficult. But now a glimmer of hope is on the horizon for those owners who wish to safely and legally maintain and upgrade their antique, classic and vintage airplanes.
Before looking at the possible solution, it's useful to take a closer look at the situation. According to the FAA, the average age of the American general aviation fleet in 2000 was 30 years old. By 2020, the average age will likely be 50. As it is, many of those airplanes no longer have the active support of their original manufacturers, and that's a problem with little hope of improvement.
In fact, many companies that once worked so hard to gain type certificates for these planes have long since gone out of business. Fearful of liability problems, some of the companies still in business are reluctant to provide the data. Based on the advice of government lawyers, the FAA has also decided that it will not release the approved data it holds, which only adds to the problem. Yet, at the same time, it requires owners and mechanics to use approved data for the maintenance, repair and restoration of older aircraft. This is the classic Catch-22 now facing owners of vintage airplanes.
Ironically, owners of aging aircraft have compounded the problem by doing a great job of maintaining their airplanes. Through diligent upkeep, the support of type clubs, and field approvals to install modern, improved parts, owners have played a significant role in extending the lives of airplanes that weren't designed to fly after 50, 60 or even 70 years.
But, as careful as most owners have been in assuring that their planes are airworthy, over the past few years, several high-profile accidents have brought increased scrutiny to what is now termed the "aging-aircraft" issue. Vintage-aircraft owners cry foul when the FAA points to a wing-separation accident involving a T-34 long used in simulated combat training to justify its increased attention to the entire T-34 fleet, and especially when that reasoning is extended to all older airplanes. Airplane owners point out that the vast majority of vintage airplanes are not now, nor have they ever been, subject to such stresses.
Owners say they simply want fair treatment, the assurance that egregious cases won't be used as the basis for future rules, and a common-sense approach to repairing and maintaining older airplanes in the absence of "approved data." Now, thanks to the aggressive advocacy of the EAA and its companion group, the Vintage Aircraft Association (VAA), a possible solution to the problem has been proposed.
For several years, the EAA and VAA have been petitioning the FAA for a method through which owners can get approved data, but with little or no success. The problem seemed intractable until the two organizations decided to try a radical new approach. Instead of trying to get data, they've proposed a new vintage aircraft certification category, which would eliminate the approved-data issue, and allow owners to work with their mechanics, using "accepted data" and practices (FAR Part 43).
Simply put, under the proposal presented to the FAA in March, owners could voluntarily remove their airplane from its current type certificate, and transfer it into the new certification category. It's important to repeat a key word in that last sentence, and that's the word "voluntarily."
Earl Lawrence, the EAA's vice president of industry and regulatory affairs, is one of the principal authors of the proposal, and from the beginning, he says he was well aware that aircraft owners wouldn't take kindly to any new, mandatory solution. Beyond that, the EAA wanted to make it clear that this was the beginning of the process. Of the proposal and the reaction to it, Lawrence says, "It's developing the debate that we wanted to get going. Some people have felt that we already wrote a rule and handed it to the FAA. But what we have done is present a proposal to get a discussion going because we wanted to address how we can keep these aircraft flying."
The EAA summarizes their proposal this way: "Create a certification category that will give owners and their mechanics the ability to maintain vintage aircraft using safety-based form, fit and function criteria, as opposed to unavailable or outdated type-certificate data."
The proposal will allow an owner of record to choose whether or not to place an airplane into the new vintage category, a choice that wouldn't be reversible. The transfer into the vintage category would also mean the airplane couldn't be used for hire. Except for owners who use older aircraft for commercial purposes such as ride hopping or flight exhibition, this would be a small price to pay for the proposed benefits.
To understand how voluntarily moving an airplane into the new category could be beneficial, it's helpful to look at a real-world comparison between what's being proposed, and what currently exists. Under current rules, an owner who wishes to install a part that's not within the original type certificate, or has been approved under a supplemental type certificate (STC), must petition the FAA for a field approval. This is often an expensive and time-consuming process, made worse if the manufacturer of the part hasn't sought approval from the Parts Manufacturing Authority (PMA). Under the proposal, if the owner's mechanic is satisfied that the part meets the requirements of FAR Part 43 for "safety-based form, fit and function," the part can be installed and a simple logbook entry made. Depending on the final form the proposal may take, it's possible that the FAA may need to be notified that the work was performed, but no approval will be required.
Among the type club representatives in attendance at the March
meeting, initial reactions to the proposal appeared to be favorable. Gary Rankin is president of the American Navion Society, a group representing many of the owners of the nearly 1,000 Navions still flying. He says, "I came away feeling very optimistic that this proposal offers a long-term solution for those of us who fly older aircraft and want to upgrade and maintain them safely."
Butch Joyce is the operations manager for AUA Insurance, a North Carolina-based agency long known for writing coverage for vintage aircraft, and is himself the owner of a vintage airplane. Stressing that he was speaking as an aircraft owner, and not officially for his company or its underwriters, Joyce asserts, "My personal opinion of the proposal as it was presented is that I don't see a problem with it as an insurance issue. That's because the airplanes would be maintained as they are now, and I think it would be an improvement since we'd have more current data."
No one expects the FAA to take immediate action on the proposal—with the most optimistic hope for approval and implementation within two to three years. But in a hopeful sign, the EAA's Lawrence noted that at the conclusion of the March meeting, working groups were established and immediately began the task of studying five key aging-aircraft subject areas, a process that will include serious discussions on the future of a new vintage-aircraft certification category. The groups were planning to reconvene as early as July's AirVenture in a public forum for a review of their work.
In the meantime, as their airplanes age, vintage-aircraft owners must continue to work within the constraints of a lack of approved documentation, and of contradictory regulations requiring such documentation. For the long term though, optimists such as Earl Lawrence see a real possibility that a unified general aviation community of owners, type clubs and industry leaders can convince the FAA that the proposal will improve safety, guaranteeing its success.