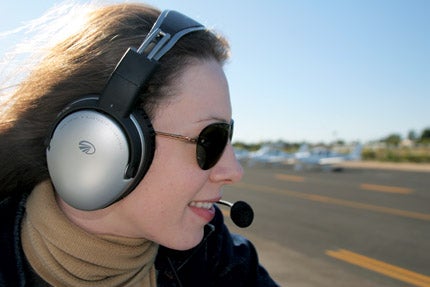 I first learned about the Lightspeed Zulu from a friend at the Reno Air Races last September. He was as pleased as he could be, enough so that he seemed like a walking advertisement for the product. I was a little skeptical about the durability of a Lightspeed headset in my aerobatic Edge 540, but he insisted it was truly great and described a change that had occurred within the company. Lightspeed has always focused on providing a good value headset with great comfort and outstanding customer service, but now they have such a high-quality piece of equipment that there's little need to use their world-class service department. The active noise-reduction (ANR) headset includes features such as Bluetooth wireless capability, an audio-in jack for MP3 players and leather ear seals.
At the Relentless hangar, Lightspeed President Allan Schrader gave me a demo of the Zulu. I was immediately impressed. The sleek magnesium alloy headset looks strong and classy—the same way that a Ferrari looks like it's going fast even when it's parked. I enjoyed the audiophile-quality sound of the music he had playing, especially when the Front Row Center (FRC) circuitry was active. I was very pleased with the headset's lightweight (13.9 ounces) and comfort (a flexible spring steel inside the headband lessens side pressure).
My first flying experience with the Zulu, during formation aerobatics, was even more amazing. The Edge 540 is the best unlimited aerobatic monoplane built, but it also acts as a carbon-fiber megaphone that amplifies every bit of noise that it can right into the back of my head. The noise just increases and gets more and more deafening with each mile per hour until redline.
DIP switches in the battery box allow users additional control in matching the Zulu's performance to their airplane. I set mine to mono-mode to work with the inside of my utilitarian aerobatic flying machine. On the radio check-in for the Collaborators flight, I jumped because I had forgotten that the radio was turned all the way up for the old headset. I soon got the excessive volume situation under control, and I was lovin' my Zulu even more. Communication is imperative to flying formation aerobatics, and I can't overstate how excellent it was to be able to hear all of our radio calls with perfect clarity. I found myself in a relatively peaceful environment where I was communicating easily with my team. There was no pain, and I didn't have to worry that I was doing permanent damage to my hearing.
---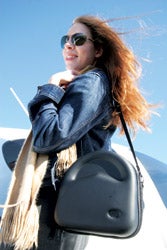 Lightspeed's design engineers looked deeper than just providing the biggest decibel (dB) cut across the audible range for the Zulu ANR system; they also became students of how people perceive noise and focused the most attention to the parts of the spectrum that would offer the biggest improvements toward quiet comfort. These engineers determined that a 3 dB reduction in one portion of the spectrum can be much more important to a person's perception of noise than a 10 dB cut at another frequency range. The result is an experience of quiet that goes beyond the cancellation numbers many manufacturers claim. Coupled with the passive noise-reduction (PNR) properties of the magnesium cups, the quietness is surreal.
With my Zulu headset, I quickly became aware of how much I rely on the way my engine sounds to gauge how the airplane is running. Even if it sounds too quiet on the run-up, I spend an extra amount of time checking the magneto drop and assessing why the airplane all of a sudden seems unusually smooth. (To find out how the Edge's engine responds to tumbles and knife-edge spins, read the "Lycoming To The Max" sidebar in "Airplanes, Cars—What's The Difference?") For the first few flights with the Zulu, I found that it just didn't seem like everything was quite the same. After a few checks of engine gauges, I relaxed and enjoyed my newly found quiet. As I pushed outside at -5 G's, I was very glad to be wearing a mesh flying helmet from Perrone Leather (www.perroneleather.com), which fits the Zulu perfectly and keeps it firmly attached to my head.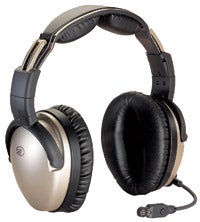 The Zulu passes the test in noisy environments: I don't want to fly my Edge without it; Kevin Eldredge races in Relentless with his; and Plane & Pilot's editors wear theirs on air-to-air photo shoots. But the Zulu also outperforms on more standard cross-country flights, when pilots can take full advantage of all the features. In my Globe Swift, I used the Bluetooth capability to call my mom and check on her bridge game. It took a minute to get used to the lack of side-tone when talking, but it was the clearest connection I've ever had on a cell phone. (I wish I could use it legally in my car in California. Although the one time that I did wear it, I found myself driving about 20 mph faster than I usually do.) I also listened to music on my iPod. It's apparent that Lightspeed wanted to set the standard for fidelity when designing the Zulu. And just like you would want it to, the music input has a selectable soft muting system with priority for radio transmissions and the intercom. When you hop out at a fuel stop, you can forget about having to hit the power-off button—it will perform an auto-shutdown after a couple minutes. The Zulu will actually sense your pulse to determine if it's on your head or if you have taken it off. Also, they fold up flat and have an excellent case, making them the perfect headset to take on an airliner (the elegant styling fits well in the first-class section).
Since my initial flight training in the mid-'80s, the two biggest changes in flying for me have been the ubiquitous headset and the handheld GPS. For those who became pilots since then, it's hard to imagine how much both of these have helped the person in the left seat. I've loved every headset that I've owned because each one has been an improvement over the previous, but my new Zulu leaves them all in the dust. Passengers will love it too.
After encouraging other pilots to try my Zulus on, I realized that I too had become a walking advertisement. How quiet is it? Lightspeed proudly states that it's the world's quietest ANR headset! How light is it? As light as anything on the market. How good is the Bluetooth? Clear and easy to use! How comfortable is it? You might wear it much more than just in the airplane—if you're like me, you'll find yourself in the living room listening to the stereo through your Zulu with the FRC button switched on. The headset is priced at only $850 and can be purchased from authorized dealers. Visit www.zuluseries.com.