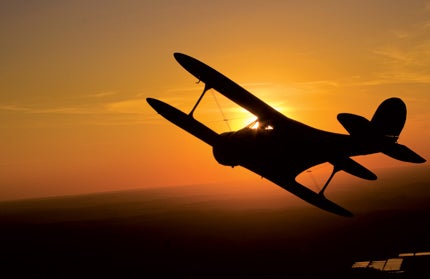 Bill Morrison, a pilot with now-defunct Western Airlines, was perusing the classified ads in the Los Angeles Times, back in 1974, when he erupted in a shout. "Oh my God, there's a Staggerwing for sale!" his sons heard him exclaim.
Mark, then 17, and Ron, then 14, both wondered the same thing: "What the heck is a Staggerwing?"
Mark, now a physician, and Ron, who works in international sales for FedEx, recounted the story over pancakes at an EAA fly-in breakfast at Winchester Regional Airport (KBGF) in eastern Tennessee last fall.
The Beechcraft Staggerwing is, of course, the biplane of biplanes. Sleek, powerful and iconic, it's the aircraft Walter Beech founded Beechcraft Aircraft Company to build in 1932. It introduced innovations to general aviation including retractable landing gear, a split rudder in lieu of wing flaps, seats with optional built-in parachutes and, of course, the distinctive negative stagger of the wings—the upper wing set aft of the lower wing, opposite the standard biplane configuration. Owned by corporations and the wealthy, the Staggerwing was the Gulfstream of its day. It was also the airplane Bill Morrison had always dreamed of owning.
The apron at Winchester that morning was a Staggerwing lover's fantasy. Half a dozen were parked on the ramp. They had dropped in for breakfast from Tullahoma Regional Airport (KTHA), 15 nm northwest, where the annual Beechcraft Birthday Party fly-in, hosted by the Beechcraft Heritage Museum (www.beechcraftheritagemuseum.org), was underway. This year's gathering, marking the 75th anniversary of the Staggerwing and of the founding of Beechcraft, was especially auspicious. It drew more than a dozen Beech 18 Twin Beeches, a trio of Model 50 Twin Bonanzas, a pair of Beech 60 Dukes, several Barons, 35 Bonanzas and a couple of King Airs. And, of course, the stars of the show: 10 Staggerwings in bold lollipop hues, were flown in from as far as Arizona. Mark and Ron owned arguably the prettiest of the lot—a silver 1938 F17D model. On the cowl, small and elegant script read "Bill's Dream."
When they first heard that mention of a Staggerwing, Mark and Ron had already been introduced to aviation through the Western Airlines flying club. But 35 years ago the Staggerwing was more a curious relic than a venerated classic, not as widely recognized as it is today.
---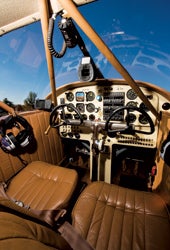 The relatively modern, refurbished panel still shows signs of period design in the yoke and fuel selector.
The Model 17, as it was originally known, was designed by T.A. "Ted" Wells when he worked for Walter Beech at Travel Air Manufacturing Company. Beech believed customers wanted a fast, long-range aerial limousine. Extensive wind-tunnel tests told him the Model 17 could meet the design criteria. Curtiss-Wright bought Travel Air, and Beech tried to convince the new owners to build the Model 17. With the nation gripped by the Great Depression, Curtiss-Wright execs didn't share Beech's rosy view of the market. So Beech quit and founded the Beechcraft Aircraft Company in April of 1932. That November, the Model 17 had its maiden flight. Initially priced at $14,000 to $17,000, Beechcraft would build 785 of them in several models and with a variety of powerplant options over the next decade and a half.
The Staggerwing had been out of production for more than 25 years when Bill saw that classified ad. They were actually rarer at that time than today; a number of the Staggerwings now flying were in pieces back then, victims of accidents or terminal neglect. That was the condition of the Staggerwing that Bill saw for sale by an aircraft restorer in Lawndale, Calif., just down the road from the Morrison home in Hawthorne.
"[The restorer] finally decided it was too much work to rebuild it," Mark said. "We rented a flatbed truck and started collecting old milk crates full of parts from Lawndale." Bill rented a hangar at Torrance Airport (KTOA), and he and the boys spent the next six years rebuilding the airplane. They got help from Mike Garnreiter, who joined the family when he married girlfriend Debbie Morrison during the project. It was a magical time for the family.
"We'd work all day, then go out and sit at the end of the hangar and watch airplanes," Mark remembers.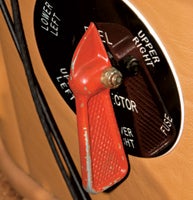 According to aviation lore, the Beechcraft Model 17 got its more popular name during an air race in 1933 when an announcer said, "Look at that negative staggerwing Beechcraft go." Go indeed: With a top speed of almost 200 mph, it outperformed not only any light aircraft of the era, but also many American fighter aircraft, making it popular on the air-racing circuit. The negative or inverse stagger offered several advantages. Having the upper wing set back improved pilot visibility. Also, the lower wing stalled first, giving the aircraft gentle stall characteristics. A negative stagger also improved maneuverability and longitudinal stability. And in the Staggerwing's case, it allowed for optimal placement of the landing gear relative to the aircraft's center of gravity.
The Morrisons finished rebuilding their Staggerwing, NC18781, in 1980. It was powered by a 915-cubic-inch, 330 hp Jacobs L6MB radial engine. Bill and the boys flew it all over California, to EAA AirVenture in Oshkosh one year and to Wichita for a Beechcraft homecoming another. Bill's dream was finally realized. And the Staggerwing lived up to its reputation for comfort and speed.
To fly a Staggerwing is to step into the Golden Age of Aviation. Entry is from the port side, aft of the wings, and with the plane's nose-high ground stance, requires pulling oneself up into the cabin using a leather hand strap. Each Staggerwing was custom built and interiors rivaled those of luxury automobiles: supple leather, accents of fine wood and side windows that rolled up and down with hand cranks.
With a radial-powered taildragger, you'll spend more time warming up the engine and more taxi time S-turning your way to the runway. But in the air, the reasons for Walter Beech's confidence in the aircraft and its success quickly become obvious. The control feel is solid, the aircraft is nimble in response to inputs and it's a very comfortable ride. Once airborne, you want to keep going. And the Morrisons' Staggerwing has the added benefit of an updated panel with digital avionics and a Century 2000 autopilot.
---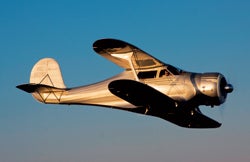 A hallmark aircraft of aviation's Golden Age, the Staggerwing set the gold standard for private business aircraft at the time.
In 1985, Bill Morrison was aboard a commercial flight bound for the Oshkosh fly-in when he suffered a heart attack. He died before the jet could make an emergency landing. On New Year's Eve that year, the row of hangars where the Staggerwing was temporarily stored caught fire. The hangar owner had no insurance. All that was salvageable was half the metal tube frame and half the landing gear. But the sons were as determined to make the plane fly again as their father had been.
"There was never a question," Mark said. "That was my dad's dream. If it was rebuildable, we were going to do it."
The project began in 1986. Mark and Ron were living in the Chicago area then. Brother-in-law Mike Garnreiter pitched in again. They painted a banner, "One More Time," and hung it at the back of their hangar at Chicago's DuPage Airport (KDPA) where the aircraft would be based. Michael Stanko of Gemco Aviation Services in Youngstown, Ohio, rebuilt the frame. The Morrisons' mother, Shirley, provided emotional and financial support.
"Dad wasn't there to help. That was the hardest part of the restoration," Mark said.
Four years and about $200,000 later, the rebuild was complete. Bill's Dream was reborn. The first flight was to the Tullahoma fly-in in the fall of 1990.
Listening to Ron and Mark, one discovers unexpected ways an airplane can bring people together. This airplane brought the brothers and their father closer. It also helped cement the bond with Mike, their brother-in-law. And it brought Mike into the Staggerwing community. His autumnal orange Model 17, flown in from Paradise Valley, Ariz., was parked next to Bill's Dream at the Tullahoma fly-in.
"I enjoyed it so much," Mike said of working on the Staggerwing and meeting other aficionados during a previous trip to Tullahoma. "I decided I'd buy one. I've had it seven years—lucky seven. The timing just worked out well with the last child off to college."
But that, it seems, only hints at this airplane's power to draw people closer.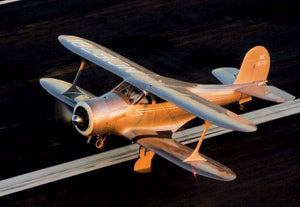 "I met my wife because of Staggerwings," Ron added nonchalantly as he continued the story. Every year, the brothers take the airplane to Oshkosh. One year, soon after completing the second restoration, they were parked by a Model 17 owned by an airline captain from Nashville. "If you ever meet a nice Southern girl, let me know," Ron, who was looking to settle down, told him. At Oshkosh the next year, the captain informed him, "I met your wife."
"What are you talking about?" Ron questioned him.
"Your wife—you said to let you know if I found a nice Southern girl for you. She's wonderful—she's a teacher."
Ron and Margaret have been married 14 years now and have two sons. Meanwhile, Mark and his wife, Gloria, have three girls and a boy. And both brothers are passing their love of aviation and their veneration for their father's legacy to their children.
"For me, being able to share this with my boys is giving me the same sense of gratification my dad probably had," Ron said.
And with a third generation of Morrisons now enjoying the Staggerwing, Bill's Dream is sure to live on for a very long time.
Said Mark, "I know he's up there watching us, keeping us safe."