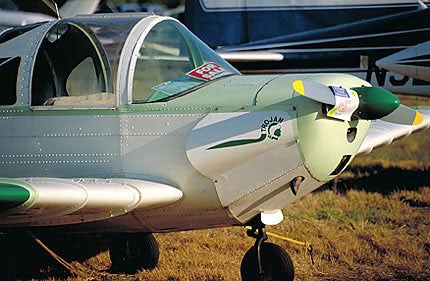 Whether the stories are real or just urban legends, sooner or later, every hangar-talk session turns to a tale of someone finding that cherry-red Bonanza sitting in a barn in the middle of nowhere and the farmer selling it for $5,000. While stories like this are much more fiction than fact, a question remains: How can you find that undervalued gem that will ensure your place in aircraft buyer's lore? Unfortunately, it's not as easy as it used to be.
"Ten to 15 years ago, the average owner had no real idea what his airplane was worth, so deals were a lot easier to find," explains Brian Jacobson, operations director for the National Aircraft Appraisal Association. "Today, sellers are a lot smarter. The Internet and other sources have made it easy to track the value of every type of aircraft. Also, the market got so hot that owners began watching their aircraft's value go up the way people watch the stock market. Too many airplanes became overvalued. People were buying sight unseen."
Understanding The Undervalued
There are good deals out there. You just have to know where to look and what to look for.
"If you're patient and do a lot of research, you can find undervalued airplanes that are good deals," says Barron Thomas, manager of Barron Thomas Aviation. "Start by knowing the difference between good and bad undervalued."
Thomas says that undervalued airplanes are pretty similar to the rest of the planes in their class, but are being sold for significantly lower prices.
He explains that "good" reasons for undervaluing an airplane are things that don't affect its real value. Those things include circumstances that affect the seller: divorce, tax problems, buying another airplane, losing a medical—anything that causes motivation to sell fast. "Bad" reasons for undervaluing an airplane are all expensive: damage, AD compliances, corrosion, run-out engines, obsolete avionics—all the stuff from which nightmares are made.
---
Just to keep things from seeming too clear, he adds that there is another category of good and bad undervalued airplanes. "I define these good ones as ones that you can buy for a price below what you would pay for the similar performance from a more popular model," he says. "These are usually particular models to which the market just doesn't pay much attention." You could probably buy one of these, fly it happily for a few years and resell it for pretty close to what you have in it.
"On the other hand are the bad undervalues," continues Thomas. "These are airplanes that, due to high maintenance, insurance or operating costs, the market has undervalued way below competitive models' costs. Some are still good airplanes, but you need deep pockets to afford to fly them." Buy one of these and chances are you'll be digging a financial hole you'll never be able to fly yourself out of.
The key to being able to spot the proverbial diamond in the rough is knowing exactly why a particular airplane is undervalued. Is it situational or mechanical?

Uncovering The Undervalued
Now that we know what to look for and look out for, it's time to find the best places in which to look. A good idea is to start where other sharp-eyed buyers may not be looking, like estate sales and banks. If the aircraft is part of an estate, often the surviving family members don't know the airplane's value and may not be interested in doing the homework to determine the current market value. There is no harm done in alerting banks and members of the legal community that you're in the market to buy a plane. If you're in the right place at the right time and you make them a good offer, you score a win.
We've all heard about the pennies-on-the-dollar deals you can get at those seized property auctions that the U.S. government holds. Today, that's the exception and not the rule.
"We tend to get fair market value for the aircraft we auction off," explains Britney Sheehan, a representative of the company that handles auctions for the U.S. Treasury and other departments. "We get an appraisal of the airplane before it's auctioned, so we know what the value is. Most of the aircraft have no logbooks, have run-out engines and props, and need a lot of work. But every once in a while, there is a great deal in there."
---
She shared the story of a guy who sold a Boeing Stearman to a pilot who turned out to be a drug dealer. The original owner was able to buy back the Stearman at auction for a lot less than he originally sold it for.
Sheehan said that the various government branches hold these auctions at many locations around the country. Listings of dates, locations and items to be auctioned can be found on their Website at www.treas.gov/auctions/customs.
While you're waiting for an auction, Thomas suggests that you contact a reputable broker/dealer. His company has a waiting list of prospective buyers who are all looking for a certain price on a certain airplane.
"If someone is on that list, we call them first before we advertise it," he says. "You can get first shot at a great deal, if you're patient."
Of course, in the meantime, you have to routinely scan the Yellow Pages and other publications. Now and then, you can uncover some gems in all those endless lines of copy. And some of those "deals" often pop up on aircraft based in another country.
"There are deals outside of the U.S., for sure," says Marion Hope, president of Hope Aviation Insurance. "Just remember, from an insurance standpoint, that you never want to take delivery of any aircraft in a foreign country."
Why? "There are a lot of reasons, but the biggest is that it might not have a valid U.S. Airworthiness Certificate and it's not N-numbered," he adds. "Both can cause an owner huge problems when it comes to insurance. If you really want a foreign airplane, just have it delivered over here and make sure that all the paperwork is in order before you sign anything."
Having the airplane on U.S. soil isn't only important for insurance, but also for getting financing. "U.S. banks will only loan you money on an airplane that is physically located in the U.S.," adds Jim Blais, V.P. of the Aircraft Division for Eaglemark, part of Harley-Davidson Financial Services. "The aircraft also must be registered with the FAA before any loan can be processed."
---
Ready, Set, Buy!
Unlike high school, successfully buying an undervalued airplane—or any airplane for that matter—requires that you do all your homework.
"The first thing you need is a good market appraisal," says Jacobson. "It's a realistic value inspection. You need to know what the history of the airplane is: use, damage, modifications, etc. Believe it or not, some sellers will misrepresent the actual condition of their airplane, even when they've 'undervalued' it—hidden damage, incorrect or incomplete logs, improper modifications, things that would have been uncovered with a good pre-purchase inspection."
A big part of that pre-purchase process is a thorough technical evaluation. "A good technical inspection is just like a home inspection," explains Matt Thurber, A&P/AI and editor of Aviation Maintenance magazine. "You'll not only find out what is mechanically wrong with the aircraft, but also what it may cost to fix it. The important thing is to really determine the airworthiness of the airplane. That's where you're going to spend the really big bucks making it right. If you find that an airplane has had a cylinder removed at every annual for the past five years, chances are it's a problem that isn't going away. It's only going to cost more money in the future, and that money has to be added to the price to determine the real value."
That real market value will have a lot to do with getting the right financing. "If you're lucky enough to find an airplane that has a higher market value than what you're paying for it, you can use the equity to pay for improvements you want to do," explains Blais. "You can end up with an airplane that's better than others on the market at a price that was below everything else. It's a real win for the consumer."
!Happily Ever After
If your thoughts of finding your undervalued gem are getting a bit bleak, take heart. There are deals out there.
"A few years ago, we found an Archer that had been sitting unused in the desert for about eight years," says Jacobson. "It was part of an estate sale. It only had 1,100 hours on it and we got it at a great price. We did a thorough annual, including an inspection of the engine, which surprisingly didn't need any real work. We replaced the interior and glass, and painted it. In the end, we had a pretty nice airplane at a very nice price—way below what the market was asking. You don't find many deals like this, but when you do, it really works out well."