It's hard not to love a Bonanza, especially if it's the stretched model 36. The Bonanza has been around in one form or another for some 64 years, and though the current six-seat models are a far cry from the originals, it's easy to understand their longevity. Like many pilots, I've been flying F33s and A36s for as long as I've been a pilot, and I've come to regard them as the peak of the pyramid in many respects.
Technically, the model 36 was conceived as a stretched version of the E33A and introduced in 1968. The goal was to allow room for an additional row of seats and solve the CG problem on the four-seat Bonanzas. To that end, the cabin was stretched 10 inches and moved forward, relative to the wing. Beech added a pair of cargo doors on the aft starboard fuselage and the baggage compartment was omitted. The model 36 has been in continuous production ever since, accounting for some 4,700 airplanes.
If you're looking for a normally aspirated, six-place machine with good speed, reasonable comfort and the best-harmonized controls in the industry, the Bonanza is the airplane to beat.
!And hardly anyone can.
These days, there are only two models in the normally aspirated six-seat class: the Cessna 206 Stationair and the G36 Bonanza. In configuration alone, you couldn't imagine two airplanes more widely divergent in both mission and capability. The Stationair is a fixed-gear heavy hauler, designed primarily for utility transport, and the Bonanza is a plush, comfortable cruiser, intended more for luxury, cross-country travel.
The differences are so significant that some prospective buyers of either type expand the class to include the turbocharged, cabin-class Piper Matrix. The Matrix is an unpressurized Mirage that offers a considerably reduced empty weight by reason of the pressurization plumbing left in the factory-parts bins. The difference is a significant 177 pounds, almost exactly one passenger's worth. Also, not insignificantly, the Matrix enjoys a base price that's $130,000 lower than that of the Mirage. Accordingly, the Matrix is the world's newest six-seat, cabin-class single. Defining cabin class often hinges on an airstair door, though some pilots argue it relates equally to the 2+4 conference-seating configuration.
The G36 Bonanza's model designation pays tribute to Garmin's remarkable G1000 flat-panel avionics suite, the system that's now installed in virtually all new Cessna, Beech, Diamond and Mooney piston products. Beech's Garmin package encompasses practically every feature of the G1000, including the GFC700 autopilot with altitude and rate of climb preselect, terrain avoidance, Traffic Information System uplink, yaw damper, six-place intercom, dual WAAS GPS, Mode S transponder, XM radio, Synthetic Vision Technology and a number of other features. There ARE some options available on the G36 Bonanza, but the delivered airplane comes fully equipped and more than IFR-capable. Also standard on the 2010 Bonanza is the Garmin GTS 820 Traffic Advisory System that acts as an ADS-B "in" component and uses active interrogations of transponders to provide traffic awareness.
---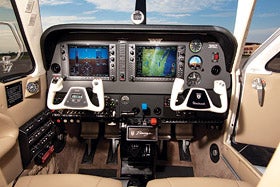 The panel on the six-seat Bonanza G36 features Garmin G1000 avionics that include the GFC700 autopilot, terrain avoidance, traffic information, XM radio and Synthetic Vision Technology.
The G36 flies with a gross weight of 3,650 pounds, and while that's not enough to allow carrying six, full-sized folks, those who do fly by Bonanza do so in an airplane that has become perhaps the most iconic model in the business. Fit and finish are excellent, performance is outstanding, and the G36 richly deserves most of the kudos offered it by virtually every aviation magazine, not to mention model 36 owners who wouldn't consider traveling by any other means.
Payload can be a challenge, however. If your typical load is two adults up front and four kids with Nintendo in back, there's no problem. You can download fuel and probably still fly three hours between pit stops. If you need to carry a full hockey team, however, an FAA-certified 1,020 pounds of people, you're out of luck, as the airplane is only approved for a max payload of 950 pounds. The other 183 pounds (31 gallons) must be fuel. That's not especially unusual, incidentally. I know of no six-seat piston airplane that will accommodate a full load of people and topped tanks.
It's a little tough to compare speeds of the three models, as the Matrix employs the Mirage's 350 hp turbocharged engine, the Bonanza is normally aspirated with 300 hp, and the 206 flies with fixed gear and 310 hp. With the benefit of 50 more horsepower and twin turbos, you'd expect the Matrix to do a little better than either of the other two. For a normally aspirated machine, the Bonanza scoots right along, an easy 170 knots at high cruise, even if you're not doing everything right, perhaps as much as 174 knots (the magic 200 mph) on a good day when you are.
I've delivered a dozen model 36s of various descriptions across the Atlantic and Pacific in the last 30 years, and I can verify they offer an almost universally comfortable ride. Controls are still fairly responsive despite the overweight condition (often as much as 1,000 pounds over gross), speed doesn't suffer that much, and runway requirements aren't excessive.
Though the Bonanza's cabin is the narrowest of the three, it's also the tallest, so seating position is more upright than supine, creating the impression of spacious comfort. The G36 makes maximum use of its dimensions, even managing to include armrests. In fact, it's only a half-inch wider than a Skyhawk, but it doesn't feel cramped. I flew with a Beech pilot for this report, and neither of us qualify as little people. Still, the G36 enclosed us snugly but without discomfort.
I operated an A36TC for Victor Sloan of Victor Aviation in Palo Alto, Calif., for several years in the '90s to demonstrate the smoothness and power of Victor Engines. Victor had the airplane tricked out from spinner to tail cone, and I campaigned that solid red Bonanza all over the USA for 200 hours, showing prospective engine-overhaul buyers what a balanced, blueprinted engine could do. The duty was a delight in almost every respect.
I did say almost. One aspect that wasn't always loved was fuel capacity. All model 36 Bonanzas built since 1973, except the B36TC, have offered 74-gallon tanks. With 300 hp out front, fuel burn at max cruise is just under 16 gph, so reasonable endurance is 3.5 hours plus reserve. There's always the option of climbing higher to a height where 65% power is all there is, and burn drops to more like 14.0 gph. This extends endurance to 4.0 hours, the standard of the industry.
---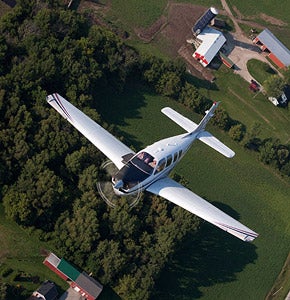 The Bonanza has always enjoyed a reputation as a strong, durable airplane, and for good reason. I've seen them operating in such unlikely locations as the bush country of Alaska and the deserts of Australia. Part of the reason is that the model 36 flies above one of the strongest gear systems in the industry. The Bonanza's gear-limit speed is 154 knots, but once it's down and locked, the airplane can be taken to red-line without damage to the mechanism or gear doors. The gear is also loosely related to the system utilized on the Navy T-34C, a turbine trainer that was used to help teach naval aviators to land on carriers. While the T-34C has never come aboard an actual carrier, it has been employed to instruct new Navy pilots on how to plant an aircraft onto a carrier deck by simulation on a standard runway.
In partial recognition of all that, the G36 Bonanza is certified in the utility class that stipulates positive-G limits of 4.4 rather than the normal class' 3.8. In fact, the straight-tail model 33 and 36 Bonanzas have a relatively low incidence of in-flight structural failures, so the basic airframe, wing and tail structure have proven themselves reasonably sound.
Another feature that has always endeared the 33/36 Bonanzas is their excellent handling. The airplanes feature control harmony that's about as close to perfect as you'll find, and that's not just my semi-uninformed opinion. The late Roy LoPresti, an aerodynamic genius of the first order, was a fanatic on control harmony. Roy was the father of the super-efficient Mooney 201, the fast, quick-handling Grumman-American Tiger and Cheetah, and the upcoming LoPresti Fury, an original sportplane based loosely on the Globe Swift. LoPresti once told me the optimum relationship between roll, yaw and pitch on those airplanes was near the ideal 5/3/2 ratio. In other words, roll should be the quickest axis of control, yaw should be just over half as sensitive and pitch should be the slowest axis of response. Roy consistently praised the model 33/36 Bonanzas as also coming close to that ideal. LoPresti felt the F33 was among the best-handling aircraft in general aviation.
Beech acknowledged the straight-tailed airplane's quick maneuverability by building an aerobatic version of the four-place model 33 starting in 1968. The E33C was approved for all the standard positive-G, acro maneuvers with only a slight wing spar and tail mod, an improved fuel pump and a jettisonable cabin door.
You don't need to spend much time with a Bonanza to love the type. In addition to my hours flying Victor Sloan's A36TC and multiple ferry flights in newer models, I've been fortunate to fly the four-place model 33 for several hundred hours. I have a good friend here in Southern California with a 1967 E33A. Dr. Van Steed also has a Cessna 340 that he uses for fast, pressurized business travel back and forth to his ranch in West Texas. I fly Van's E33 more than he does. Despite the obvious financial challenges of maintaining two airplanes, Van wouldn't think of parting with his Bonanza. If it were mine, I wouldn't either.
---
A Day At The Beech
A beloved Bonanza returns to its Wichita birthplace
Story and Photos by Ron Mohrhoff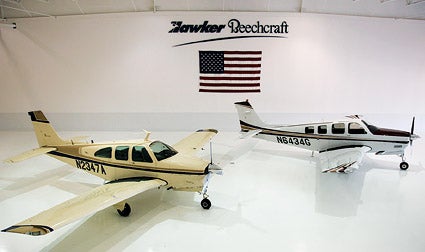 I've owned a Bonanza for six years, and I love the airplane more every day. Maybe it's the aerodynamic lines that are remarkably undated considering their World War II origin; the stout wing dihedral that gives it that proud ramp appeal; the beefy landing gear that folds up gracefully into the belly after takeoff or the cracking sound of its power. Whatever it is, the Bonanza has a distinct personality you can only fully understand by seeing how it's made.
It was during a photo shoot on a partly cloudy afternoon over Southern California's Catalina Island that I got to know Joe Grubiak, aviation consultant and former Premier product manager. He was with former astronaut Hoot Gibson in a new Beechcraft Premier IA, just 20 feet off my Bonanza's right wing and in view of Jessica Ambats' camera. Joe is everything you would expect of a man working for the legacy aircraft manufacturer that produced the Staggerwing, Bonanza, Baron, King Air and Premier. He's smart and friendly, with solid midwestern values, and came up in his aviation career in the military. He's a can-do guy who says yes to everything. When you're with him, you genuinely feel that you're going to have a great day.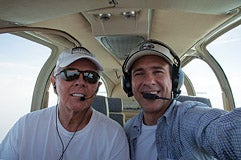 HOMECOMING FLIGHT
Last summer, N2347A turned 40, something I was nostalgic about, so I started to imagine a trip to Wichita with my dad, the second biggest aviation enthusiast in my family. It took a year for all the stars to align, and this August we boarded the now 41-year-old BE33 for the 1300-nm trip from Santa Monica, Calif., to the Beechcraft factory in Wichita, Kans. The longest leg I had flown prior was Santa Monica to Cabo San Lucas, which took just over five hours and left 16 gallons in the tanks, so I knew I had six hours of endurance at 10,000 feet. The challenge this time was the geometric puzzle of convective AIRMETs cluttering the entire route. This was impossible to avoid this time of year, but we tiptoed cautiously past the California border and then ventured forth. I flirted with the smaller clouds but flew around the mean ones. We felt lucky as we passed huge buildups on both sides of us while the route in front was relatively clear.
After two time zones and a fuel stop in Las Vegas, N.M., we arrived in Wichita early in the evening. ATC vectored us for a left base over the Wichita Turnpike for Runway 36 at KBEC. This is the runway that introduces you to the grand presence of Beechcraft in the area. The 8,000-foot strip crosses diagonally through the center of what's commonly referred to as the "square mile," and is the approximate size of the factory spread. We were vectored a bit high for base-to-final turn, but with gear down and power out, the old 33 dropped right in like a little bird returning to the nest. It's very likely the last time this airplane had been on that field was during the summer of 1969, while Neil Armstrong was on his way to the moon. The touchdown was so soft I like to imagine that I had little to do with it and this historic moment was creating itself. After landing, the tower directed us to a taxiway and instructed us to follow a blue line to the delivery center where folks pick up their new Beechcrafts. It was exhilarating to stand there, having just flown all that way to the legendary birthplace of my airplane. Dad and I paused, taking in the moment.
---
A Day At The Beech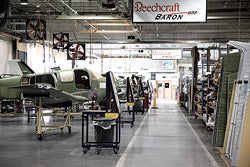 A TOUR THROUGH TIME


The next morning at the delivery center, we were greeted enthusiastically by our host, who in perfect Grubiak form made sure to be there and make good on his invitation. Also joining us on the factory tour were Sarah Estes, HBC PR representative, and Bob Conard, HBC Senior Information Technologist, who took the day off from his regular duties in anticipation of a Beech nut from California. He drove us to the southwest corner of the square mile where Plant II is located and where Bonanzas and Barons have been manufactured since 1953. Bob is truly an encyclopedia of Beech history, and I wore him out asking questions like a kid at Disneyland.

I took a deep breath as we entered, and right away I felt as if we had time-traveled to another era marked by postwar American values and pride. The airplanes are all made by hand like a fine watch, and there's little, if any, automation in the process. Instead there are stations built around a core where the fuselage starts and moves through the production process before it's joined with the wing and rear empennage. Vintage fans ventilate real people—not robots—assembling parts and putting in rivets. The fit, finish and quality I had come to love made more sense as I observed people carefully building various components. I felt the history among the familiar shapes and structures of the airplanes in various stages of completion. There are pieces of manufacturing equipment that show years of use, and you get the feeling that the pieces weren't replaced or updated because they were just right from day one. There's a jig used to align the nose gear that has served this line for the entire 63-year run of Bonanza production and really, it seemed like we all needed to take a moment of silence to honor this old piece of equipment that not only aligned the nose wheel on the very first Bonanza ever made, but on my E33 in 1969 and the G36 that passed through here just an hour ago.

The workers we met were all happy to strike up conversations, curious about why we were there and eager to talk about their job. They all seemed to really enjoy building Bonanzas, and you could see the pride in their demeanor. I tried to impress one guy working on the installation of the special edition 550 engine by telling him about our long trip out from California. He immediately deadpanned: "Of course you did," not surprised at all that the 41-year-old airplane made the trip. His response said more than I could write about the factory and the longevity of the Bonanza line. In a vain effort to find one person who might have actually worked on Four Seven Alpha, I asked everyone I met how long they had worked there, but no luck. However, many of the employees we met had worked in that factory for 10 or more years; some even 30. Their positive attitude, as well as all those years of experience, helps explain why these airplanes still work so well after many hours of use. The Beechcraft operation is a well-worn machine producing some of the finest airplanes in the world, and there's a patina about the place like a precious antique that best describes the Bonanza/Baron factory. More than 17,000 Bonanzas were built on the square mile in 63 years.

Our journey was primarily about the Bonanza, but it's impossible not to mention Plant IV. It was inspiring to turn our attention from the legendary Plant II to a newer facility where some of the most advanced airplanes in the world are being assembled on a much larger and more linear scale. Although working with much more advanced components, the employees displayed the same friendliness creating King Airs, Hawkers and Premiers that we noticed earlier. Conard guided us from an impressive row of nearly complete King Airs "back to the future," where the next generation of Beech legacy was unfolding in the production of the Premier. The carbon-fiber/epoxy honeycomb composite shells that make up the jet's fuselage remarkably weigh only 600 pounds and are 20% lighter than and three times as strong as aluminum. This allows designers to build a large, luxurious interior while still delivering speed and economy.

As we returned to the delivery center for lunch, I couldn't help but think that a pilot could spend his whole career flying airplanes made right here, starting with the Bonanza and working up to the Hawker 4000. We entered the lobby of Hawker Beechcraft headquarters and walked down a long marble hallway to the observation deck that looks out over the expansive, spartan, white hangar where every Hawker Beechcraft aircraft is delivered. The company's stylish logo decorates the wall just above a full-sized American flag. We sat down to a delicious meal served in a glass conference room looking out at a brand-new G36 that was parked next to my 1969 BE33. The bright Kansas sunshine lit the hangar through the open door, and from that angle my airplane looked nearly brand new. There's a striking family resemblance that, despite the G36's fancy leather interior and glass avionics, both airplanes have in common. They are surely part of a great heritage that continues to this day.