We've been wondering when/if the highly popular Van's RV-12 E-LSA kit airplane would ever be produced as an SLSA. That question is now answered with the newly announced SLSA version, and at a very attractive price: $105,000.
In addition, 12 "Signature Edition" models with all options at $115,000. The purpose, says Van's, is to "define and codify the production process."
Why is this important news? Van's has been around the patch more than once.  It's built nearly 8,000 kits and builders are fanatic about them. Flying communities across the country have held building parties to construct numerous kits at the same time, a kind of flying cottage industry.
More significant to the Light Sport community is the 200 RV-12 kits that have been built and flown to date, as both ELSA and EAB (Experimental Amateur Built), from the quality kits Van's is famous for putting out.
Now, through a working agreement with Synergy Air, the SLSA version could benefit from good market timing. Many manufacturers and distributors have struggled mightily through five years of stubborn economic recovery. With indicators pointing to modest but steady growth in the coming months, Van's announcement could be prescient of a better time ahead for the entire industry. Let us all hope so.  Let's pay attention to that other info bit too: they've managed to sell those 200 kits in this crummy economy.  That's a testimony to having an affordable LSA as well as a kudo for the RV series that is so well known for well-appointed kits.

Meanwhile, this is a beautiful plane. We'll want to get a flight report on it soon as possible. We've held off covering it to this point because it's difficult to report on the flying characteristics of a kit built aircraft with any confidence since builder skills can and do vary widely.

Still, the ones we've seen at airshows pay off on the vaunted manufacturer's previous all-metal models. If it flies anything like its siblings, you can expect a lively and enjoyable sport flying experience. Can't wait to get my hands on one m'self.
The company announces the following standard equipment:
Rotax 912ULS engine, Dynon Skyview EFIS (with Mode S transponder and GPS), Garmin SL-40 comm radio, Flightcom stereo intercom, 406Mhz ELT, Flightline interior, and LED lighting for night flight (expect many Private Pilots to fly it beyond the Sport Pilot restrictions). Optio
ns: wheelpants, ADS-B, two-axis autopilot, premium paint and Oregon Aero seats and interior.
As the company avers, and I'd say it's far from idle boasting, "production S-LSA RV-12s will include the benefits of this real-world flight experience (the 200 flying kit versions), rather than just factory testing done by professional pilots."
As we've seen with Rans Aircraft as well, you can't help but feel a sense of confidence in overall quality and flyability from companies that have produced so many thousands of popular airplanes.
Van's also announces a network of Service Centers for maintenance and repair of the RV-12.
Get your check-writing pens ready, folks: orders will be taken starting sometime in November, with initial deliveries beginning in early 2013. No five-year wait for these babies!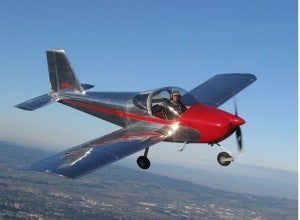 By the way, in case you hadn't heard of Synergy Air (I hadn't), the company has put out instructional seminars, videos, and offered builder assistance for RV buyers to complete their kits for years now. They're located at the Eugene, Oregon airport…my old stomping ground from the '70s
.