Saturday, January 1, 2005
Aviation's Top Websites

In slightly more than a decade, the World Wide Web has gone from being a mere novelty to one of the most important tools available. Now, with a click of the mouse, pilots can access live weather, plan flights with previously unheard-of flexibilities, check fuel prices, find aircraft values, search databases, take virtual tours of museums and study volumes of hard-to-access aviation product information. In the proceeding pages, Plane & Pilot has assembled the best online sites for pilots who are searching for excellent resources on the Internet." />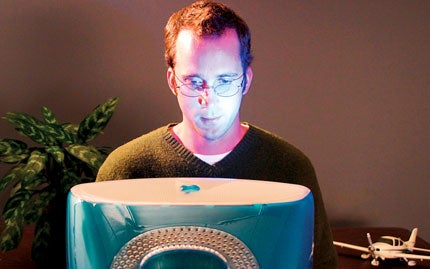 In slightly more than a decade, the World Wide Web has gone from being a mere novelty to one of the most important tools available. Now, with a click of the mouse, pilots can access live weather, plan flights with previously unheard-of flexibilities, check fuel prices, find aircraft values, search databases, take virtual tours of museums and study volumes of hard-to-access aviation product information. In the proceeding pages, Plane & Pilot has assembled the best online sites for pilots who are searching for excellent resources on the Internet.
Favorites & Bookmarkers
Federal Aviation Administration: www.faa.gov
It includes real-time airport status (mainly Class B airspace), graphical TFRs, current regulations and advisories, NOTAMs and restrictions, aircraft registration and forms. It includes links to a wide range of external sites, including flight schools and aviation universities, weather information, national registry of aircraft, licensed pilots, instructors and mechanics.

NASA Aeronautics Research Mission Directorate: www.aero-space.nasa.gov This is the home page of NASA's Aeronautics Research Directorate, with tons of information on topics ranging from X-planes to the upcoming Small Aircraft Transportation System (SATS).

NOAA National Weather Service Aviation Weather Center: http://aviationweather.gov
It's the official source for aviation weather. It includes AIRMETS, SIGMETS (domestic and international), prognostic charts, PIREPs, surface observations, RADAR and satellite imagery—all free of charge. New products include icing and turbulence forecasts. It also has links to an Aviation Digital Data Service (ADDS) experimental site with products including combination radar intensity and cloud tops chart, graphical METARS, TAFS and PIREPs, convective forecasts and more.

NOAA NWS AWC Aviation Digital Data Service: http://adds.aviationweather.noaa.gov
It's one of the best, aviation weather sites, offering text, digital and graphical forecasts, and weather analyses. It's a joint effort of NCAR Research Applications Program (RAP), NOAA Forecast Systems Laboratory (FSL) and the National Centers for Environmental Prediction (NCEP) Aviation Weather Center (AWC).

National Transportation Safety Board: www.ntsb.gov
Get accident reports, analyses, safety recommendations and legal matters.

CSC DUATS: www.duats.com
This is the site for Web-based preflight briefings. File and change flight plans online. It also includes basic flight planning and weather graphics—including current conditions, NEXRAD radar, satellite imagery and aviation forecasts. It also offers TFRs and NOTAMs, available in both text and graphic form.

National Aeronautical Charting Office: www.naco.faa.gov
Do you use NOS charts, including sectionals, WACs, IFR en route and approach plates? They're cheaper if you order direct from the source. View an online catalog before ordering by mail (online ordering is scheduled for early 2005), and download selected items, including current U.S. terminal procedures, airport diagrams and VFR chart bulletins for free. A catalog of worldwide charts from the National Geospatial Intelligence Agency and nautical charts from NOAA also are available.

Page 1 of 8