Monday, December 5, 2011
Piston Singles Buyer's Guide 2012
Which aircraft is best for you?
American Champion Denali Scout
The top-of-the-line is the Denali Scout, fitted with a 210 hp Lycoming IO-390 engine to lift the airplane's 2,150-pound gross weight. This turns the most powerful of the 8-series airplanes into one of the premier, two-seat airplanes in the bush. Standard takeoff run is well under 300 feet, and cruise with all that power on tap is an easy 110 knots. Surprisingly, fuel capacity can be as much as 70 gallons, so even a 10 gph burn will provide six hours endurance plus reserve. That's excellent range for a bush airplane. Perhaps best of all, the extra horses should make the airplane a superlative water bird, even mounted on heavy amphibious floats, with good short-field performance to levitate from truly short water runways. Price: $182,900.
American Champion Citabria
The Citabria line comes in four flavors. The Aurora is a 118 hp trainer/fun machine ($119,900); the Adventure is the same basic airframe flying behind a 160 hp Lycoming ($130,900); and the basic Explorer uses the 160 hp mill plus a slightly larger wing, better suited for the bush role ($134,900). There's also a super version, called the High Country Explorer ($148,900) that features a 180 hp Lycoming and larger tires, plus other upgrades for the backcountry.
Aviat Aircraft
www.aviataircraft.com

Aviat Pitts S2C
Aviat Pitts S2C
Aviat Aircraft of Afton, Wyo. offers two production aircraft. By far the wildest is the Pitts S2C, a 260 hp aerobatic training/competition machine, capable of such exotic maneuvers as double hammerheads, Lomcevaks, multiple vertical rolls and a variety of other tricks. The S2C is something of a one-trick pony—hardcore aerobatics—but it does that job better than most of its competition. Fuel capacity is only 28 gallons, so don't plan on flying for more than about 1+30, but that's usually enough for most people when the mission is acro training or practicing for competition. Price: $301,757.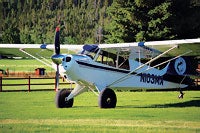 Aviat Husky
Aviat Husky
The Husky is a variation on a theme by Piper, namely the Super Cub. Aviat incorporated a number of improvements to expand the type's utility and the result is a bush machine par excellence. A 180 hp Lycoming engine provides motive force for the basic airplane, and in combination with a big, 183-square-foot wing and a low 37-knot stall speed, the Husky can perform such tricks as a 200-foot takeoff distance on land or 300-foot run mounted on floats. Payload is nearly 600 pounds, impressive for a two-seater. Mount it on huge bush tires, amphibious floats or skies, and you can go practically anywhere. If you need the absolute maximum short-field numbers, opt for the 200 hp model, and you'll see near helicopter performance. Price: $204,192 (180 hp); $249,260 (200 hp).
Diamond Aircraft
www.diamondtaircraft.com
| | |
| --- | --- |
| Diamond DA20 Eclipse C1 | Diamond DA40/XLS Star |
Diamond DA20 Eclipse C1
It's hard to imagine a better 21st-century trainer than the Diamond DA20. A follow-on to Diamond's Rotax-powered Katana, the current C1 is blessed with carbon-fiber construction, a 125 hp Continental engine, two conventional joysticks and a semibubble canopy. The littlest Diamond sports perhaps the best performance and handling of any two-seat trainer offered in years. Best of all, it makes the process of learning to fly an absolute ball. Price: $179,800.
Diamond DA40/XLS Star
Stretch the cockpit of the DA20 to allow mounting two rear seats, pump the power up to 180 hp, and you wind up with the DA40 Star. It's Diamond's better idea for a four-place traveling machine, complete with an aft-left door, and it does an excellent job of transporting a string quartet (sans instruments). Like its little brother, it flies with a joystick, a throwback that's more fun than you'd imagine, and its low 49-knot dirty stall lets it sneak into and back out of short fields normally reserved for more STOL machines. The upgraded XLS model ($359,800) includes a number of improvements, including more efficient wheel fairings, a tuned exhaust from Power Flow, a new, three-blade, MT, semi-scimitar prop and several luxury features. Price: $279,800.
Maule Air
www.mauleairinc.com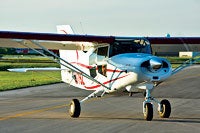 Maule MX7-260
MX7-260
Maules seem almost timeless. They're known worldwide as tough birds, designed to be ridden hard and put away wet. There's an almost bewildering variety of Belford Maule's remarkable machines, most with tailwheels, others with nosewheels, nesting on sprung steel gear or oleo struts behind engines from 180 to 260 hp, with your choice of carburetion or fuel injection. Basically, Maule seems willing to configure an airplane to meet your needs. Looking back at the 2011 lineup, the M7-260 (with oleo strut gear) was the King Kong model, sporting a 260 hp Lyc and conventional gear. With such copious horsepower and a high-lift airfoil, the airplane scores 1,650 fpm climb in standard wheeled mode, and cruises of 141 knots with flaps in the minus-7-degree reflex position. (Maules utilize huge flaps that deflect from minus-7 degrees to 49 degrees down.) Takeoff and landing distances are both under 400 feet on land. Best of all, the copious power allows the M7-260 to deliver decent performance with floats. The M7-260C features aluminum spring gear. Contact Maule for pricing.
Page 4 of 5
Labels:
Aviation Resources
,
Buyer's Guide
,
Buying A Plane
,
Features
,
Pilot Guide
,
Pilot Resources
,
Piston Singles
,
Staying Current
,
Best Buys
,
New Aircraft
,
What's New
,
Aircraft
,
Aircraft Ownership