Tuesday, September 22, 2009
Backstage With A Rock Star
An exclusive look into flight-testing one of the most anticipated light-sport aircraft: the Icon A5
"Rock star."
It's a phrase you frequently hear when talking to Kirk Hawkins, founder and CEO of Icon Aircraft in Los Angeles, Calif. He often refers to members of his team as rock stars, and he talks of his board members as rock stars in their respective industries. "At Icon," Hawkins explains, "rock star means you're at the top of your game—one of the best, if not the best, at what you do." Of course, the term rock star also can imply a glamorous lifestyle—a kind of status that denotes being set apart from "normal" existence. If you were to apply the term to an airplane, the Icon A5 amphibious LSA would most definitely be a rock star.
The A5 has been teasing people's interests since the James Bond-ian prototype was unveiled at a very rock 'n' roll premiere in Los Angeles in June 2008. The lavish affair was complete with stage lighting, beautiful people, pumping music and celebrities—exactly what you'd expect at the introduction of a production airplane, right?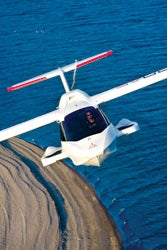 Since then, the Icon story has become well known. In an extraordinary example of viral marketing, Icon has—almost without trying—created an airplane so anticipated by the general public that it has leapt outside the geriatric boundaries of general aviation and become far more interesting than anything dished out by some tabloid diva.
We wanted to go behind the glossy curtain. Like a VH1 Behind the Music episode, we wanted the real dirt on the A5. After much cajoling and legwork, we got it: an exclusive, all-access, behind-the-scenes look at the aircraft that Kirk Hawkins says may, in fact, help us revitalize general aviation. Grab your backstage pass.
The Concept
It's a cool spring day and we're at Icon's headquarters, deep in the heart of Los Angeles and within earshot of LAX. I'm here with Plane & Pilot Editor Jessica Ambats, and we're verifying the address on the map. The exterior building is nondescript and looks like it houses an artist's studio.
Inside, the office is done in a mid-century modern meets loft style. A George Nelson bench or Eames chair would be perfect here, and I quickly spy what I'd swear is a Murano glass decorative piece. Eclectic music flows throughout the minimalist setting.
Hawkins greets us, and I know him even though we've never met. He's the "face" of Icon, and his story is well-trodden territory. He's right out of central casting for a former fighter pilot with a square jaw and an intense gaze. I know Hawkins likes things that go fast, and I think if somebody called Hawkins an extreme-sports junkie, he'd be pleased.
Page 1 of 5
Labels:
Aviation News
,
Buyer's Guide
,
Features
,
Floatplanes
,
Journeys
,
LSAs
,
New Products
,
People and Places
,
Seaplanes
,
Sport Pilots
,
New Aircraft
,
Aviation Personalities
,
Travel
,
What's New
,
Backcountry Flying
,
Aircraft
,
New Airplanes
,
Adventure Aircraft