Tuesday, June 22, 2010
Best LSA
Bringing the fun back to flying with our picks for exciting light-sport aircraft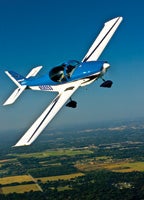 Breezer
Less known but solid is the German-made Breezer II, an all-metal, well-built low-winger with attractive lines reminiscent of the best of Wichita Tin. Marketed by Mike Z Aviation in Plant City, Fla., Breezer has been highly popular in Europe for years. Often it's the little things that sell you on an airplane, such as powerful Beringer brakes, quality classic metal construction, dual sticks and throttle levers, solid landing gear, comfortable seats, excellent performance and stable, solid handling. Price: $119,900.
Contact:
www.breezeraircraft.de
.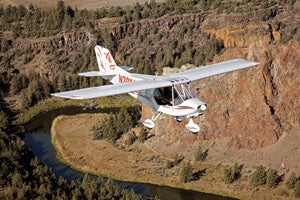 Matt Verdieck
X-Air
Of strong appeal for the budget-conscious is LSA's low-price leader: the X-Air LS. It's a cute, capable, ultralight-style airplane that goes for $59,995. ASTM certified and with a full-fuel payload of 484 pounds, you can boat around quite comfortably at 85 mph, max cruise at 113, reach out 300 miles and enjoy low repair and maintenance costs thanks to the stabilized Dacron sewn-envelope covering. The wings fold for storage when you're done flying.
Contact:
www.x-airlsa.com
.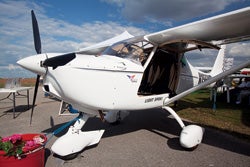 FK Lightplanes
The FK9 Mk IV is another sleeper. A quality German design, well proven overseas, it comes in three flavors: tri-gear, taildragger and float-equipped. Of mostly composite construction, welded-steel-tube cage for crash protection and optimized for a BRS parachute system, it's an overall attractive, solid-performing, float-capable S-LSA, with a cruise of 104 knots and a 1,500 fpm climb. Another interesting design from the same manufacturer: the Fk12 Comet, an S-LSA folding-wing biplane! Price: $95,500.
Contact:
www.fk-lightplanesusa.com
.
Kitfox
Based on the hugely successful homebuilt kit (4,500 delivered to 42 countries), copied under various names in ready-to-fly and kit form—it was itself born as a rework of the Avid Flyer kitplane—the Kitfox is now an S-LSA with the classic attributes of the original and many enhancements: folding wings, STOL performance, well supported in the U.S. and priced affordably at $83,495. It's no slouch performer either: 320-foot takeoff roll, 1,150 fpm climb, 105-knot cruise at 7,500 feet at max gross weight—a real backcountry bird.
Contact:
www.kitfoxaircraft.com
.

MySky
And finally, here's something truly unique that we expect will find a place in the hearts of fighter-jock wannabes everywhere. Slated for production later this year or in 2011, the all-composite MS-One prototype has a slim, shark-like look, thanks to its tandem cockpit. Doing wingovers, you feel like you're in an air show plane. It's nimble, solid and retains energy well. Visibility with the shoulder-width canopy adds to the fighter-plane feel. Cruise: 120 knots. Range: 636 nm. Under-300-foot takeoff roll. Bottom line: a real kick to fly! Price (Mentor Edition): $124,500.
Contact:
www.mysky.aero
.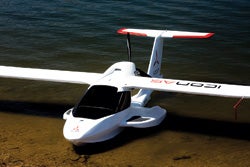 AMBHIBIANS R US
Purpose-built amphibious LSA occupy a niche segment of the overall market, but if water/land ops are your cup of airborne tea, give these four water babies a look. The "most splashworthy" award goes to Icon A5 ($135,000), with its gorgeous design, high-profile marketing (John Travolta wants one) and a sculpted, sleek design to match. It's still in testing, not available for another year—but hundreds are already ordered. Another notable S-LSA is the sexy composite SeaMax ($137,000). For amphibians on a budget, two kits: Aventura XLR kit ($66,200) and SeaRey (around $50,000 base price).
Contact:
www.iconaircraft.com
,
www.seamaxusa.com
,
www.seaplane.com
,
www.searey.com
.
Page 5 of 5