Tuesday, June 23, 2009
LSA Roundup
Light-sport models and avionics to suit all budgets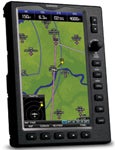 Garmin GPSMAP 696
GLASS FOR EVERY PANEL

There's no shortage of high-tech instrumentation stuffed into many a light-sport panel. Part of that is the marvelous innovation of our technical age. Equally important: FAA certification isn't required for LSA avionics. That has opened the floodgates to a broad and deep range of sophisticated, compact instruments from scores of companies. Most exciting are the electronic flight information systems' (EFIS) digital display units. They come as large daytime-readable MFD and PFD units, and cost a fraction of the price of equivalent Part 23 avionics.
Two recent standouts are
Garmin's
new
GPSMAP 696
, a portable, tablet-size (seven-inch-diagonal) MFD, and the seemingly ubiquitous dual-screen system from
Dynon, FlightDEK-D180
, which combines Dynon's
EFIS-D100
and
EMS-D120
(engine monitoring system). The Garmin 696 is a sophisticated unit that's compatible with XM weather and radio and includes moving map, built-in HSI, terrain alerts and 3-D map views. Dynon's duo package integrates all flight instrument displays, G-meter, voltmeter, airspeed, vertical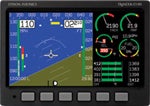 Dynon Avionics FlightDEK-D180
speed and much more.
Garmin is keeping one foot firmly planted in the future with its
G3X
concept, which features components built around the
GDU 370
and
GDU 375
(the panel-mounted versions of the 696). The integrated G3X panel will show real-time weather, traffic, terrain and charts, and include an air data, attitude and heading reference system (ADAHRS), an engine information system (EIS), a magnetometer and a temperature probe.
Also available are an abundance of new "steam-gauge" conventional instrument flight packs. Digital tech has made inroads here too, with round gauges such as
MGL Avionics
' 2¼-inch
Infinity
and 3.125-inch
Velocity
singles, which sport high-resolution LCD graphics.
Blue Mountain EFIS/Sport
There are even inexpensive (under $1,500) collision-avoidance alert systems, such as the
Zaon PCAS XRX
, that can stand alone or link to GPS units and display traffic in TCAS-like symbology.
Two impressive glass displays from
Blue Mountain
are the
EFIS/Sport
and
EFIS/Lite Plus
. The Sport has an 8.5-inch, sunlight-readable, vertical screen that shows the map, ADI and HSI, engine monitor, etc. The Lite Plus has a five-inch screen for ADI, HSI or GPS moving map and optional engine pages.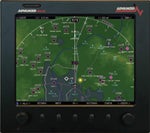 AFS Advanced Deck
Advanced Flight Systems
(AFS) offers a variety of EFIS decks, including the new
Advanced Deck
with an 8.4-inch display, which can be accessed through an eight-way joystick knob. All AFS systems have full-featured voice-alert systems.
MGL Avionics
offers the 10.4-inch-diagonal
Odyssey "Big Daddy" EFIS
platform complete with an integrated software application system and sensors such as for attitude and heading.
AvMap
makes the impressive
EKP IV
portable navigation unit. The seven-inch display can operate in either landscape or portrait mode, utilizes a CompactFlash card for data updates, and stores up to 15 flight plans, 1,000 waypoints and custom point-of-interest settings.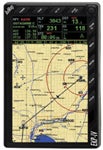 AvMap EKP IV
Fancy glass decks aren't the only news in LSA avionics.
SportairUSA
collaborated with
I-K Technologies
on its electronic
GreenLine EMS
. In addition to rpm, CHT, oil pressure and other digital readouts—all visible in one compact display—there's a horizontal color bar that turns yellow or red for each monitoring segment if anything is amiss.
Let's not forget cockpit chatter.
PS Engineering's PM3000
six-channel stereo intercom is even configurable with an iPod jack for custom in-flight entertainment. And there's no shortage of autopilots, controlled either through EFIS modules or by stand-alone units such as the
TruTrak
DigiFlight II VSGV
, which fits into a 2¼-inch round hole. We haven't even talked about NAV/COMs and Mode C transponders such as
Garmin's SL30
and
GTX 327
. That'll have to wait for the comprehensive LSA avionics roundup coming soon. Stay tuned!
Page 6 of 7