Tuesday, June 23, 2009
LSA Roundup
Light-sport models and avionics to suit all budgets
THE FUTURE STARTS NOW!
Four up-and-coming S-LSA designs bear watching: one for its generations of importance to general aviation, one for its razzle-dazzle marketing that hopes to create a whole new recreational class of air vehicle, one for its multifaceted "expandability" potential and one for its new approach to an old idea.
Cessna C-162 SkyCatcher: You may have read that this all-metal 152-style airplane has had two prototype spin-test mishaps that required parachute deployment. Does that mean the project is doomed? Hardly. Cessna is putting the SkyCatcher through rigorous Part 23 (GA certification–style) testing. If anybody is going to get it right, bank on Cessna. And with 1,000-plus orders on the books, once the production model is finished, the number of registered LSA will double in a very short time. That's good for everybody. Cessna's time-honored fit and finish, the 100 hp Continental O-200D, the 118-knot cruise speed, the 470-mile range and the sophisticated Garmin 300 glass panel will earn many devotees. Contact: www.cessna.com.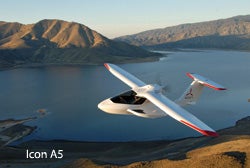 Icon A5: This composite, folding-wing, amphibious bird is flat-out gorgeous. The company seems bent on making this new class of trailerable watercraft so enticing that Jet Ski and pleasure-boat enthusiasts will scramble to add a new toy to the floating dock or garage. Power will come from the 100 hp Rotax 912 ULS. At 1,430 pounds, it's not light, but a useful load of 430 to 530 pounds (depending on options), 46-inch-wide cabin, 300-mile range and near-100-knot cruise will get you from one pond to the next in agreeable time. Already in flight-testing, the carbon-fiber-built ship is beautiful just sitting still. Price: $139,000. Contact: www.iconaircraft.com.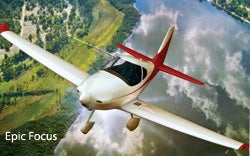 Epic Focus: Happy to sport a multiple personality, the Focus S-LSA project is in the works from Epic Aircraft, known for its exciting high-tech personal jet and turboprop designs. Focus starts with a carbon-fiber, two-seat airframe that will also be spun off in three other configurations, including a 400-knot turboprop version! The aircraft's all-up weight of 1,320 pounds will include a 615-pound useful load, 40-knot stall speed (full flaps), 115-knot cruise at 75% power and 1,050-mile range (34 gallons with a 30-minute reserve). Contact: www.epicaircraft.com.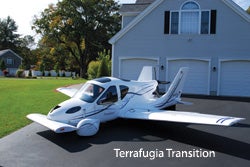 Terrafugia Transition: It's a bird; it's a car; it's...well, both. Often tried, the flying car has never really worked before, but this time it just might thanks to the brainy design team of MIT grads. Terrafugia has already successfully completed flight-testing on the proof-of-concept version. Airborne, the S-LSA will cruise up to 450 miles at 100 knots. The wingable roadster will offer a full-vehicle parachute option, as well as a glass avionics suite and side-impact protection for the ground. Wings fold electromechanically for roadwork. Car mode doesn't mean a spinning prop: Transition has front-wheel drive, rolls along at highway speeds, gets 30 mpg and fits inside a standard garage. It's also pretty spacious at 51 inches at the shoulders. Price: $194,000. Contact: www.terrafugia.com.
Page 7 of 7