Tuesday, August 9, 2011
Masters Of Glass: LSA Avionics Roundup
High-tech, affordable glass panels continue to impress with amazing innovation
Advanced Flight Systems AF-4500EE EFIS/EM
AFS offers several EFIS and EM glass panel systems. One model is the AF-4500EE EFIS + Engine Monitor, which sports a large (8.4-inch) backlit screen that displays AHRS and all engine data, a moving-map interface to most GPS receivers, optional XM Weather capability, an interface with Zaon XRS traffic detector and much more. AOA (angle-of-attack) monitoring is available as an option ($799).
All AFS models can be configured as EFIS, EMS or both and have full-featured voice alert systems, weight/balance calculation and maintenance log capability. Prices: $6,793 (AF-4500EE); $2,753 (AF-3400SP, 6.5-inch display). Contact:
www.advanced-flight-systems.com
.

The power and sophistication of glass panels for today's LSA and light experimental-built aircraft are nothing less than mind-blowing.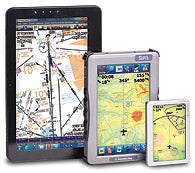 Control Vision
Control Vision GPS
This trio of portable, affordable Anywhere Map GPS units have broad feature sets and plenty of accessories. The second-generation Quadra offers touch-screen navigation and landscape or portrait display on its 4.3-inch screen. Other features: street navigation for use when driving, Wi-Fi updating, Internet flight-plan filing, even web browsing! The Quadra Max offers sectional maps for $150 more. The SEPTA claims to be the brightest 7-inch screen out there. Its many competitive features include 180-meter terrain resolution, sectional charts, HSI, turn rate, airport directory, street nav, Wi-Fi and annual software updates for $195. The DeX (10.1-inch touch screen) goes head to head with the iPad to bring laptop functionality in a cockpit-friendly form factor. Windows 7 Pro drives it, a 64 GB solid-state drive (SSD) brings shock-resistant, super-fast response times, and of course, it's a full-feature GPS, with optional XM Weather, and runs Flash, Word, Excel and the galaxy of today's full software programs. Price: $495 (Quadra); $1,495 (SEPTA); $1,595 (DeX). Contact:
www.anywheremap.com
.
Garmin G3X
LSA and experimental pilots in particular will appreciate industry leader Garmin's highly configurable G3X system, which in a nutshell offers about everything light-sport and experimental pilots could want—navigation, situational awareness, engine instruments and integration—all in a class-of-the-glass panel array. G3X's "fully customizable glass cockpit suite" is built around the GDU 370 and 375 displays. Its integrated-flight-deck approach supports highly customizable one, two or three-screen (7-inch) PFD/MFD panels, and includes magnetometer, ADAHRS, robust engine monitoring and tons more. Situational awareness gets big play, too, with standard 3D SVX synthetic vision, and when coupled with a TruTrak GX Pilot autopilot, the G3X displays sophisticated flight control modes such as altitude preselect and capture, heading hold and, of course, GPS navigation. Seamless integration with Nav/Comm, XM Weather and audio components lets you do it all. Price: $11,249 without XM and $12,149 with XM. Contact:
www.garmin.com
.

Grand Rapids
Horizon HX
Grand Rapids Technology EFIS
Two units for light-aircraft owners: the Horizon HX and Sport SX EFIS, offered in either 6.5-inch or 8.4-inch displays. Horizon has more standard features, but both come with PFD, moving map, graphical engine data, AHRS, XM Weather, traffic display, NAV/COM interfacing and more. There's even Highway-in-the-Sky (HITS) integrated nav/attitude display, multiple power units, USB software updating, even an AHRS-derived angle-of-attack indexer that doesn't require probes. Price: $8,350 (Horizon HX single display); $3,000 (Sport SX). Contact:
www.grtavionics.com
.

AV8OR ACE
BendixKing AV8OR Horizon 3D
Touch screens and synthetic vision-capable GPS are all the rage these days for the superb situational awareness the features bring to the cockpit. Honeywell has two feature-jammed models: the AV8OR, a handheld, 4.3-inch MFD, and the AV8OR ACE. The AV8OR offers "true 3D" navigation, touch-screen moving map and map panning, Smart Airway flight planning, terrain awareness, XM Weather and Radio, GoDrive Street Map guidance, complete airport information, traffic avoidance and more. AV8OR ACE is a paperless, full EFB that packs airborne navigation, all FAA VFR and IFR charts, airport diagrams, graphical weight and balance, weather, traffic, automotive and even multimedia capabilities into one 7-inch touch-screen powerhouse. There's even front-facing video chat and video/still cameras! Prices: $599 (AV8OR); $1,999 (AV8OR ACE). Contact:
www.bkav8or.com
.
Page 3 of 4