Tuesday, July 17, 2012
Wings Of Freedom
A brief review, some reminiscence and a broad-stroke celebration of Light-Sport Aircraft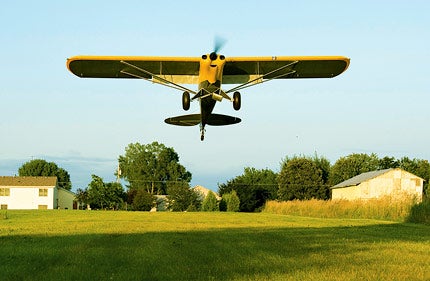 CubCrafters Carbon Cub
Over the last four-plus years, I've had the good fortune to fly around 30 S-LSA models. There's nothing quite like the LSA category. Today, 125 models have received FAA's blessing—enough choices to confound even the most crazed shopping addict. This is one all-purpose, many-colored group of recreational flying machines.
LSA flight is high, wide and free. I've vaulted skyward in one-after-another lazy wingovers high above a long-shadowed grove of trees at sunset in a lively low-wing Sting S3; eased through a downwind/base/final arc, fourth in line in a gaggle of eight immaculate Legend Cubs, to chop power and settle on with a happy hiss of wheels on grass; watched the world revolve around my cockpit in a biplane LSA aerobat.
Near the northeast end of a glider port, I've shut down power in a 49-foot-span composite Phoenix S-LSA motorglider to practice my first deadstick landing, only to have Ma Nature serve up other plans: a bump of lift, and so a quick turn and a five-minute climb of 1,500 feet or so, sharing the thermal core with a pure sailplane, and only the whistling wind over the bubble canopy to break the grateful silence.
Welcome to my aerial meditation:
Om mane padme
LSA. Whether sporty, lazy-daze or long-leg flying is your passion, well...there's an LSA for that.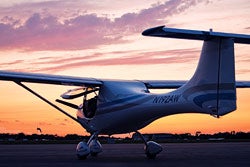 Allegro
Light-sport aircraft must have a max gross weight of 1,320 pounds, a max speed of 120 knots and a max stall speed of 45 knots. They're limited to a two-person capacity of a pilot and a passenger.
By The Numbers
The LSA sector is GA's true "Freedom" category. For the first time in general-aviation history, a type of aircraft has been allowed to exist and use the domestic airspace without direct FAA-airworthiness certification being required. All light-sport aircraft are certified instead to the ASTM compliance standard, which FAA accepts without requiring that its own multi-million-dollar testing standards be met.
From the beginning, naysayers worried the category's limited flight regime was too restrictive, the aircraft themselves too light in weight, the useful load too puny and the no-medical medical was asking for airplanes to fall out of the sky and kill people. Looking back over eight years, none of these or several other dire predictions has borne much fruit.
The one big downer for potential buyers remains the unanticipated high price tag of many new LSA. Otherwise, it's a happy story all around. Safety wise, both the ASTM-compliance model and the driver's-license "medical" have validated themselves: The accident rates for LSA are no worse than for general aviation. That statistic alone has challenged a lot of cherished beliefs about the need for such rigorous certification standards or medical exams.
Page 1 of 6