Tuesday, July 17, 2012
Wings Of Freedom
A brief review, some reminiscence and a broad-stroke celebration of Light-Sport Aircraft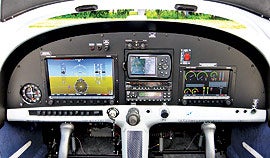 Dynon SkyView
Innovative avionics, such as Dynon's SkyView panel, are commonplace in LSA since certification isn't required.
Flying clubs of yore are re-emerging all across the country. Groups like Chris Dillis' highly popular Skyraider Aviation in the Denver area are finding there's more to winged life than filling out flight plans and spending $200 on the proverbial hamburger flight.
Many studies have shown that the current hourly cost of owning and flying a new, single-engine, four-seat GA aircraft can range from $500/hour and up. Many pilots can't afford that any more and have simply quit flying over the long decline since the 1970s.
Silver Linings
That's where LSA flight offers real advantages. No, you can't fly an LSA on a Bonanza-style 160-knot mission. But if local flight or 100-knot-plus, 500-mile-plus cross-country adventures lift your wings, there are plenty of budget- and medium-priced LSA available from Rans Aircraft, Aerotrek, Allegro, Pipistrel and many others.
Even more affordable are ultralight-style, enclosed or open-air, ready-to-fly S-LSA like the Breese 2 ($20,000), Hawk Arrow II (starting at $35,000), BushCat (base price around $50,000) and the X-Air ($60,000). Don't forget those sexy "trikes" (hang-glider-style wings with powered, racy-looking tricycle undercarriages) as offered by several makers, including North Wing and Revo. They can be had starting around $30,000. And for the really adventurous among us, there are those S-LSA powered parachutes, and at reasonable prices.
The No-Medical Medical
A lot of back-and-forth discussion came down in the beginning of the sport pilot era and the no-medical concept continues to generate speculation and debate.

A key, sometimes confusing provision of the driver's license question is that a rated private pilot who has failed an FAA flight medical in the past may not fly as pilot in command under the sport-pilot license unless the original medical condition has since been remedied. Many veteran or medically challenged pilots, concerned that they might not pass their next trip to the flight doc, forego the medical exam altogether and continue their flying as sport pilots.

Here's the challenging part: A new pilot, even one who may have a medical condition that would prevent passing a flight medical, may legally use the driver's license as qualification for the sport pilot "medical."

The underlying factor in both cases though is that all pilots flying under the sport-pilot license are expected to self-certify they are medically safe to fly.

Here's a challenge to common assumptions: What exactly does the private-pilot FAA medical actually guarantee about a pilot's fitness to fly? After all, the medical covers two whole years, or 730 days. A lot can happen to a pilot's health over that much time.

Relevant to that thought: AOPA and EAA petitioned FAA last March to remove the flight medical for general aviation recreational aircraft, with LSA-similar restrictions such as 10,000 feet maximum altitude (or 2,000 feet max AGL, whichever is higher), 180 hp or lower powerplant, and two passengers only, even if the aircraft is a four-seater such as a Cessna 172 or Piper Archer.

One of the petition's prime arguments benefits from eight years of light-sport accident statistics.
Though an FAA flight medical exam isn't required of sport pilots, LSA have virtually the same number of medically related incidents as GA pilots.

The bottom line regarding self-certification: No pilot, whatever the rating, should ever fly in a compromised physical state. That includes excess fatigue, muddled thinking, stress and other factors we might not always think of as medical problems.

The proposed change could be a boon for older pilots and those who prefer to fly the many (and generally less expensive) certified aircraft that already exist and fit the LSA category.
Page 3 of 6