Tuesday, September 22, 2009
Power Trip
King Air Upgrades Spur Aftermarket Action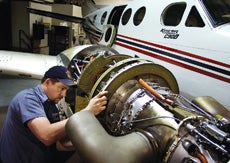 Silverhawk Conversions
Silverhawk Conversions
www.silverhawk135.com
(800) 479-5851
Silverhawk Conversions in Lincoln, Neb., offers turnkey King Air C90 and 200 conversions. The C90 conversion replaces the PT6A-20 or -21 engine with a PT6A-135A engine and four-blade Hartzell propellers. The conversion boosts true airspeed by more than 50 knots (from 211 to 266 knots at 24,000 feet). Also included are new engine mounts, fuel and oil hoses, overhauled oil coolers and recalibrated and remarked engine gauges. The conversion typically takes three weeks. The company's King Air 200 engine upgrade makes use of the -52 used in the King Air 200GT.
"Silverhawk is unique in that we manage the entire conversion process from initial order to completion," says CEO John Gillum. "Our technicians are specialists in doing King Air conversions, and they bring this expertise to every conversion. If additional work is needed, ranging from airframe inspections to avionics upgrades or a new interior, we can handle it while the aircraft is down for the conversion. This minimizes downtime for the aircraft owner."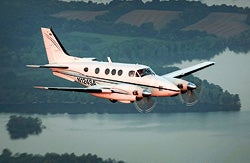 Smyrna Air Center
Smyrna Air Center
www.smyrnaaircenter.com
(615) 459-3337
Located at Smyrna Airport (KMQY), just outside of Nashville, Tenn., Smyrna Air Center holds an STC for the Power 90 King Air engine upgrade for A90-, B90- and C90-series aircraft. The installation replaces the stock Pratt & Whitneys with GE Aviation's Walter M601E-11A engines and five-blade Avia propellers, delivering 751 shp and a cruise speed of 250 knots at 25,000 feet, according to Erick Larson, one of the center's owners. GE Aviation bought Czech Republic–based Walter Engines in 2008. Walter's new H80 is expected to receive certification soon, and that more fuel efficient engine will also be available through the Power 90 STC. A fully certified repair station, Smyrna Air Center can provide turnkey aftermarket solutions, including new paint and interior, avionics upgrades and Raisbeck mods. "We do complete rehabs on King Airs," says Larson.
Trace Aviation
www.traceaviation.com
(601) 857-0992
King Airs have long been feted for their ability to handle unimproved airstrips. Trace Aviation further enhances that capability with its King Air landing-gear overhaul or exchange program. "Our main thing is landing gear," says Trace's Carter Thompson. "We do everything from start to finish, and work for guys in Canada, Australia, North America and South America." Trace also performs all levels of King Air inspection/maintenance and component overhauls. "Our greatest appeal and benefit to the customer is that they can deal directly with the component overhaul and maintenance in one facility," says Thompson. "Our knowledge and expertise in the overhaul, installation and rigging of King Air landing gear gives the operator confidence that the system is operating as designed. I don't know of another company that offers these specialized services."
Page 6 of 6