Tuesday, April 1, 2008
Project 182, Part I
Let's say you own a 1981 Cessna Skylane with adequate avionics, an old paint job and a pedestrian interior, but want to increase capability and safety. What would you do first?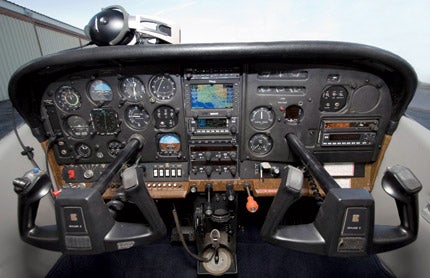 Here at
Plane & Pilot
, we seem to enjoy lavishing full rebuilds on old Skylanes. Back in the late '70s, I found and negotiated the purchase of a 1963 Skylane for the magazine as a reader project airplane. A few years ago, ex-editor Lyn Freeman purchased our current project airplane, yet another C182.
We flew the airplane as it was for three years before launching into our rebuild. At this writing, the total renovation of Cessna N9771H is complete. We'll have more to say about the other parameters of restoration in future issues, but the avionics package in this airplane is a special installation.
We selected Advantage Avionics [
www.aspenavionics.com
, (909) 606-0220] in Chino, Calif., as our install shop. In "Old Six To New Six" [April 2007], we covered owner Mark Krueger's complete resurrection of a 1966 Piper Cherokee Six 260, one of the earliest of the type. In the case of our Skylane, just as with his early Cherokee Six, the job wasn't to simply replace a radio or two, but to rebuild the entire stack, effectively replacing virtually the whole panel.
Not a big surprise that Krueger had done exactly that many times before. He's been in the avionics business for a dozen years, and he's done scores of ground-up avionics restorations to everything from puddle-jumpers to jets.
We worked closely with Krueger on the job, configuring locations and selecting equipment, and he was always a step ahead of us, suggesting ways to do it better. He spent more than two months making certain everything was right before returning the airplane to us, and, no big surprise, it was right. As proof, everything has been cooking along nicely since Advantage Avionics worked its magic. The result is one of the best-equipped older Skylanes in the sky. Here's a brief description of the package Advantage Avionics installed in our company Skylane.
Rosen Sunvisors
When Jim Rosen introduced his upscale sunvisors 20 years ago, many pilots felt there was no way the multi-adjustable, heavily tinted visors would catch on. I was an early believer, however, not because of any brilliant insight on my part, but because the visors in my older Mooney were nothing short of terrible. (Fortunately, newer Mooneys don't suffer from the same ill.)
Today, Rosen visors come standard in a wide variety of new airplanes, and even when they don't, the aircraft manufacturers have gone to school on Rosen's success and designed their own comparable sun blockers. The engineering on Rosen visors is closer to what you might expect in a Rolls-Royce than an airplane.
In addition to being tougher than most other visors, Rosen sunvisors are infinitely adjustable, equally capable of masking the sun from both the windshield and the side windows. They articulate to both horizontal and vertical positions, fold to block unwanted sun from any direction, yet provide enough transparent visibility to assist in spotting other traffic. Like many things worth having, Rosen visors aren't cheap, but they represent an investment in an enduring product that's functional and brilliantly engineered. For more information, visit
www.rosenvisor.com
.
Page 1 of 5