Tuesday, April 1, 2008
Project 182, Part I
Let's say you own a 1981 Cessna Skylane with adequate avionics, an old paint job and a pedestrian interior, but want to increase capability and safety. What would you do first?
PS Engineering PMA8000
Mark Scheuer of PS Engineering is one of those little guys who took on the major avionics manufacturers and produced a niche product that earned a place for itself on the panels of thousands of airplanes. The PS Engineering audio panel has provisions for the usual two navcoms, plus it will accept cell phone, MP3 or CD inputs. You can even conduct simultaneous transmissions on two different radios at the same time, just like corporate or airline crews. The pilot can handle normal IFR comm on box one while the copilot orders steaks at the local restaurant on the flight phone. Our PS Engineering system is even set up for Sirius Radio, which allows us to monitor any of more than 100 music and talk satellite channels.
You might think there's no glamour to an audio panel, but PS Engineering's 8000-series switching panel proves otherwise. For more information, visit
www.ps-engineering.com
.
Honeywell KX 155 Navcoms With KLN 94
The basic navcom/GPS package in the P&P Skylane is one of the new/old combinations of the Bendix/King/Honeywell KX 155 navcoms and the newer KLN 94 GPS. The KX 155s are among the most bulletproof navcoms in the industry and have been around practically forever. Today's KX 155s are upgraded and improved follow-ons to the systems introduced more than a quarter-century ago.
For its part, the IFR-approved KLN 94 is the modern version of such earlier GPS systems as the KLN 89 and KLN 90. The KLN 94 incorporates a full-color moving map, flight-plan capability, a large database and such peripheral features as Quick Tune automatic frequency loading to a KX 155. The system also displays full-map presentation of non-GPS approaches, such as ILS and VOR procedures. For more information, visit
www.honeywell.com
.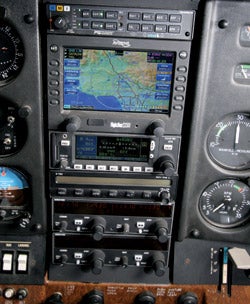 The most impressive new additions to the panel included an Avidyne EX500 MFD with a moving map and the Meggitt/S-TEC 55X autopilot.
Avidyne EX500 MFD
Long before the advent of the big, two-screen, glass-panel Avidyne Entegra installed in many new aircraft, the company was producing MFDs (multi-function displays) in smaller sizes for retrofit to much of the general aviation fleet.
Avidyne's FlightMax EX500 is a compact unit, but still large enough to display virtually any flight information you need. The EX500's "mapcentric" operation allows you to display more of the important data on a single page without succumbing to clutter and excessive numerology. In addition to the usual moving map of your flight track, the EX500 reads out radar and/or datalink weather, special-use airspace, traffic, terrain and lightning, all on the same page.
Optionally, the EX500 also can display Jeppesen CMax approach charts and airport diagrams, a major advantage in hard IFR conditions when any distraction can be critical. Ours is fitted with TCAS that reads out directly on the EX500, providing a real-time reference to traffic location, relative altitude and trend. Finally, the system accepts multiple data uplink systems, such as XM Satellite Weather or any other provider. For more information, visit
www.avidyne.com
.
Page 4 of 5