Tuesday, April 1, 2008
$1,000 Per Month Airplane
An affordable way to own

$500 Per Month?" article [October 2007] was so overwhelming, we decided to take the idea to the next level. " />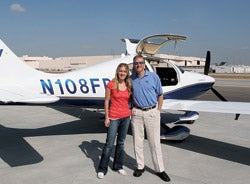 iFly, a shared ownership program, offers access to a fleet of identical Columbia 350s.
The Partnership Or Joint-Ownership Option
By splitting up the largest monthly expenses (payment and annuals), let's look at what our options are for a newer, bigger, faster and possibly six-seat airplane for $1,000 per month.
Cirrus has a factory-sponsored program that links potential partners together to buy a new Cirrus. The other manufacturers don't formally offer this, but any astute salesman should be able to take the clue and try to get a few interested parties together who might be holding off owning alone.
Another possibility is for one potential partner to take the bull by the horns and try to assemble the partners himself, through airport contacts, business contacts, flying buddies, an ad on
Craigslist
, an aviation forum or in the aviation classifieds of the local Sunday newspaper. It's a little extra work, but the rewards can be worth it.
The idea of a fancy, new or almost-new airplane can be intriguing, so let's look at exactly what the costs and number of required partners might look like.
A factory-new, glass-panel 172SP or 2008 Piper Archer can be purchased and owned with as few as three or four partners at $1,000 per month each. The monthly payment on a factory-new 172SP runs about $2,100, and a new Archer at roughly $1,550. Add to that 4.2 hours per partner per month (gas/oil) at $800 monthly and insurance at about $250 monthly. Because the airplane is new, most maintenance will be covered under warranty, but you'll still have to perform annual inspections and any airworthiness directives that come out, plus any wear and tear not covered by the warranty. This should run about $300 per month. Since it's new, we probably don't want a factory-fresh airplane sitting in the rain, or the Garmin G1000 avionics baking in the sun, so add at least $300 for a small T-hangar in an outlying airport. And in 24 months, your warranty will be gone, and the real monthly maintenance costs will be 100% yours, so we should reserve about $400 per month for "future" maintenance. For budgetary purposes, I think it's always best to be "overfunded" for a rainy day than to have to suddenly dig deep into your pockets for an unexpected expense.
How are we doing? For virtually the same price per month as a used Cessna 172 or Cherokee 180, we're able to move up to a new, or near-new, nicer, better-equipped airplane if we're flexible on when and how much we fly.
Most jets and turboprops have some sort of formal or informal joint-ownership arrangement because it cuts the fixed monthly costs by 50% per partner. If the joint-ownership terms are thoroughly worked out ahead of time, it can be a great opportunity to get more airplane for your dollar. (
Plane & Pilot
's October 2007 issue gives some valuable ideas on successful joint ownership.) Others may still favor sole ownership. A suitable partner may not be available in your area, you may not need the extra capability of a bigger airplane or you may just want around-the-clock access to your airplane.
A few weeks ago, I walked into the airport coffee shop at Camarillo (near Santa Barbara, Calif.) and a young pilot was sitting with a group of friends and eagerly showing a picture from his wallet of the plane he had just bought (a nice-looking Cessna 172). He was literally beaming with pride and excitement.
A few minutes later, an old-timer at a nearby table opened his wallet and showed the group a very worn black-and-white photo. It was from the 1940s, and this gentleman, almost 60 years younger then, was proudly standing next to his new Taylorcraft on a grass runway. There were nearly four generations of difference in age between the two men, but the sparkle in their eyes was exactly the same when they began talking about their first airplane.
Page 3 of 4