Tuesday, April 26, 2011
Saddling Up A Colt
A novice rebuilds a Piper classic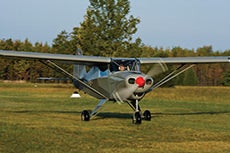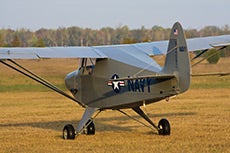 Miller chose the matte gray finish and the national aircraft insignia of a World War II-era naval warbird for sentimental and practical reasons: He's from the Navy, and the paint scheme was easy to do. The original fuselage had so much corrosion that he bought the fuselage of a parted-out Colt and transferred the data plate from the corroded airframe.
"He was persistent," Martin described Miller's creative process. "He'd say, 'We're going to try this again,' and he'd sit down and think it out and say, 'What about this, Bob? Do you think they'll approve this? Give me your opinion.'"
"Jim is a real particular-type person, real mechanically inclined, and he really thinks things out," agreed Blazer. "He gets on the Internet, and he uses every resource he can find before he decides to go a certain route."
Among the resources were the online forums of the SWPC, where Miller was a frequent participant, soliciting opinions and asking for advice on his project. Not all his alterations were minor. The fuselage showed enough corrosion for two years of work in itself, so he bought the fuselage of a parted-out Colt and performed a "legal fuselage substitution," transferring the data plate from the corroded airframe. A bare metal airframe has been known to stop more than a few novice refurbishers in their tracks, as they suddenly confront the magnitude of their task.
"That happens—people get an airplane dissembled, and they get overwhelmed," said Pierce. But having gotten acquainted with him through the SWPC's forums, Pierce was confident Miller would persevere. "I had no doubts about his project," he said.
Indeed, the story of the Colt's makeover lacks the coda of vindication, where doubters come forward to marvel at the results and admit their lack of faith. It seems everyone believed Miller could achieve his lofty refurbishment goal.
Preflight inspection complete, we climbed aboard. Miller didn't spend much time or effort gussying up the interior. It's neat and tidy, but there's no rich upholstery, cup holders or other luxe touches. The Colt doesn't have the extra headroom of a Tri-Pacer, but Miller put a skylight across the roof adjoining the windshield, giving the cabin an open, airy feeling. Also overhead is another of Miller's approved changes: He replaced the elevator trim handle with one he hand-milled from a solid block of aluminum. The cabin is compact, but Miller, a tall, lanky fellow, has no trouble settling in for his flights, which have included about 50 trips back and forth to Indiana to visit his mother, and day trips to Gatlinburg and dinner flights in the area with Donna.
"It's a good way to get around to different places without having to take half a day to get there," she said.
With its short wing and lack of flaps, the Colt isn't a STOL aircraft. With the two of us aboard, we lifted off at about 70 mph and climbed up to pattern altitude at about 500 fpm. At 1,900 feet msl and 2,420 rpm, we were indicating 85 knots. Miller says he typically cruises at about 105 mph.
"On a typical flight, I fly low and stay under 3,000 feet," Miller said, "but sometimes I may climb higher."
The VFR panel is devoid of frills. In an era of flat-panel displays and 200 mph benchmarks, there's still room for an inexpensive machine that can cruise at better than 100 mph on less than seven gph on its 108 hp Lycoming O-235-C1B engine. Plenty of people in those cars on the highway Miller passes on his way to Indiana probably wish they could be up with him. Who can blame them?
A yoke-mounted handheld GPS helps him navigate. "I fly airport to airport—I plug in one to the other on the GPS. It breaks up the flight and gives waypoints."
With the project complete, you might expect Miller would be spending time enjoying the fruits of his labor. Instead, he has started another makeover, even as he continues to tweak his Colt. "I'm rebuilding a Super Cub," he said, starting with the fuselage. "I'm taking a welding class at the local vocational college."
But maybe it's not just a love of aviation that drives him on. Perhaps he's just trying to avoid alternative refurbishment projects. "I kind of wish he was that way with the house like he is with the airplane," said Donna. "I'm trying to get him to do my kitchen floor here."
Page 3 of 3