Tuesday, June 7, 2011
Today's GA Market
A dynamic market has created an ideal opportunity for buyers and sellers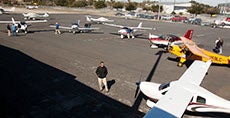 While aircraft brokers today are seeing sellers drop their asking prices to historic lows, they caution that buyers need to realize there may not be much room for negotiation. If a buyer offers much less, they may lose the deal and a good opportunity.
All brokers are seeing a huge sales slump in the light-twin market. "You can't give them away," laughs Malsbury. "You can buy a good used King Air for less than the price of a new Baron." The drop in light-twin sales is being buoyed by corporate buyers. Even with the economy in the tank, corporate buyers are willing to spend the money to get what they need. Lending has dried up for certain segments of the market, like older corporate jets. But for newer TAA and higher-performance corporate aircraft, sales are building and continue to look good.
But while it may seem like there's a glut of airplanes for sale, the truth is that the buyer's market has created a shortage of sellable airplanes. "Believe it or not, there's actually a shortage of airplanes for sale out there," says Malsbury. Buyers are ferreting out good, clean airplanes with fresh avionics, and grabbing them at excellent prices. For those kinds of airplanes, the market is going like gangbusters.
"I had a gorgeous, clean, 1970s Cessna 182 that I listed for $99,999," explains Feldman. "I got flooded with inquiries, and it started a bidding war. We ended up getting more than the asking price." Feldman and Malsbury, like other brokers, agree that the fundamentals haven't changed, and that there are definitely buyers out there. One example is the used A-26 Bonanza market.

The lifeblood of any industry is sales. Fortunately, the buckets are filling up: we're in an upturn.

Feldman estimates there are some 250 of those airplanes for sale right now, and that asking prices today are $35,000 to $40,000 less than even a few years ago. "What that means," Feldman explains, "is that $150,000 will get you a really nice Bonanza."
An extremely hot market right now is international. The dollar's weakness against European and South American currencies is creating a frenzy of buy-ers outside the United States. That's generating sales for brokers like AirplanesUSA that know how to deal with the complexities of international sales. Just the registration issue in an international transaction is tricky. Those brokers experienced with these issues are enjoying a booming market. Feldman says, "The bottom line is I can have an airplane anywhere in the world from sale to delivery in three weeks."
The aircraft sales market—whether new or used—has been transformed by the Internet. Traditionally, aircraft sales were regional and seasonal. That's the way it remained from the 1940s until about a decade ago. Today, the Internet has erased those limitations, and is putting buyers in Australia together with sellers in Kansas, or Texas, or anywhere in the world. It also has increased the incentives that many manufacturers are giving on new airplanes.
Both brokers' advice to buyers is the same: Take advantage of the rock-bottom prices today, but don't expect to get much below current asking prices. "There might be a little wiggle room in there," explains Feldman, "but don't whack the buyer's knees to get a lower price. Predatory buying is not beneficial to anyone." For those seeking a great bargain on a new or used airplane, now's definitely the time to act.
Page 2 of 3