Tuesday, April 24, 2012
Cirrus SR22 GTS: The Perfect Plane?
Why Cirrus Aircraft's successful single might be the ultimate cross-country machine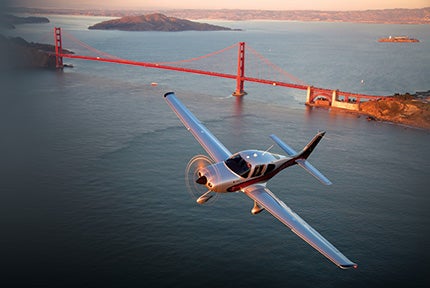 Rated at a conservative 315 hp, the Continental TSIO-550-K factory-turbocharged engine is limited at 2,500 rpm, giving the engine a smoother feel and making the cabin even quieter while reducing its noise footprint. Single-lever performance adjustment means there's no propeller control.
Some aircraft change the game. Looking back, designs like the Cessna 172, the Beechcraft Bonanza, Piper Cub, Mooney M20 and a handful of others have changed the way aviators—and outsiders—perceive general aviation. These aircraft led GA in a new direction the minute they were introduced. Since 1994, when a nascent company named "Cirrus Design" unveiled a revolutionary airplane called the SR20, that list has grown to include the SR22 and SR22T. These aircraft have turned GA on its side.
That's not to say everybody has embraced the Cirrus design aesthetic. Any fair review of an aircraft like the newest SR22T has to include both sides of the like/dislike argument. What's interesting is that this Cirrus has sparked so passionate a reaction. The company's dogged pursuit of innovation in safety is equal only to its revolutionary advances in design, construction and performance, and it's these advances that have fueled the passionate arguments.
I didn't want to like the newest SR22. Standing firmly in the stick-and-rudder-and-tailwheel camp, my instincts told me the Cirrus couldn't be a "real" airplane. The technology was surely dumbing down the aviating experience, and only "airplane drivers" (and not real pilots) would like such an airplane. I wondered what all the hoopla was about.
Cross-Country Adventure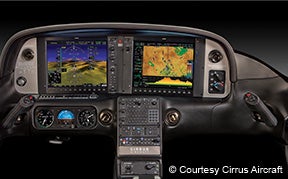 Already one of the most advanced glass-panel systems, the 2012 Garmin Perspective adds integrated satellite phone, global weather and SMS text messaging, along with the new GMA 350 audio panel with 3D audio.
That was before the brand-new SR22 charmed me like Audrey Hepburn riding her Vespa scooter in that scene from Roman Holiday. The Cirrus seduced me over the course of a San Francisco adventure, slowly transforming each of my objections into a chin-rubbing understanding of why this airplane deserves a place right next to that venerable Cub.
Along with me for this mini odyssey was Cirrus' own Matt Bergwall and
Plane & Pilot
editor Jessica Ambats. Both are experienced Cirrus pilots, so I felt out of place as they offered the left seat to me. Our flight would take us from John Wayne Airport in Southern California up to the Bay Area for a photo session around the Golden Gate Bridge. The next day, we would return home. My biplane-honed skills would be fairly useless on this flight, and I was rusty, to boot. I offered a quick plea to the aviation gods to anoint me with a decent performance as I sat down on the buttery-leather seats and took in the new-plane smell.
Page 1 of 3