Tuesday, February 7, 2012
Sweet Harmonizin'
Raising the bar on a history of quality, performance, handling and comfort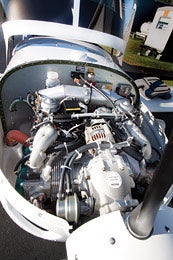 The Evektor Harmony is powered by a 100 hp Rotax 912 ULS engine and reaches a max cruise of 120 knots. Its all-metal fuselage features a bubble canopy that's bellied out on the sides for extra visibility.
Stall is simply a nonevent: Ease the stick forward and/or add a touch of power, and you're flying again. It's such a forgiving, stable, comfortable airplane to fly.
Leveling off, we cruised up to about 115 knots at 5,300 rpm. "In my flight school, we average 2.7 gph fuel burn. For cross-country flights, it's about 5 gph." With 31 gallons in the wing tanks, that gives a nice range of six hours and around 700 miles.
The seats are very comfortable and conform to the body better than the majority of LSA I've flown. There's no squirming or fidgeting even after an hour or two. A major component of that comfort has to be the perfect (for-me) recline angle of the seat back.
Another factor is how quiet the airplane is in flight. That's no doubt due, in part, to the tight construction and mastic-sealed riveting of structural components, as well as liberal applications of attractive fabric to the interior, behind-seat storage compartment and aft deck.
Landing as you might expect is also nominal. After our thunderstorm-dodging, 11-hour Oshkosh-to-Pennsylvania flight, in which we diverted to two different airports waiting for weather ahead to improve, we arrived over Allentown, Pa., in the black of night. Tarola donned his CFI cap (it's never off for long) to talk me through the landing, which was surprisingly nominal, given we were both worn out from the challenging trip.
Speaking of landings, visibility with the low wing is super while turning pattern legs. The push-button vernier throttle makes precise power control a snap, ably abetted by the robust, three-position flap handle (15 degrees, 30 degrees and 50 degrees) just under an adjustable armrest at center station.
Visibility remained excellent throughout rotation, landing flare was easy to feel, and control in all three axes was positive right down to wheel touch.
Ballistic Parachute Systems
Thirty-one years ago, an enterprising hang-glider pilot named Boris Popov created Ballistic Recovery Systems (BRS) based on a simple concept: a parachute system that explosively deploys and safely lowers to the ground, at very low altitudes, not only the pilot, but the entire aircraft and all its occupants!

Initially, BRS 'chutes were used with hang gliders and ultralights. I installed one on my Kitfox in 1987 and was glad to have it. To date, Cirrus (as standard equipment!) and three Cessna aircraft have installed them (C-172, C-182 and Skycatcher S-LSA).

Competitors such as Second Chantz, Galaxy Rescue Systems and Stratos 07 popped up in the interim. Deployment methods evolved to include rockets. Second Chantz's rocket is powered by highly compressed nitrogen gas, eliminating the hazard of an explosive charge.

Since those early days, BRS and others evolved technologies that almost instantaneously pull the parachute out of its canister, extending the still-shrouded 'chute to the limit of its heavy-duty bridle line(s), then the chute opens in timed stages, slowly enough (still in fractions of a second) to prevent blowing out the 'chute from the sudden shock of taking on the full load of a moving airplane in a split second.

Art Tarola's Evektor Harmony uses a Stratos 07 model 601 unit, one of several models Stratos makes. It uses a 600 Magnum rocket, weighs 28.7 lbs., has a canopy of 1,387 square feet, which opens within three seconds, delivers a descent rate of 23 feet per second and requires repacking every six years.

Earlier this year, an Evektor SportStar RTC deployed under a Stratos 'chute during spin testing. The pilot swam away unhurt after a lake landing. It's unlikely he would have survived without the system.

BRS and other airframe parachutes have saved hundreds of lives. Several LSA models offer them as standard equipment or as an option.
Page 3 of 4