Thursday, September 1, 2005
VLJs Turn Short Final
As the market comes to a boil, three finalists are vying to become the first certified Very Light Jet
"As a simple rule of thumb," says Adam Aircraft president Joe Walker, whose dossier includes stints at Cessna and Gulfstream, "a clean sheet of paper airplane is a five-year project. Derivative airplanes are typically three-year projects. That's why everyone tries to do derivatives, and that's why the A700 is moving along so well."
Will the accomplishments of the A500 bring the Adam A700 to the VLJ market first? Walker is confident as he says, "Go out five years from now, what's important is the fleet size, not the exact month the airplane first came to market." Another point of interest to Walker is how the VLJ market has begun to evolve even before the deliveries have begun.
Walker explains, "If you look at the history of the twin market, for example, first, there was the 310, four seats, all facing forward. Later, you saw cabin-class twins develop with club seating, lots more room and comfort. We're seeing the same thing now. The Eclipse has five seats, all foreward-facing. The A700 has six with a club-seating configuration, plus a lav. In fact, the A700 has 90% of the cabin space of the CJ1, but at about half the purchase price and 2/3 of the operating cost."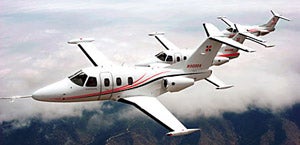 Walker says that the company is comfortably on track to reach certification in 2006 and has $183 million in orders for the A700. Rick Adam hopes to build 60 airplanes a year, with a targeted price of $2.1 million in standard configuration.
Eclipse CEO Vern Raburn has been described as the father of the VLJ movement, and regardless of whether or not that's true, he was certainly the first to initiate R&D on the type back in 1998. There's no question that former Microsoft vice president Raburn, along with Sam Williams of Williams International, has introduced a whole new movement in general aviation. Williams has been building small jet engines for a quarter-century, dating back to the introduction of the first cruise missiles, and it was obviously in his interest to foster the installation of Williams powerplants on the new VLJs.
In seeming contradiction of that partnership, however, power on the Eclipse 500 is provided by a pair of FADEC-controlled, Pratt & Whitney 610F engines, rated for 900 pounds of thrust. Eclipse opted out of the original Williams EJ22 turbofans because they were not reliable enough for the Eclipse 500.
Page 2 of 4