Tuesday, January 1, 2008
Gosh, It's A Gobosh
With a name derived from the phrase, "Go big or stay home," the Polish Gobosh is an LSA with attitude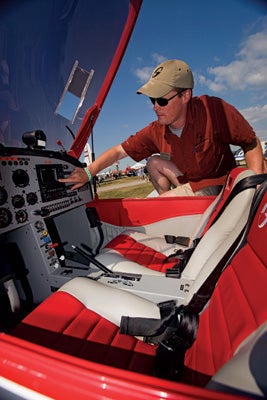 The two-seater has a 41-inch-wide cabin with color-matched leather seats and custom-molded control sticks. Two small baggage compartments are directly behind the seats.
After that, the Gobosh departs from the norm in many areas. Gobosh likes to call its airplane a "luxury-sport aircraft" in view of its differences from the standard LSA.
The G700S is composed of an all-metal construction rather than the more typical composite materials. Composites are renowned as the material of choice for construction of LSAs and homebuilts, primarily because working with fiberglass and other composite materials is simpler and less expensive. Building a glass airplane doesn't require large, heavy tools or excessive construction space.
This is a factory-built machine, however, not a homebuilt, and Gobosh feels metal construction is superior, equally as strong and light as composites. Similarly, metal surfaces mean you can paint the airplane any color you wish without worrying about composite temperature tolerances.
Wing skins are single-sheet aluminum from root to tip for a smooth top surface, and those areas that do require riveting receive standard rivets rather than the more obtrusive blind rivets. Gobosh components are anodized, a corrosion-proofing process superior to the more typical zinc chromating. Steel parts are cadmium-plated, and the airplane features a large number of hinged inspection doors for access to all systems. The fit and finish is easily the equal of normal-category certified airplanes. (In fact, the Gobosh G700S is fully certified in Europe.)
Interior appointments are also a cut above, embracing color-matched leather seats, custom-molded control sticks and other features that are optional or unavailable on some LSAs. There are two small baggage compartments directly behind the seats that can store a small suitcase and miscellaneous stuff.
Page 2 of 4