Tuesday, May 25, 2010
Evolution Of An Original
The Lycoming-powered Evolution turns in turboprop performance on a piston budget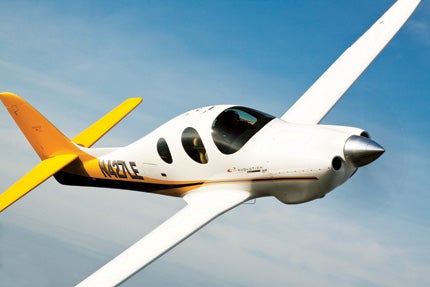 The piston-engine Evolution is powered by a Lycoming TEO-540-AE2A engine and has a max cruise of 270 knots. The carbon-fiber airframe combines light weight with high strength.
About a decade ago, I was hired to fly an Aerostar 700 from Coeur d'Alene, Idaho, to London, U.K., with Captain Mike Miller, chief pilot for Cathay Pacific Airways. In a sense, the trip was a little uncomfortable for both of us, as my job was to serve as check pilot for Miller, a 20,000-hour 747 captain with time in practically everything—except the Aerostar.
Perhaps perversely, Miller's insurance company insisted that he fly a few hours with someone who knew a little about the Aerostar, and since I knew as little as anyone, I was nominated. Miller was planning to fly the airplane in the upcoming London to Sydney Air Race, and he needed to relocate the finished Aerostar from Idaho to the U.K. The airline captain was absolutely positive he could win the big prize in the 16-leg, 12,000 nm race. (He did exactly that, averaging 274 knots.)
During our three-day, 5,200 nm trip across North America and the Atlantic, we luxuriated in the airplane's near-turboprop cruise speeds en route to Biggin Hill Airport, starting point for the event. On each leg, we launched and climbed straight to 25,000 feet, maintained power at max cruise and saw consistent true airspeeds of 260 knots or better. One leg—Narsarsuaq, Greenland to Reykjavik, Iceland—yielded a spectacular 330-knot groundspeed.
Despite (or perhaps because of) his jet experience, Miller commented that this was pretty impressive for an airplane flying behind piston power. In fact, there has never been another production piston airplane capable of generating such speed, regardless of horsepower. Back in the '60s, the Piper Comanche 400 employed a huge eight-cylinder Lycoming IO-720, essentially a pair of IO-360s welded together, but without a blower under the bonnet, that airplane was limited to 200 knots.
The current turbocharged, intercooled Mooney Acclaim S manages to score 242 knots on only 280 hp, but that's as close as anyone has come to marketing another production, 260-knot piston machine.
Enter The Evolution
Now, Lancair International of Redmond, Ore., plans to certify an airplane capable of topping the Aerostar's quick cruise, and with only one piston engine out front. Some astute readers may remember that the turbine version of the Lancair Evolution was introduced two years ago (see "Lancair Evolution: Revolutionary Homebuilt," Pilot Journal Spring 2009). At this writing, both the turboprop and piston models are offered as homebuilts, but Lancair is actively pursuing certification on both airplanes.
Of course, there's the inevitable question: Why build two versions of the same airplane? The two models are identical from the firewall aft. Lancair COO Tom Bowen explains: "The most obvious reason is price. The basic Evolution airframe package costs $495,000 to build, excluding paint, interior and a few other items. Then, you have a choice between a $115,000 Lycoming piston engine or a $445,000 Pratt & Whitney turbine mill. Add $32,000 for the prop and $84,000 for all hoses, baffling, engine exhaust, tubing, wiring and hardware, and the cost for a fully completed, painted Evolution with a leather interior will be approximately $750,000 for the piston model, $1,150,000 for the turboprop. Hourly operating costs also should be dramatically less costly with the avgas model, for those who don't feel a need for high altitude and 300-plus-knot speed on every flight.
"Finally, and probably the best reason of all," Bowen continues, "our customers asked for it. We surveyed many of our Lancair IV customers, and the feeling was almost unanimous that there'd be a major market for a piston version."
Page 1 of 3