Tuesday, June 1, 2004
An Enthusiastic Cherokee
Maybe it isn't the fastest 140 in the world…but then again it might be

The very nature of Cherokee 140s wouldn't seem to lend itself to speed. After all, the airplane made its reputation based on a docile stall and some of general aviation's most benign flying qualities. The littlest Cherokees have always been regarded as among the gentlest of trainers, so universally respected for their predictable manners that some instructors actually criticize them for being too easy to fly. " />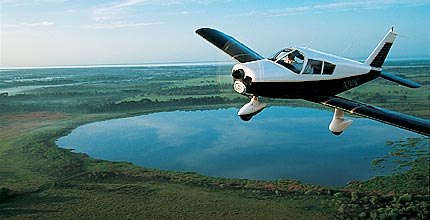 The very nature of Cherokee 140s wouldn't seem to lend itself to speed. After all, the airplane made its reputation based on a docile stall and some of general aviation's most benign flying qualities. The littlest Cherokees have always been regarded as among the gentlest of trainers, so universally respected for their predictable manners that some instructors actually criticize them for being too easy to fly.
Keep in mind, any performance increase in a Cherokee 140 would be an improvement. Cherokees were their marquee's entry-level 2+2 machines, and none were designed as high-performance airplanes. In fact, Piper hoped the original Cherokee 140 would compete as much with the Cessna 150 as the 172. The company even considered a Cherokee 115, a version with a 115-hp Lycoming O-235A engine to make the airplane more price-competitive with the 150. Performance didn't meet its expectations, however, that Piper abandoned the idea.
It's more than coincidence that all the 150-hp, entry-level, fixed-gear 2+2s offer similar performance. That's because the drag signatures of all the models is similar, despite esthetic differences in configuration. A Cherokee or Beech Sport don't have much physical resemblance to a Skyhawk; yet all three airplanes climb and cruise at similar velocities....
...In stock configuration, that is. The Cherokee on these pages belongs to James Rhoads, a professional pilot out of Wabash, Ind., and as you've probably noticed, it's not exactly stock. In fact, P&P flew the airplane three times for this report, twice on the west coast for a before-and-after evaluation of the Power-Flow-tuned exhaust system and again at the annual Sun 'n Fun Fly-In in Lakeland, Fla., for an evaluation of the Laminar Flow Speed mods. Just as you shouldn't believe everything you read on the bottom of wax cans, speed mods are always a little suspect, and we wanted to see for ourselves what the airplane could do with and without the mods.
Cherokee N140HC started as a totally stock airplane, and for some pilots, that would be enough. The basic Cherokee 140 represents what many aviators regard as aviation's ultimate pussycat (with apologies to the Tiger, Cheetah and Lynx), an exercise in simplicity. That's always been perhaps the primary attraction of Cherokee 140s. They're inexpensive to buy and operate, can carry 2+2 in a pinch (no pun intended), and most of them have depreciated as much as they're going to and are starting back up in value.
Page 1 of 4