Thursday, September 1, 2005
New Piper's Saratoga II TC
Still "The One" for the turbo six-seaters

Any list of general-aviation evergreens is bound to include certain airplanes: The Cessna 170 and 172 would be near the top of the list; Piper's venerable Super Cub would be a strong contender; Beechcraft's straight-tail Bonanza would definitely qualify; and the Piper Cherokee Six also would likely make the list." />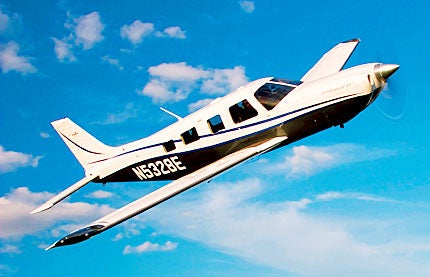 Any list of general-aviation evergreens is bound to include certain airplanes: The Cessna 170 and 172 would be near the top of the list; Piper's venerable Super Cub would be a strong contender; Beechcraft's straight-tail Bonanza would definitely qualify; and the Piper Cherokee Six also would likely make the list. The original Piper Lance was a retractable version of the Cherokee Six 300, and it was such a good idea back in 1976, the basic airplane has survived for almost 30 years. Blessed with the friendly, comfortable cabin of the Cherokee Six 300, the Seneca's gear system and a strengthened, extended version of the semi-tapered wing employed on the Warrior, the Saratoga offered six usable seats (at reduced fuel loads), cruise speeds over 150 knots and the reliable power of one of the industry's favorite engines, the 300 hp Lycoming IO-540. Granted such features, the basic PA32R design has evolved to become practically an evergreen in its own right.
The ultimate, modern iteration of the retractable Cherokee Six is the 2005 Saratoga II TC. As you might expect, the newest model is a considerably improved airplane from the original, but its ties to that first 1976 Lance remain obvious.
The Saratoga II TC need make no apologies for its links with the past. The current airplane has employed the same fuselage, powerplant and wing for nearly a quarter-century, mainly because the combination works so well. Fortunately, New Piper's engineers don't subscribe to the philosophy "If it ain't broke, fix it till it is," so the basic aerodynamic and power configuration of the current airplane remains similar to the original.
Despite the age of the original design, there's nothing antiquated about the new Saratoga II TC. The panel is as modern as tomorrow. With only your credit line as your guide, it's possible to fit the Saratoga with Avidyne's multi-talented, flat-panel displays, air conditioning and enough other electronic goodies to make an Airbus 330 pilot envious.
New Piper's turbocharged Saratoga endears itself to virtually everyone who flies it on a more basic level, however, not because of dramatic climb or blazing speed, but by reason of its truly benign handling, supreme cabin comfort and easy loading flexibility through the twin, aft-left cargo doors. At the airplane's full 3,600-pound gross, handling characteristics are predictably heavy and bear-like, but they're more reminiscent of a teddy bear than a grizzly.
Page 1 of 4