Tuesday, April 20, 2010
Piper Matrix: The Second-Year Test
A year after Piper shut down the Saratoga HP, the Matrix helps pick up the slack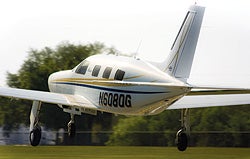 The six-place Piper Matrix offers the largest cabin in its class. Powered by a 350 hp Lycoming TIO-540-E2A, the unpressurized aircraft transports pilots and passengers in a comfortable, luxurious environment.
For all those reasons, it made perfect sense when Piper introduced the Matrix, an unpressurized version of the Mirage priced $385,000 less than the inflatable airplane. As the world's top turbocharged piston machine, the Matrix was targeted to reach down to the four-seat super-plane models—the Mooney Acclaim S, Cessna 400TT and Cirrus SR22-G3 Turbo, plus the six-seat G36 Bonanza and Cessna T-Stationair—and steal sales by offering pilots an airstair door and cabin-class comfort better than anything else available.
Two years later, the Matrix sells for a base price of $819,000 (with Avidyne avionics) compared to the Mirage's entry-level $1.19 million. The delta is still a substantial $300,000, definitely large enough to get the attention of potential buyers above and below the price line.
What you lose (or gain, depending upon your point of view) in the step down from Mirage to Matrix is 200 pieces of airplane that subtract about 150 pounds from empty weight. That's a more significant advantage than you might think. Airplanes, like people, tend to gain pounds with age, and empty weight reduction always has been one of the most difficult tasks in aircraft manufacturing. Piper accomplished it in spades with the Matrix.
Excluding the accoutrements necessary to seal a pressure vessel eliminates the beef-up associated with an inflated cabin. It also allows for a slightly cleaner, less complicated panel as the pressurization controls go away—a major cost savings according to Piper.
Similarly, the Matrix removes the emergency oxygen system between the front cockpit and the second row of seats, freeing up storage space behind the front office. The company also installs thinner Plexiglas more appropriate to an unpressurized airplane; it's lighter but apparently no less stout.
The roughly 150-pound savings translates to (nearly) one additional person in the airplane, something the Mirage always needed. Specifically, the useful load increases from 1,236 pounds on the Mirage to 1,389 pounds on the Matrix, while the max takeoff weight of both airplanes remains at 4,340 pounds.
Standard fuel remains the same 120 gallons (720 pounds), so full-fuel payload now works out to 669 pounds, available as you like it in either cargo or people. If the mission is typically short, and you can leave 20 gallons in the truck, you can carry nearly 800 pounds in the cabin: five midsized folks or four standard types plus baggage.
Keep in mind, this is the standard airplane without the known icing system, speed brakes or any of the other popular options that most buyers select. Adding the extras would obviously subtract from payload.
Page 2 of 5