Tuesday, April 20, 2010
Piper Matrix: The Second-Year Test
A year after Piper shut down the Saratoga HP, the Matrix helps pick up the slack
Like its big brother, the Mirage, Piper's Matrix is an imposing airplane on the ramp. It sits tall on its long gear, and the double clamshell door provides perhaps the easiest entry into the aft cabin of anything in the class. Inside the cabin, the quality control and attention to detail are exactly what you'd expect.
Despite the substantial power under your right palm, moving more than two tons of airplane off the line isn't a simple task. The Matrix has to gather itself for takeoff, but by the time you've rotated off the runway, the airplane is ready to climb away. Plan on an easy 1,000 to 1,200 fpm at 125 knots for the first 10,000 feet.
Part of the marketing on the Matrix is to sell an airplane to folks who won't fly high on every trip, and true to form, the PA46-350T turns in reasonable speed at nonoxygen altitudes. Trimmed and level at 10,500 feet, expect about 180 knots at a max cruise burn of 21 gph. If you're willing to climb to FL250 and use the same power, you'll see more like 210 knots. For those strange pilots who like to buy fast airplanes and fly them slowly, you can come back to 15 gph and still score 165 knots down low, 190 knots up high.
Piper imagines the Matrix will be operated below positive-control airspace most of the time, so max altitude typically will be 17,500 feet. At that height, you can expect about 190 knots at max cruise, 175 knots pulled back to 55%.
In-flight handling is the same as that of the Mirage, and there's every reason to assume the Matrix will make an excellent IFR platform. Over the last 20 years, I've flown a dozen or so PA46s across the Atlantic and Pacific, and the airplanes have provided a consistently excellent ride. The standard S-Tec 55X autopilot does a good job of driving the airplane in anything short of a typhoon. (Eight years ago, on an eastbound Mirage delivery from Sendai, Japan, to Aachen, Germany, I landed at Guam just ahead of Typhoon Pongsona, refueled and jumped straight back into the sky for the 1,700 nm flight to Majuro. The autopilot defeated the pretyphoon turbulence and made the continuous 3,500 nm of travel almost tolerable. Still, I won't do that again.)
Avidyne Release 9: Available For The PA46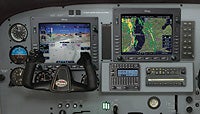 For those pilots who prefer the upcoming Avidyne Release 9 glass-panel display, Piper will offer a voucher program as an option in Matrix, Mirage and Meridian aircraft. Any new Avidyne Entegra–equipped PA46 will be upgraded for $50,000 when the system is certified in 2011. This will match the price of the Garmin G1000 option in existing PA46 models.

Release 9 will include up to three flat-panel IFD5000 readouts, all operated by a QWERTY keyboard, coupled with dual digital, 16-watt NAV/COM radios and dual WAAS/RNP GPS receivers. Each IFD5000 is capable of performing all functions with no unfamiliar or reversionary modes.

The Avidyne Release 9 is specifically designed to eliminate complexity, reduce head-down time and enhance safety. Learn more at www.avidyne.com.
Page 4 of 5