Tuesday, July 3, 2012
The Lively Bird
Highly refined, impeccably built and what a delight to turn loose on the sky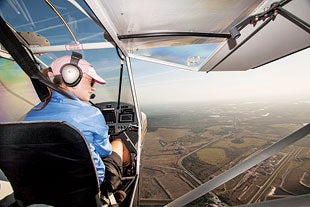 Rans company pilot Jana Morenz takes LSA Editor James Lawrence for a demo flight in the S-7LS Courier, a tandem-seat fabric-covered taildragger. The LSA has a gross weight of the max 1,320 pounds and an increased fuel capacity of 26 gallons.
Easy As Pie
I dropped us into a right-hand pattern at a grass strip, took Morenz's suggestion to hold about 65 mph on final, then eased into a modest flare, and the Courier settled politely into that three-pointer without any neurotic undercurrents. Visibility was plenty good from the rear throughout landing and rollout, since the S-7 taxies at a less pronounced deck angle than a classic Cub, providing better visibility all around.
Ground handling is a breeze, too, thanks to the steerable, full-swivel tailwheel and dual toe brakes. And you can swing the airplane around real fast on one tire by locking up its Matco brake—great for maneuvering on tight backwoods strips.
New For 2012
Randy Schlitter gave the tried and true Courier quite a makeover. The upgraded S-7LS has greater range and payload to match its more responsive handling. Gross weight is now the full LSA-maximum 1,320 pounds.
Also new is increased fuel capacity: 26 gallons (up from 18), which is carried in two integral wing tanks (with latch-down, flush-fuel caps). The wing is built with one-piece stamped aluminum ribs now, replacing eight-piece, ultralight-style tubular ribs, and yielding lower weight with higher strength.
The aero servo linkage hinges to the ailerons a few inches aft of the (beefed-up) aileron leading edge spars. This neat trick brings in aerodynamic forces to help with the work of displacing ailerons, rather than relying on mechanical forces do it all. Simply described, when deflected, the aileron's leading edge encounters the relative wind above or below wing, which more cleanly diverts chord wise airflow down or up.
The aero servo approach has another benefit: no more aileron spades, which reduces drag and no doubt will save many craniums from walk-around head trauma. Also worth noting: differential aileron linkage (see sidebar), which reduces adverse yaw.
Modern technologies are brought to bear in shedding around 20 pounds of weight through the use of carbon fiber in the boot cowl, cowling, prop spinner and wing tips. And the large 6x00 main tires and eight-inch pneumatic tailwheel, along with robust spring steel main gear, help optimize the Courier for operations in and out of the weeds.
The standard-version Courier instrument panels come with steam gauges. Two other versions are available: the Deluxe Analog panel gets a Garmin SL 40, PM 3000 Intercom, Garmin Aero 560 GPS, VSI and Garmin GTX 330 Transponder, while the Deluxe Digital gets all of that, plus a Dynon D180 EFIS glass panel and smaller two-inch ASI and ALT gauges to fit it all in.
And if you like to build, you can save around $30,000 off the $87,000 ready-to-fly base price with the kit version, which takes 500 to 700 hours (Quickbuild version: 250 to 350 hours).
Page 2 of 3