Tuesday, February 10, 2009
Up-And-Comer
The new Remos GX rises to satisfy sport pilots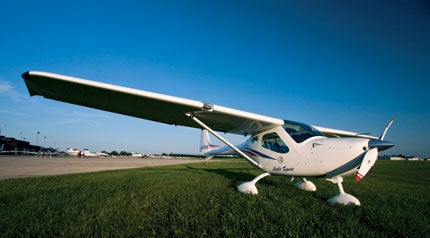 An LSA that was 10 years in the making may aptly be called a "mature design" within this nascent sector of piston aircraft. A few others share a similarly "ripe, old" heritage, but most are far newer than the trusty GA models in which many of us learned the art of flying.
Designed by engineer Lorenz Kreitmayr, the first Remos G-3 took to the air in 1997 (10 years before the upgraded GX first flew). In 2008, N447RA, the first GX, arrived in the States for the big summer flyfest in Oshkosh, and that's where I had a chance to update my Remos experience (previously earned in the G-3). Assisting and educating me were two Remos reps: National Technical Service Manager Cris Ferguson and Managing Director of Sales and Marketing Michael Meirer.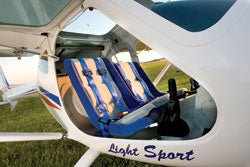 Derived from the earlier G-3, the new GX brings many updates to suit American pilots, including a new Sensenich ground-adjustable propeller. A large baggage area aft of the pilot is accessed by removing the pilot seat.
What's The Difference?
While G-3 sold more than 250 copies, performing well for European pilots for years, the arrival of the U.S. LSA market spurred fresh development. After a proper gestation period, the GX landed in America in time for EAA AirVenture 2008.
Ferguson clarified the differences between G-3 and GX, explaining that the new arrival bears a clear lineage, but is a genuinely different airplane. Whereas G-3 had parts fabricated in Poland, all components of the GX are made in Germany.
Foremost in the new features is a replacement of G-3's partially fabric-covered wing; GX uses an all-carbon-fiber construction. "Remos engineers built new test fixtures and sandbagged the wing to destruction," Ferguson explained. "The first wing was overbuilt and held 15,000 pounds of static weight; it was lightened because the wing was much stronger than it needed to be." Among the refinements, Remos built a landing light smoothly into each wing's leading edge.
The wing strut shed its former jury strut, and the main structure is now a larger-diameter chrome tube that's faired for aerodynamic and cosmetic reasons. Remos also replaced the plain flap with a slotted one to increase lift efficiency.
GX's fuselage is also built of carbon fiber. Remos added a dorsal fin that straddles the fuselage as it joins the vertical stabilizer. On the smaller ventral fin, a fixed-position tailwheel acting as a landing skid has been converted to a tiedown. (Wing tiedowns will also be added, though they weren't installed on the article aircraft.)
Page 1 of 3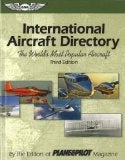 International Aircraft Directory

Plane & Pilot Magazine