Tuesday, August 6, 2013
The Big Picture
Fighter's-eye view, born trainer and a sport-flying funship
Why am I enjoying flying this bird so much?
That's the question that pops into my mind, 10 minutes into my Magnaghi Sky Arrow 600 demo flight with Hansen Air Group's Mike Hansen. Clear of the hectic airspace of Lakeland, Fla.'s, busy Sun 'n Fun event, I cage my eyeballs straight ahead and reframe the question: What's cool about this airplane? What makes it stand out?
First answer: The unobstructed view is 90% sky and puffy-white cotton balls. Who wouldn't put "great view" at the top of their flying gratitude list? Far below, Florida's verdant green flats stretch out in all directions. Tiny cars roll up the highway like ants. White egrets glide in for landings on one of the area's many lakes. Far to the west, Tampa's skyscrapers pierce the sky. This is severe-clear, big-picture flying at its best.
Second answer: I feel like I'm in a P-51 Mustang fighter. Two reasons for that: It's a tandem cockpit, with Mike Hansen right behind and above me, and the airplane is a pusher. Control setups like this add to a
Top Gun
cockpit feeling, and Sky Arrow doesn't disappoint. The foam-padded stick grip mounts along the right side rail, while the throttle lever group (with choke and excellent friction thumbwheel) rests on the left rail panel. It's a kick-back, armchair-relaxed setup that feels, well, kinda wonderful. I wish every airplane were rigged like this.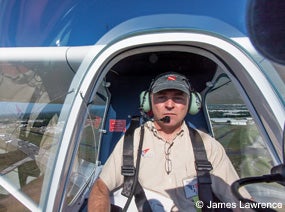 Mike Hansen demos the tandem-seat Sky Arrow 600 light-sport "fighter."
You climb aboard, settle into the well-padded, comfortable front seat, buckle up the five-point harness, rest your arms naturally onto the side rails, and bam, the controls are right there to fill your hands. Fill your hand, Ned Pepper! (That's for you
True Grit
fans).
The large-tube rudder pedals, cockpit-adjustable with a center-mount pulltoggle for a wide range of pilot sizes, feel solid under the feet. Disc brake levers for the sturdy, bowed composite main gear sit on the right-side rail. I don't recall ever seeing this on any other LSA: They're split levers, meaning the left lever brakes the left wheel, and the right, the right.
I expected split hand brakes to feel a tad awkward in ground handling, but no worries. Just pull both levers back to brake or let one relax a touch for differential steering. And, with that big movable tail back there, rudder-only steering is solid above 10 knots or so, anyway.
All in all, the fit, Sky Arrow's finish and feel are top quality. The downward cockpit rake of this well-established (1992) flight-trainer/all-purpose workhorse gifts the front pilot with that expansive, generous view over the sloping nose, reminiscent of a sailplane.
Page 1 of 4