Tuesday, August 6, 2013
The Big Picture
Fighter's-eye view, born trainer and a sport-flying funship
Quit Stalling Around
Mike Hansen demonstrated, then talked me through some stalls with flaps (0, 10, 20 and 30 degrees, electric-toggled), and power on and off. As expected, the thick-camber wing holds onto flight like a cat to a high tree branch. It mushes along, burbling warnings until it gently drops the nose and maybe a wing...but with good manners. Relax the stick, and you're instantly flying again, typical of most LSA.
The one-pilot-width panel, although narrower, has plenty of room for a robust avionics kit: Dynon SkyView 10-inch EFIS center stage, Garmin SL 40 Com radio and a Sigtronics Sport 200S intercom. There's also analog trim, engine rpm, airspeed, altitude and directional compass.
Magnaghi provides lots of factory options, too. None is likely better known than the company's "Disabled Pilot Kit," a left-side hand control combining rudder and throttle so pilots can fly without using their feet. Hansen Air Group, Sky Arrow's distributor for the Southeast region, has made these specially equipped LSA available to Able Flight (
www.ableflight.org
), an organization I've often written about. Charles Stites heads up that non-profit, which awards full sport-pilot training scholarships to soldiers and civilians who have been wounded or injured and lost the use of one or more limbs. It's a wonderful program, and Hansen Air Group has been supporting it, from the beginning.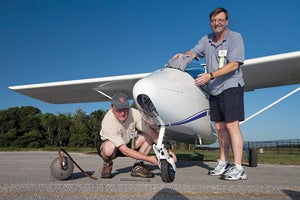 Mike Hansen, left, and fellow airline pilot and cousin Jeff Hansen spiffy up the Sky Arrow before James Lawrence's demo flight at Sun 'n Fun 2013.
Are We Done Here?
It seems I've hardly scratched the surface. Let's see: handles like a sweetheart. Solid, rugged construction...oh, forgot to mention the trailing link nose gear. Its rubber-bumped shock absorption gives Sky Arrow a robust rough-field capability. What else? You wouldn't expect much baggage room, but surprise—there's a good-sized compartment below the rear seat. Rotate it forward and load up.
Speaking of loads, as an LSA, the airplane's a mite short on empty weight useful load at 480 pounds. With full fuel (29.5 gallons or 177 pounds), that cuts you to just 303 pounds of cargo. That's not a knock for flight school use, where lower fuel loads typically get the job done just fine. For longer cruising, you're legally limited to two lightweights in the seats or a solo pilot and baggage.
The airframe is rated to 8Gs positive. Climb rate is solid. Even in a 70-knot cruise climb, we indicated 750 fpm. Book is 1,100 fpm at best climb speed, and I bet that's right. Sky Arrow isn't a slippery airplane. Still, it serves up a 95- to 100-knot cruise at 75% (I saw 95 at 5,100 rpm with a compromised cruise/climb prop), just below 40-knot stall and a 108-knot cruise at 5,000 feet. Coupled with a range of six hours or around 600 miles, that should massage any cross-country kinks in your system.
Page 3 of 4