Wednesday, November 30, -0001
iCub Love
Classic, frisky, friendly, this Cub clone is so 21st Century
When I think of my recent flights in Sportair USA's Bush iCub, they're soaked in rich, golden yellow—Cub Yellow to be precise. Inside and out, the fabric-covered, balloon-tire-riding, classic-looking taildragger—with an Apple iPad in the front panel, no less—is one colorful, beautifully built variant of the Piper J3/SuperCub ethos that dominates S-LSA sales in America. Clearly there's a thread of Cub Love stitched into almost every pilot's heart.
Bill Canino, head honcho of Sportair USA and former Air Force jet jockey, wanted another airplane to gap-fill his stable of light-sport offerings. But he didn't want just another Cub clone. "Our aircraft line," says Bill, "fits a variety of missions. For cross-country, in comfort, with some baggage, we've got the Sirius. For something fast, lively and very maneuverable—with a great view—we've got the Sting S4. For amphibious hull flying, there's the SeaRey."
"But we wanted a plane for hanging around the airport or for backcountry landings, with a door or window to open for the breeze, float-capable too, all at a more affordable price than what's out there. We didn't feel the other Cub makers had fully addressed the 'off-road' market niche."
Since Zlin Aviation already made a Cub-like airplane (the Savage), Sportair worked with the Czech Republic maker to craft the design into a fun line of four Cubbies: the iCub, Bush iCub, Cruiser and Classic.
He envisioned the line of fun flyers ($77,900-$99,900, all fully equipped) for the "Walter Mitty" crowd: people seeking a Super Cub-like experience, whether it's local grass or dirt-strip flying, landing on the edge of a favorite lake for camping or flights evoking a simpler time in aviation.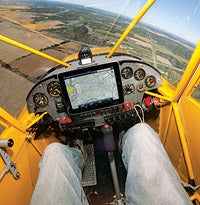 The iCub and Bush iCub from Sportair USA come standard with a 64 GB dockable iPad for the pilot in the front panel and an iPhone for the copilot in the back seat.
To help burnish a 21st-century image rather than be a slave to the original J3, the iCub and Bush iCub come standard with a 64 GB 3G dockable iPad in the front panel and an iPhone for the rear "copilot." All four models solo from the front seat, too, unlike the nose-heavy J3. There's tons to say, for which I invite you to check out
www.cub-aero
. For our purposes of introduction, let's take some hops in the Bush iCub.
Tight, Solid, And...
One can only visit the thesaurus so many times for alternatives to describe the iCub's chief appeal, so let's just cut to the chase: It's fun. It's really, really fun.
I put nearly three hours on Bill's demo plane. It's his own doggone fault. He so loves trolling around above the landscape, that all I had to do was walk within 50 feet of the iCub, and he was dragging me toward the cockpit.
Climbing aboard is typical of the breed. Once you're accustomed to pretzel-bending limb and spine, it's a breeze. The iCub makes it easier with a big, one-piece, five-foot-wide door rather than the J3's clamshell style. It latches up in flight (below 60 knots) for open-air flying—a big part of what the Cub is all about.
The cockpit feels just right for new and seasoned tandem pilots alike: The dual throttle levers; the big, scalloped pitch trim wheel; and the flap handle all live on the left side, below the window. Seats are cushy and nicely upholstered, too. Toe pads for the hydraulic brakes sit atop the metal tube-style rudder pedals. I prefer them over heel brakes.
Fit and finish? Top-notch.
Bill folded his lankiness into the back so I could have the catbird seat. Riding the Bush iCub gives a truck-driving view, thanks to the higher deck angle afforded by the standard 26-inch balloon tires and shorter-than-J3 mains-to-tailwheel distance. Visibility is no sweat though: Tandem cockpits are narrow. You can use whatever combo of S-turns and head-in-propwash moves you favor to get to the starting line.
Page 1 of 4