Tuesday, July 14, 2009
Maneuvering Room
Head over heels in the Sukhoi Su-29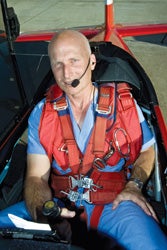 Rick Volker is an International Aerobatic Club pilot in the unlimited category.
"I quickly advanced to do everything [the Pitts] could do, and I just wanted more," Volker had told me. "The Sukhoi was the bad boy in the world at the time. There was nothing close. I had to have it."
And when Volker had to have a single-place Su-26 to pursue air show work, a hangar neighbor at KIAG, John Wieckowski, who wanted an aerobatic aircraft, bought N2296.
"You think you're doing aerobatics until you fly this," Wieckowski, a retired physician, told me earlier that afternoon when we all met at his hangar. "I did not deserve one of the world's best aerobats at this point, but all of a sudden, Rick put it up for sale, and there it was."
Though their skill levels are different, both men often fly together, practicing maneuvers. In the one competition he has entered so far, Wieckowski took third-place Sportsman honors (out of a field of about 20). Both pilots give partial credit to the Sukhoi.
"The shape and profile of the aircraft lends itself to being easily visible from the ground at competition altitudes," Volker says, "making it easily gradable by competition judges."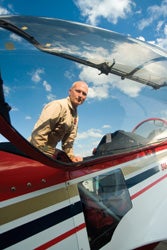 After earning his private license at 40, Rick Volker immersed himself in aerobatics and purchased this Su-29. Powered by a 360 hp, nine-cylinder, radial Vedeneyev M14P, the aircraft has adjustable metal shutters at the front of the cowl that offer manual engine-temperature control.
Competition is what Sukhoi aerobatic aircraft are all about. (The line includes the single-place Su-31, designed for freestyle, as opposed to compulsory, routines.) They were made for sanctioned competition, which must be performed in a 1,000-cubic-meter box. So despite the impressive power-to-weight ratio and climb and roll rates that Sukhois brought to aerobatics, what distinguishes them is their slow-speed handling capability. Unlike competitors, Sukhois maintain their responsiveness at low airspeeds, a distinct advantage when operating in such a confined space during an aerobatic sequence. In other words, the aircraft gives pilots maneuvering room.
Developed by a team led by noted aerobatic aircraft designer Slava Kondratiev at the Sukhoi Design Bureau, which created the Soviet Union's finest fighter aircraft, one of the project's primary goals was to demonstrate the use of composite material in aircraft construction. The Sukhoi was the first aerobatic aircraft composed primarily of composites (about 60% by weight). But they were also designed for Soviet pilots to fly in international competition during the Cold War, and no expense was spared in making them as capable as possible. You can't help thinking of Dolph Lundgren going against Sylvester Stallone in Rocky IV as you do the walkaround inspection, marveling at the muscular, overbuilt airframe.
In the late 1980s, when the Soviets decided to make and sell production versions through an independent company, Advanced Sukhoi Technologies, they asked Richard Goode (
www.russianaeros.com
), an English pilot who had previously bought Yakelov aircraft from them, to act as sales representative. Today, Goode is acknowledged as one of the foremost authorities on the aircraft, and though production of new Sukhois ended earlier this decade, he's the only person in the world who regularly buys, sells and refurbishes them.
Page 2 of 4