Tuesday, October 20, 2009
New Light Twin From Italy
Tecnam introduces a twin-Rotax-powered four-seater in the tradition of the Partenavia P68C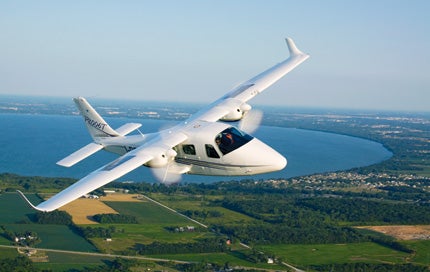 Naples, Italy, April 18, 1986: Today, I'm first in line for takeoff from Naples toward our initial destination of Nice, France. It has taken all morning to assure that the paperwork is up to Italian standards, but we're finally ready, or so I hope. For this trip, I'm leader dog of a small band of not-so-intrepid aviators who are, allegedly, experienced in ferrying little airplanes across big oceans.

It's our fourth day in Naples, waiting for a customs strike to be resolved.
(I finally resolved it with $1,200—2.4 million lira at that time—paid to a friendly Italian customs agent at his home to compensate him for "overtime fees.") There are three more new Partenavia P68s in line behind me, the last of 15 we've contracted to deliver from Italy to points west, primarily Florida and California.

Naturally, since I live in the Golden State, this and my other three Partenavia deliveries have all been to the company's U.S. distributor, Mira Slovak, on the West Coast. Slovak, a Continental Airlines 747 captain in his day job, is based at Santa Paula Airport, 30 miles from Santa Barbara. That means the total trip is about 6,000 nm from Italy to Southern California.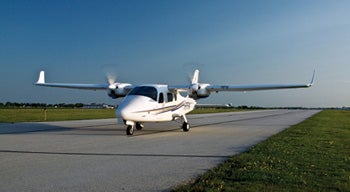 The P68 is a reasonably talented six-place twin, possessed of surprising STOL characteristics, a comfortable cabin and easy handling, but it has fixed gear and a pair of 200 hp Lycoming engines, worth perhaps 150 knots' cruise on a good day. Headed west, into the wind, even in summer, there are few good days.

This is my fourth and last delivery flight in a Partenavia, and I finally receive clearance to go. I climb out over the beach, leaving Naples, and watch the Italian coast fade into the haze. I set course across the Mediterranean for Corsica and listen on the tower frequency to make certain my three playmates are off and running.

It's only 350 nm to Nice, and if we're lucky, we'll arrive early enough to make a run to Monte Carlo. Nice is the closest airport to one of the world's smallest sovereign countries and, of course, the location of Monte Carlo's famous casinos. Tomorrow, we're off to start the trek to Iceland, Greenland and North America.
Page 1 of 4