Tuesday, April 9, 2013
The Taildragger Reborn
All-metal airframe, side-by-side seating, 65-year-old GA company: classic!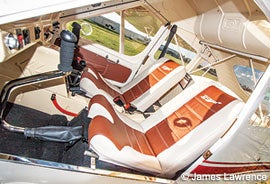 A bend in the control sticks makes for easy clearance when entering and exiting the airplane.
The Echo first flew in 1993 in Europe; congratulations to Tecnam in this 20th anniversary year. Popular overseas for flight training, personal and club ownership and even as a reconnaissance aircraft/trainer for the Cambodian Air Force, there have been 12 iterations of the design. The list includes a truly beautiful SeaSky float/amphib version (with fully enclosed float rudder controls!), and the P92-TD taildragger we're about to fly, here.
The worldwide P92 fleet numbers nearly 2,000 aircraft. Now that's pedigree, brother.
Side-By-Side Taildraggin'
With its big swept tail but also an oval turtledeck window and retro short-field look, Tecnam has crafted a decidedly old/new, retro appeal for its P92-TD. It's also the first taildragger the company has ever built.
Another cool-factor standout is the seating. Many taildraggers, including Legend and CubCrafters cub clones, and all those classic Piper J3 Cubs, Taylorcrafts, Aeroncas, Citabrias et al, come with tandem seating. The TD restores pilot-to-pal or sweetie-pie eye contact without undue risk of whiplash.
That feature alone puts the new bird squarely into the revered genre of classics such as the Cessna 170, 180 and 185. And like those Cessna bushplane-style flivvers, the TD is all metal—a huge draw, Tecnam hopes, for a particular type of pilot.
Another big appeal is the Lycoming YO-233-B2A 115 hp power plant with electronic ignition. Two other engines are offered with the TD: Rotax 912 and 914 Turbo. For those seeking the classic sound and rumble of an air-cooled, opposed-cylinder, American-made power plant, the Lyc is your modern e-ticket to those thrilling days of Aviation Yesteryear.
The instrument panel is finished in a retro-style simulated-wood veneer and features a Dynon D120 EFIS.
Peeking behind the company curtain, Tecnam's market research found that more than half its potential P92 buyers wanted a taildragger—and even more asked for side-by-side seating. One can only stare at the back of wifey's new "'do" for so long.
Topping the survey's feature wish list was an all-metal airframe. Only time will tell how well "Survey Says!" translates into "Sales Made!"
Not Your Dad's Taildragger
Let's climb aboard and get flying. The first thing my host pilot, Ron White, tells me to do is to taxi with quick taps on the toe brakes to keep the non-steerable tailwheel back where it belongs during taxi.
Page 2 of 4