Tuesday, February 5, 2008
Twin Commander 1000: The Ultimate Turbine Commander
The 1000 is the apex of the ultraluxurious Twin Commander line of corporate turboprops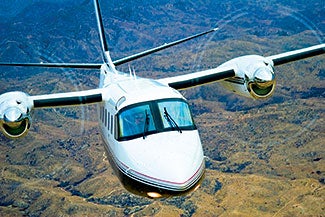 Ted Smith's airplanes were nothing if not impressive. His final design, the innovative, midwing Aerostar 600, was conceived in the late '60s. It's now, as it was then, the fastest piston-powered, normally aspirated machine in the sky. Its eventual upgrade and final successor, the pressurized Piper Aerostar 700P, was (not surprisingly) the world's fastest turbocharged airplane, scoring the magic 261 knots (300 mph) and running away from even many entry-level turboprops." />
SAGEM Avionics: A New/Old Player
Sagem Avionics of Grand Prairie, Texas, may not be all that familiar a name around the local FBO, but avionics shops recognize that, for nearly two decades, it has been an innovator in military, airline and helicopter electronics. An American subsidiary of the European SAFRAN Group, Sagem has been a worldwide player in satellite communications, gyro sensors, helicopter autopilots, navigators and biometrics for years.
The company used to be known as SFIM, and in 2004, Sagem expanded its horizons, acquiring ARNAV Systems of Puyallup, Wash., the latter a designer of LORAN, GPS and FMS navigation systems and fuel computers for at least two decades.
Sagem products are approved on a variety of corporate aircraft, and by the time you read this, the company's line of electronics will be STC'd for Twin Commander turboprops. Sagem has equipped large fleets of helicopters, including Los Angeles Police Department, Riverside County Sheriff's Department, Seminole County Sheriff's Office and organizations that use everything from Aerospatiale to Bell to Robinson helicopters.
Sagem has long been a proponent of sophisticated PFD/MFD cockpit-display systems, and the recent merger with ARNAV brings intelligent LORAN/GPS navigation and fuel computers to the product line. The Sagem Star 5000 offers pure GPS navigation, and the multisensor FMS-5000 provides full FMS functions.
Additionally, Sagem's fuel computers answer all your fuel questions, including current fuel state, burn rate, fuel burned, remaining and time to exhaustion (at current burn). Sagem products are approved on many GA fixed-wing and rotary-wing aircraft. For more, contact Sagem Avionics at www.sagemavionics.com or (972) 314-3600.
"One of the Twin Commander's fringe benefits is that it's actually a good short-field machine," says Obernolte. "Using approach speeds of 100 or even 95 knots, I can handle strips as short as 3,000 feet. Even here at Big Bear on a summer day, I have an acceptable balanced field length. I can accelerate to rotation speed, lose an engine and elect to either stop or go, my choice. You can't do that in many turboprops from this airport."
In fun mode, Obernolte says he can load up two couples and four kids and fly for as long as a parent can stand it. "We have a full video system installed in the airplane so passengers can watch DVDs or play games if they wish. The kids really like the isolation of the aft compartment with a door they can close and their own windows. They can sit back there, have fun or whatever while we watch the sights from up front."
The exec says he sees performance at the very top of the turboprop class from his Twin Commander. "Climb is excellent, as much as 3,000 fpm, even from Big Bear's 6,700-foot-high mountain runway. The airplane will climb straight to FL350 with a full load, but FL290 is the default altitude for us," Obernolte comments. "Unless we're going a long distance or there are strong tailwinds up high, we'll use 290 most of the time. At that height, we see slightly better than 300 knots, depending on load, typically burning 500 pounds/hour. That's only about 75 gallons/hour, so we still have good range. If we do elect to fly tall, we can go to FL350 and still score 285 knots on more like 400 pounds/hour. The high 6.7 psi pressurization system helps assure that the cabin stays down around 10,000 feet, even at nearly seven-mile altitudes."
Using the lower power setting, the Twin Commander 1000's 3,200-pound fuel capacity provides an easy six-hour endurance for as much as a 1,700 nm range, even more with the benefit of tailwinds.
Sometime down the road, FarSight has plans to acquire an Embraer Phenom 100 jet and then a Phenom 300, but the company president says the 100 definitely won't replace the Twin Commander. "Yes, it will be a little faster, but it won't have nearly as large a cabin or the same range as the Twin Commander 1000. In 2007, we were able to fly the 1000 from Big Bear all the way to the NBAA Convention in Atlanta nonstop without benefit of any tailwind. There's no way we could have made that trip in a Phenom 100 with anything short of a hurricane on the tail.
"Generally speaking, we simply couldn't do what we do at FarSight without the airplane," says Obernolte. "It's an invaluable resource for us, providing on-demand transportation to wherever we want to go on our own schedule rather than the airlines'. Perhaps best of all, it facilitates living and working up here in the clean air and sunshine of Big Bear rather than down in the sprawl of L.A., and that's a benefit beyond price."
Page 4 of 4