Tuesday, July 7, 2009
Dodging The Tornados
"Oh, by the way, could you drive a new T182 back from Lakeland, Fla., to Long Beach, Calif.?"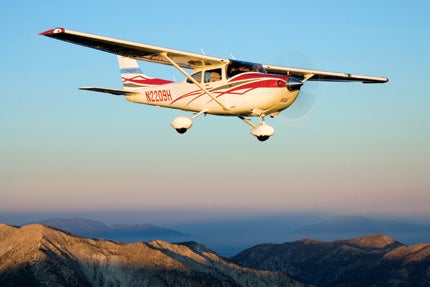 AN OLD FRIEND WITH NEW TRICKS. After an airline trip to Sun 'n Fun, Bill Cox delivered a Turbo Skylane back to Southern California.
There are worse jobs in aviation. It was during the last two days of Sun 'n Fun 2009 that I got the call from Tom Jacobson of Tom's Aircraft in Long Beach. "Why sure," I said. "I'd be happy to deliver a new 2009 Turbo Skylane. It might even be fun."
The Sun 'n Fun show had been surprisingly upbeat, despite some inevitable scaling back by several of the exhibitors. The air show was excellent, especially the Friday night performance, the displays were well organized, and the Sun 'n Fun folks couldn't have been more friendly.
I had used mileage for my trip down and back, so returning in a new Skylane would be a pure treat, far better than a business-class seat on American, if not quite as quick. Okay, so the Skylane wasn't a Jetprop to Australia—the G1000 Skylane was still about as comfortable a piston Cessna as you could imagine.
The Garmin G1000 integrated flight display makes IFR almost silly-simple, the GFC 700 autopilot is perhaps the most sophisticated general aviation system on the market, and the airplane has the added benefit of being a 182, arguably the best of the Cessna singles.
Photographer Jim Lawrence and I had somehow crammed seven pilot reports into three busy days, everything from a Cessna Mustang jet and Piper Meridian turboprop to a Cessna T206 and a Gobosh 800 LSA. Contrary to what you might imagine, that's a lot of work, but again, not the toughest job in aviation.
Mike Barker of Air Chart System volunteered one of his full U.S.A. IFR books, plus a package of approach plates for the return flight to California. I tried to remember everything I had learned about the Garmin G1000 do-everything glass panel, and I finally launched from Lakeland around noon on April 27.
Inevitably, I got off late on my first leg west, and the winds were waiting at the top of Florida to push back at the Skylane's big McCauley prop. I knew from the preflight briefing that there were severe thunderstorms in the lower Midwest, though the forecast for my first 600 nm leg was good and actually improving as I flew farther toward Texas. I was hoping the CBs would move north and allow me some peaceful coexistence on the 1,900 nm trip west.
With no life vests or raft aboard, I'd need to forego the direct route across the Gulf of Mexico, preferring the safer flight over Cross City and along the northern Gulf beaches. I had filed for 12,000 feet above Tyndall AFB and Pensacola NAS, and settled in for a four-hour hop to Lafayette, La., hard by the Texas border and allegedly still on the east side of the weather. The late-April clouds topped at about 9,500 feet north of Lakeland, leaving me cruising in smooth, clear air and sunshine well above the chop.
Page 1 of 3