Tuesday, December 15, 2009
January/February 2010 NOTAMS
Plane & Pilot's guide to aviation's most current promotional deals
From free training to discounts and rebates, this is the place to find great promotional deals from the aviation industry's leading companies. Be sure to check this page every month for the latest offers.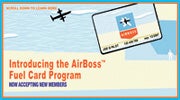 Discounts At The Pump
Last year, AirNav.com launched its AirBoss program, providing fuel discounts at over 400 FBOs. Now, the new AirBoss Visa Rewards card enables you to join free for one year and get discounts at participating self-serve FBOs. Earn a point for every dollar spent, and build points toward cash back on all ­purchases. Use your points for air travel on any airline with no blackout dates, or name-brand merchandise and gift cards.
Contact: AirNav, www.airnav.com/airboss.

Free Shipping
CheckMate Aviation, the official checklist system for the Civil Air Patrol, produces checklist systems for 300+ models of aircraft; it now offers free shipping on checklists for P&P readers. Mention this
P&P
special to receive free shipping, or enter P&P as the coupon code when ordering online. Offer ends March 31.
Contact: CheckMate Aviation, (800) 359-3741, www.checkmateaviation.com.

TKS Fluid Prices Cut
CAV Aerospace is pleased to offer its ice-protection customers significant price reductions for Kilfrost TKS fluid. Shipping charges will vary according to destination and quantity.
Contact: CAV Aerospace, (888) 865-5511, www.weepingwings.com.
Get Your Instrument Rating In 10 Days Or Less
AFIT (Accelerated Flight & Instrument Training) has designed a training program for busy pilots who want to earn their ratings in a few short days. No matter how busy you are, you can become a safe, proficient and confident instrument-rated pilot in 10 days or less. And AFIT will come to you.
P&P
subscribers save 5% on the 10-day course when confirmed for training before February 28.
Contact: AFIT, (866) 270-8224, www.afit-info.com.
Page 1 of 2